New U.S. Cuba Policy Is Unpopular, Just Like President Trump
Opposition to President Donald Trump's new policy on Cuba is growing and gathering support among different communities.
Trump announced Friday a reversal of his predecessor Barack Obama's policy of normalization and openness with Cuba, limiting travel to Cuba to those going in groups and barring most American businesses from conducting transactions with the Armed Forces Business Enterprises Group, the business arm of the Cuban military, which is involved in all sectors of the economy.
Across the country, politicians from Trump's own Republican party, farmers and religious leaders are only some of the people who have condemned the president's decision, citing concerns over jobs, the economy and human rights.
Farmers' associations say the policy is bad news for agricultural trade.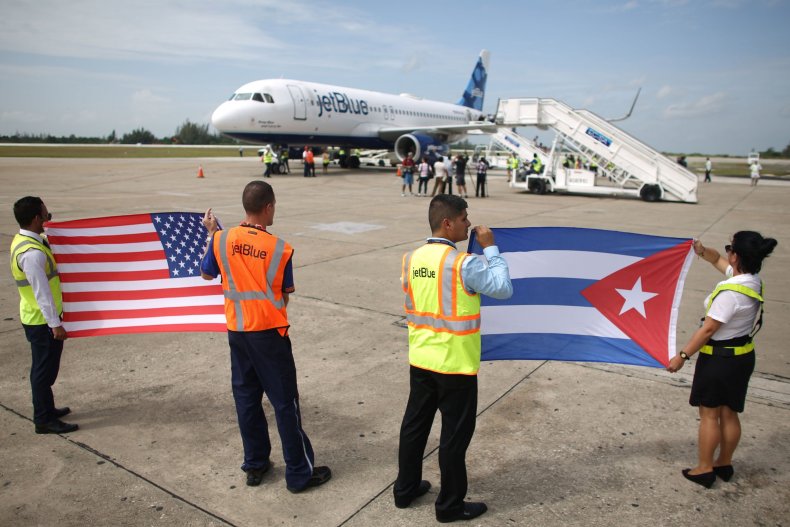 "As we cope with the biggest drop in farm prices in decades, we need to be opening up markets for American farm goods, not sending signals that might lead to less access," American Farm Bureau President Zippy Duvall said in a statement.
In Minnesota, where a farmer delegation joined Lieutenant governor Tina Smith in a visit to Cuba this week, farmers are concerned that closing the door to trade with Cuba will be a missed opportunity for both countries.
"One of the things trade does is raise the standard of people around the word," Minnesota Farm Bureau president Kevin Paap told the Lockport Journal. "US. policies towards Cuba haven't worked that great the last 60 years. Let's try something different."
Arkansas Republican senator John Boozman criticized the president's decision in a Twitter thread Friday, calling it "the wrong approach".
"It would be more effective to continue an open line of communication and working relationship with a government in need of democratic assistance," Boozman wrote "We not only trade goods, but ideas."
In announcing the policy, Trump called on God to help bring democracy to Cuba. "With God's help a free Cuba is what we will soon achieve".
But both Catholic and Baptist leaders do not agree with the president's approach, expressing discontent with the decision to disengage with Cuba.
"The United States Conference of Catholic Bishops, in solidarity with the bishops of Cuba and the Holy See, has long held that human rights and religious freedom will be strengthened through more engagement between the Cuban and American people, not less," said Bishop Oscar Cantu of Las Cruces, chair of the U.S. bishops' committee on international justice and peace, quoted in the Catholic News Agency.
The Alliance of Baptists director of partnership relations Paula Clayton said the embargo only hurts ordinary Cubans. "As President Trump's policies reverse recent progress made in U.S.-Cuba relationships, the Alliance of Baptists' concerns are with the Cuban people who, for decades, have been trampled on while politicians and leaders fight," she said, according to Baptist News. "As people of faith, we dissent the policy announcement, and commit to our ongoing relationship with our partners in Cuba, and to the continual petitioning of Congress to end all oppressive travel and trade restrictions."
The most strongly-worded statement of dissent came from the World Tourism Organization (UNWTO). The organization expressed its "firm resentment" over the new policy in a statement published on their website.
"This represents a step backwards and a strong attack on the freedom of travel," said UNWTO Secretary-General Taleb Rifai.
"This decision will have limited impact on Cuba's tourism development, yet it will substantially affect the US economy and American jobs. Many US companies have started to invest in and do business with Cuba in view of the immense potential of Cuban tourism, which other countries will surely continue to benefit from," he added.
Trump chose to announce the new policy in Miami, Florida, which hosts one of the biggest Cuban-Americans communities in the country. But support for the policy isn't widespread among Floridians.
A poll conducted by Florida Atlantic University of 500 people over the weekend following the speech found that more people (47 percent) supported Obama's deal to normalize Cuba relations over Trump's recent decision (34 percent).
The poll also found that support for Trump fell to 36 percent, from 35 in March, and his disapproval rating increased to six points, from 38 to 44 percent, in the same time frame. The president is however still backed by Republicans, where his approval stands at 78 percent, while his disapproval is 79 percent among Democrats.