This Is the New U.S. Embassy Trump Hates but Everyone Else Likes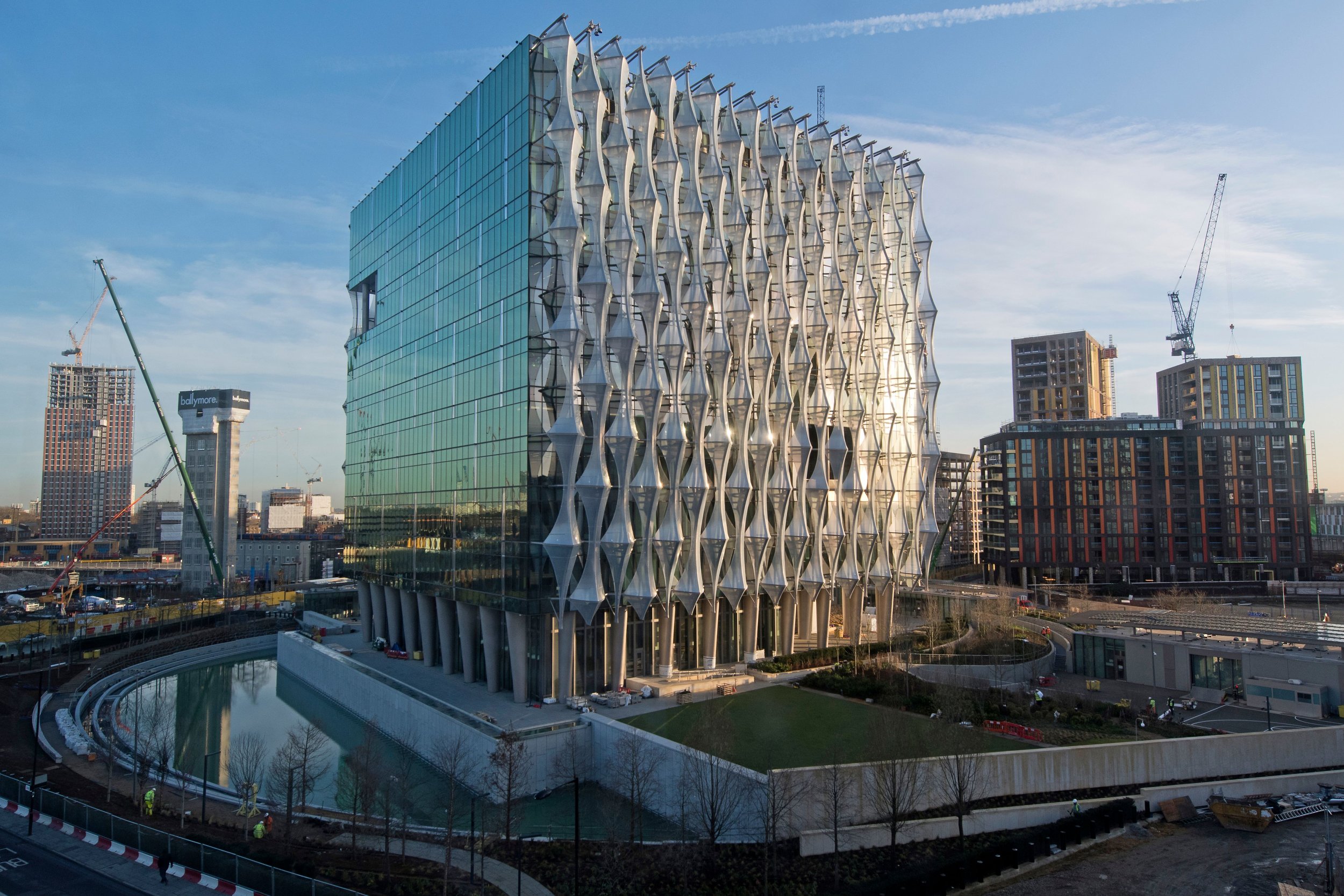 President Donald Trump on Thursday lashed out at the new U.S. Embassy in London, calling it a "bad deal" made by his predecessor, Barack Obama. Never mind that it was George W. Bush, not Obama, who made the "deal."
The state-of-the-art diplomatic mission sits on the River Thames in southwest London, some distance away from its old location in Grosvenor Square, in the plush Mayfair area. Everyone appears to really like the $1.2 billion development, set to open this month. But Trump, who'd previously said he would travel to the British capital to open the new building, is not a fan.
"Reason I canceled my trip to London is that I am not a big fan of the Obama Administration having sold perhaps the best located and finest embassy in London for 'peanuts,' only to build a new one in an off location for 1.2 billion dollars," he tweeted. "Bad deal. Wanted me to cut ribbon-NO!"
The new embassy, which cost a record amount of money to build, is a giant glass cube that sits in a former industrial site. Washington planned the open, environmentally friendly complex to represent U.S. values. It has made a conscious effort not to portray the building as a spy den from which American spooks operate, but surely the embassy will be used for more serious matters than visa processing.
It is set back 100 feet from the street, constructed of blast-proof materials and boasts a massive security perimeter, complete with an anti-vehicle barrier disguised as a decorative moat.
All of those measures were designed to stop vehicle attacks and other extremist plots, especially ones by U.K. jihadis inspired by Al-Qaeda and the Islamic State militant group (ISIS). U.S. embassies have long stood out as targets for militant groups for their representation of the government in Washington and its foreign policy.
Positive reception
Despite the brouhaha surrounding the embassy, people seem to like it.
Its developer, Kieran Timberlake, described its design as "a holistic fusion of urbanism, building and landscape. Our goal is that it be both evocative and performative, helping to define a new environment for diplomacy while mapping a passage toward a new diplomacy of the environment."
The American press was receptive to the new building. CNN Style wrote in July that "the new cube in London ushers in the first wave of self-consciously architectural embassies since the Cold War." The Washington Post said its "vibe is modernist museum," one that "also happens to issue visas and might have a few hidden bunkers somewhere" and ultimately is "kind of cool."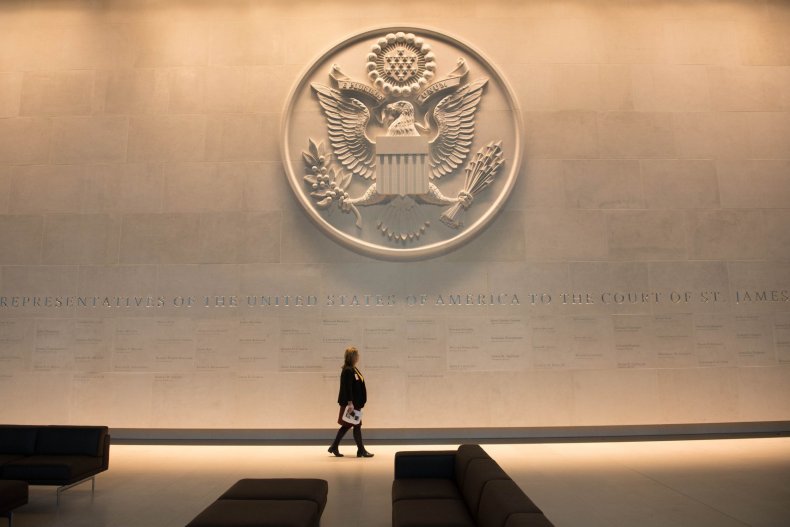 Former British Mayor Ken Livingstone said the building proposal was underwhelming in 2010, but the British media has been as positive about the final result as its American counterparts.
British writer Rowan Moore called it "restrained, efficient, green," and, notably, "the antithesis of Donald Trump." The London Evening Standard described the building's innards, after the media was given a tour of the complex, as "stunning."
Facts and fiction
Observers pointed out factual inaccuracies in Trump's tweet. When Trump blamed the Obama administration, social media users linked to an announcement in October 2008—before Obama's election—by the State Department that revealed the "conditional agreement with the real estate developer Ballymore to acquire a site in the Nine Elms Opportunity Area in Wandsworth for the construction of a new Embassy." The acquisition of the building therefore took place under the administration of George W. Bush.
The U.S. did not have ownership of the previous embassy, which was famously adorned by a large golden eagle, but leased it from Grosvenor, the company of the Duke of Westminster. It originally rented the building for a peppercorn—yes, an actual peppercorn—which had remained on display. Washington eventually decided to move because it could not carry out a security upgrade. In 2009, it sold the building to Qatar's sovereign wealth fund; the Grade II–listed building is now set to be made into a hotel.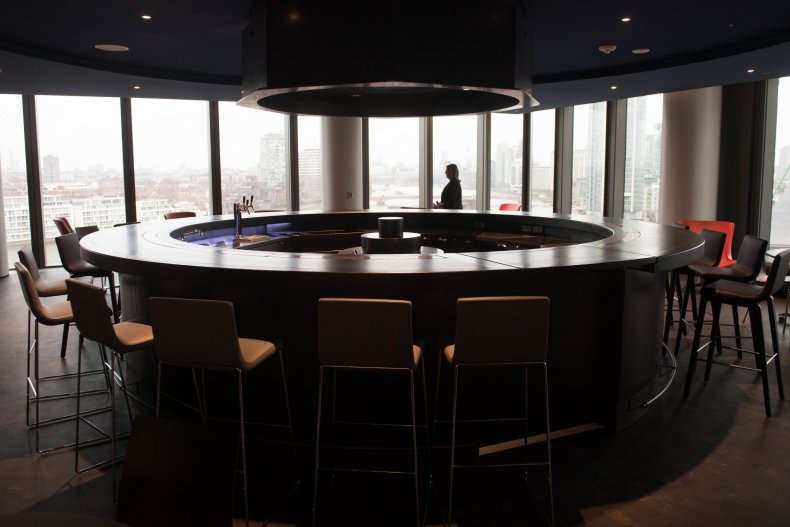 As David Videcette, a former counterterrorism investigator, pointed out on Twitter: "The current building can't be protected to modern standards, and is susceptible to attack on three sides—a large bomb on one the roads at the side would likely have flattened it. That's why it was moved."
The British press speculated that Trump canceled his visit for fear of receiving an unwelcome reception in the British capital. Figures have been floated that predict hundreds of thousands of people taking to the streets of London in protest of a Trump visit. It is believed that Secretary of State Rex Tillerson would stand in for Trump for the opening of the new mission.
Trump's own ambassador to Britain, Woody Johnson, had only last month described the building as a "signal to the world" that the U.S. and U.K.'s "special relationship" is stronger than ever.
British Prime Minister Theresa May remarked last week that Trump "will be coming to this country," but that no longer appears to be the case. British political figures were quick to jibe Trump for his cancellation.
Former Labour leader Ed Miliband wrote on Twitter in response to Trump's post: "Nope it's because nobody wanted you to come. And you got the message."
London Mayor Sadiq Khan, who has been embroiled in a war of words with the U.S. construction magnate, appeared to sum up the feeling in Britain.
"Many Londoners have made it clear that Donald Trump is not welcome here while he is pursuing such a divisive agenda," he wrote on Twitter. "It seems he's finally got that message."