New USCIS Office Aims to Strip U.S. Citizenship From Naturalized Americans for Lying on Application
A new office for the Department of Homeland Security will be dedicated to stripping U.S. citizenship from naturalized Americans who are found to have lied about their immigration status on their applications. The U.S. Citizenship and Immigration Services office in Los Angles will also deal with immigrants who have green card status.
"The new USCIS office in southern California will serve as a centralized location to review and refer appropriate cases to the Department of Justice for civil denaturalization where individuals who had been ordered removed and intentionally used multiple identities in order to defraud the government and the American people to obtain citizenship," USCIS spokesman Michael Bars told Newsweek.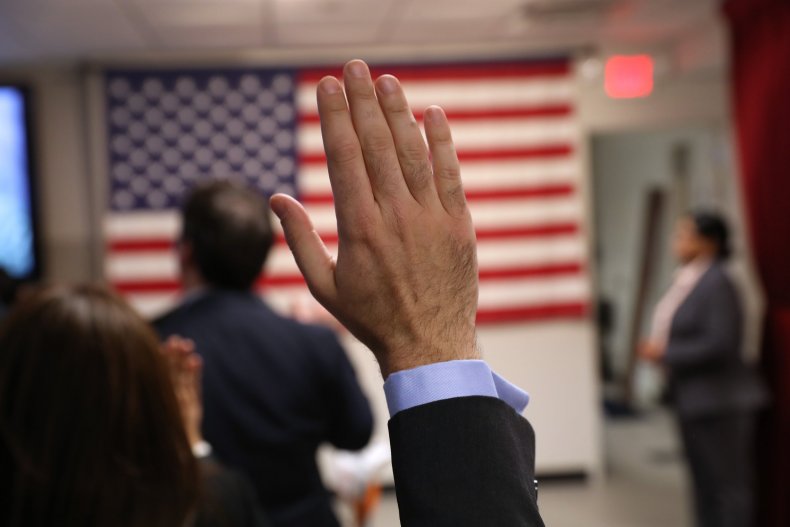 USCIS has started hiring dozens of lawyers and immigration officers to staff the new office, the Associated Press reported. "As a critical part of the USCIS mission, USCIS strives to combat instances of fraud, abuse and other nefarious activities threatening the integrity of our nation's immigration system and its faithful execution under the rule of law," Bars explained.
In January 2017, a pop-up office was established in Los Angles that took a look at potential denaturalization cases identified due to the enrollment of fingerprint records. Hundreds of thousands of fingerprints have been uploaded to the department's registry, allowing USCIS to identify cases of naturalized citizens who may have committed identity fraud.
"Nobody who obtained U.S. citizenship by deliberately assuming a false identity will be surprised to learn they are being referred to the Justice Department for removal proceedings," Bars told Newsweek. "USCIS screens for deliberate acts of fraud relating to the use of false identities."
According to The Hill, any individual being investigated will be required to participate in an in-person interview with immigration officers. If the individual is determined to have intentionally committed fraud, then his or her case will be sent to the Justice Department.
"We finally have a process in place to get to the bottom of all these bad cases and start denaturalizing people who should not have been naturalized in the first place," USCIS Director L. Francis Cissna told the AP. "What we're looking at, when you boil it all down, it potentially a few thousand cases."
Cissna maintained that the office would not go after individuals who have minor discrepancies in their applications, like Latin American immigrants who may have more than one surname. He said that the U.S. government is instead focused on targeting individuals who deliberately changed their identities to be granted immigration benefits.
The agency has identified 2,536 naturalization cases that require an in-depth review. Of those cases, 95 have been referred to the Department of Justice for civil denaturalization. These cases must be filed in federal district court as only judges are permitted to denaturalize citizens.