New Vaccine-Resistant Strain of COVID Could Emerge if People Don't Get Vaccinated: Fauci
Dr. Anthony Fauci is warning that a COVID-19 strain "worse" than the Delta variant could emerge unless there is a significant increase in vaccinations.
Fauci, the chief medical adviser to President Joe Biden and the longtime director of the National Institute of Allergy and Infectious Diseases (NIAID), told ABC's George Stephanopoulos that a continual cycle of new vaccine-resistant variants emerging would occur unless vaccination rates increase during a Good Morning America interview on Thursday.
"That will happen, George, if we don't get good control over the community spread which is the reason why I and my colleagues keep saying and over again, it is very important to get as many people vaccinated as we possibly can," Fauci said. "People who say, 'I don't want to get vaccinated because it's me and I'll worry about me, I'm not having any impact on anybody else,' that's just not the case. Because when people don't get vaccinated it allows the virus to circulate through the community."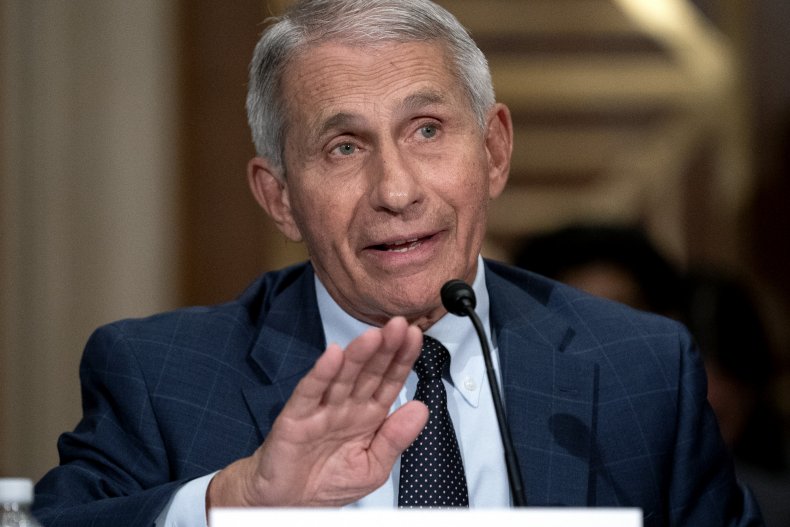 "As long as the virus continues to spread, you're given ample opportunity to mutate," he added. "You may, sooner or later, get another variant. And it is possible that that variant might be in some respects worse than the already very difficult variant we're dealing with now, which is a major reason why you want to completely suppress the circulation of the virus in the community."
The Delta variant has been driving this summer's nationwide spike in COVID-19. The average number of new daily cases has been steadily rising, going from around 9,000 new cases in mid-June to about 90,000 new cases currently, according to the Centers for Disease Control and Prevention (CDC). Data from the CDC shows that the Delta variant accounted for more than 93 percent of all COVID-19 cases during the last two weeks of July, a roughly three-fold increase from six weeks earlier.
The Delta variant is more transmissible than past strains and has displayed greater resistance to current vaccines, although the vaccines do still offer some protection from catching the virus and significantly reduce the chances of serious illness or death in those who do catch it. About 50 percent of the total U.S. population is fully vaccinated against COVID-19, while a little more than 58 percent have received at least one dose of vaccine. Although new vaccinations stalled as summer arrived, they have recently been increasing, especially in states experiencing the worst of the surge.
The CDC is forecasting that weekly new COVID-19 cases will roughly double over the next four weeks, rising from about 541,000 to over one million. Weekly deaths—overwhelmingly among the unvaccinated—are also expected to rise, going from almost 2,400 to over 4,300. Weekly new cases reached a peak of over 1.7 million in mid-January when only a relatively small number of people were vaccinated, while weekly deaths hit a high of over 24,800 around the same time.
Newsweek reached out to NIAID for comment but did not hear back in time for publication.