'New Variant' of COVID That Spreads Rapidly Found in South of England
A "new variant" of the COVID-19 virus has been identified in the United Kingdom and linked to a faster spread of the disease, Britain's health secretary has said. The World Health Organization has been notified.
Matt Hancock announced that London and a number of other areas in the south of England will be placed under new harsher restrictions following "very sharp rises" in COVID cases.
It is not yet known what extent the new variant of COVID has had on the rise in cases and there is "nothing to suggest" it causes worse disease or that vaccines would no longer work, he said. At least 60 different local authorities in England have recorded infections caused by the new strain.
Hancock told Britain's lawmakers in the House of Commons that average daily hospital admissions are up 13 percent and that average daily cases have risen 14 percent in the last week across the U.K.
London, parts of Essex and south Hertfordshire in the south of England will now enter the toughest restrictions under "tier three" of the U.K. government's COVID regulations.
"We've currently identified over 1,000 cases with this variant predominantly in the South of England although cases have been identified in nearly 60 different local authority areas," Hancock told MPs.
"We do not know the extent to which this is because of the new variant but no matter its cause we have to take swift and decisive action which unfortunately is absolutely essential to control this deadly disease while the vaccine is rolled out."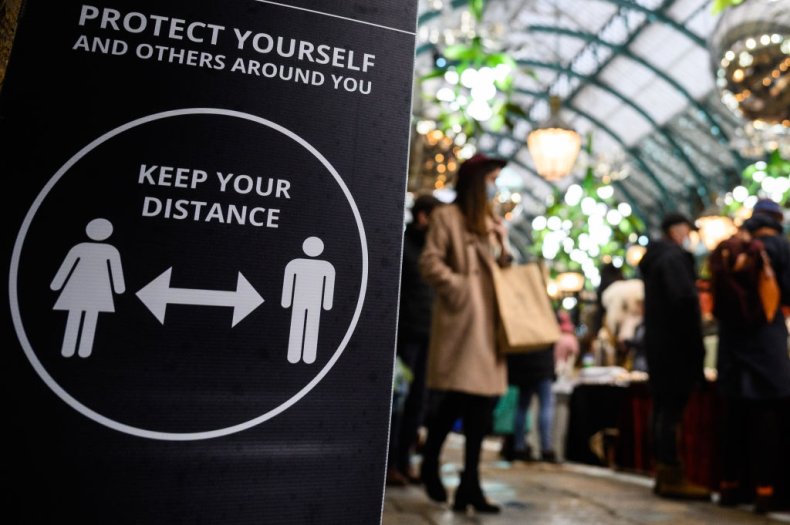 Tier three restrictions mean that pubs and restaurants must close except for takeaway and delivery services.
London's Mayor Sadiq Khan said tier three restrictions could have a "catastrophic consequence" for the hospitality, culture and retail industries.
Many pubs and restaurants had pre-ordered food and drink in preparation for gatherings in the week leading up to Christmas and reported they would now have to "pour beer down the drain".
One MP said they were told in an earlier briefing from Hancock that cases were doubling every seven days in the capital and that the next review of the tier system would be on December 23, the BBC reports.
Despite the rises, Downing Street said the government "has no plans to review the Christmas guidelines" which will see restrictions suspended for five days to allow three households to mix.
In Scotland, people have been told to "cut down" the number of contacts they make in the week before Christmas if they plan to meet up with relatives.
In Wales, a second health board has suspended non-urgent care amid a continued rise in cases. A leading doctor in Northern Ireland said its health service is facing a "nightmare" scenario in January.
Meanwhile, COVID vaccinations, which began in hospitals in the U.K. last week, have started being given to patients at GP surgeries as part of the next stage of the rollout.