The New Vesuvius Smothers Italy's Prime Products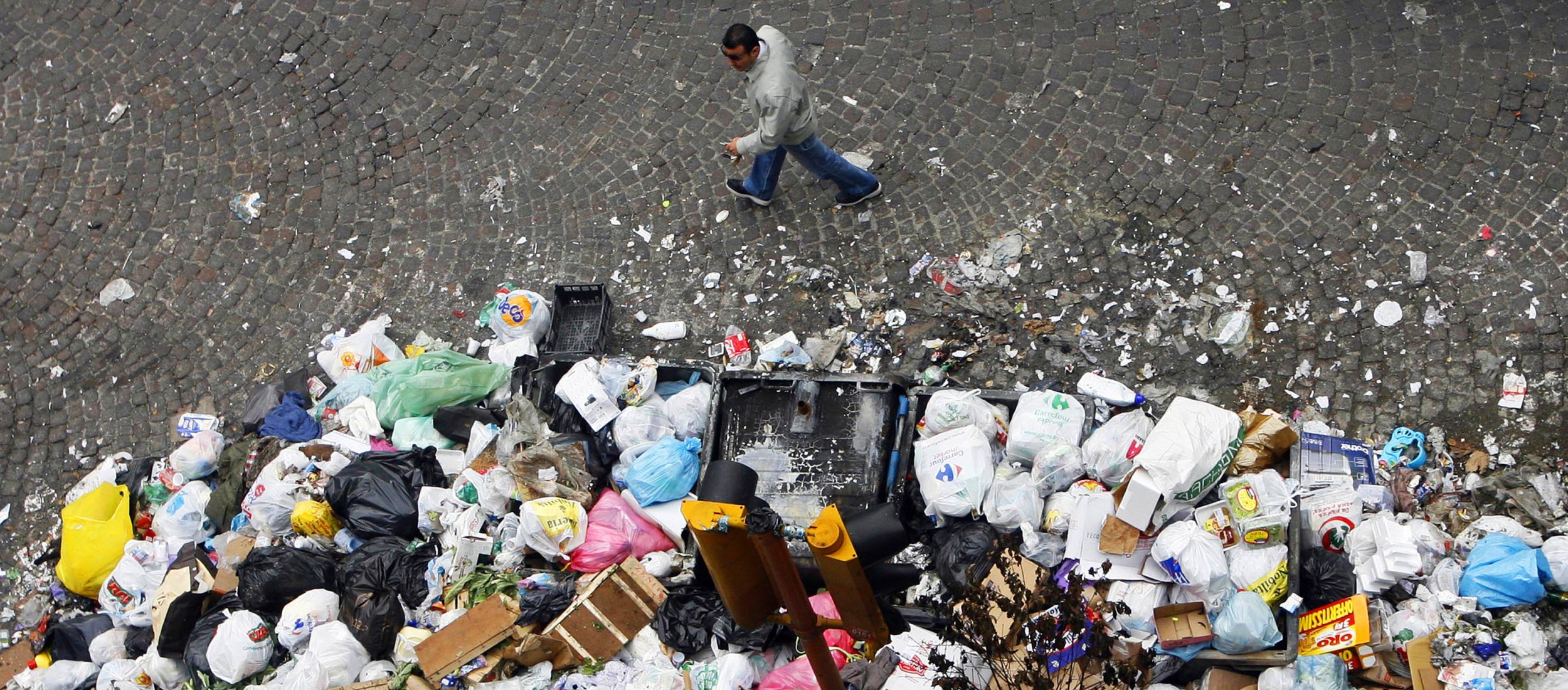 Once the countryside around Naples was known as "felix" – meaning bountiful, happy. It was one of the most fertile tracts of land in Italy, and it still is.
But then the local Mafia, the Camorra, grabbed the verdant, high-yielding fields and turned them into the country's largest waste dump, packed with burning trash ferried in from the richer north and even from abroad. Dante would feel at home here.
The area began being called "the land of fires," but it has nothing to do with Magellan's Tierra del Fuego.
The flames are nasty, smelly, and toxic. The burning of illegal trash dumps, which are set ablaze to make room for even more hazardous waste, is lethal to the environment and human beings. The smoke can be seen at all times but especially at night, when the criminals who light the fires can slip away unnoticed.
The bonfires burn at the end of inaccessible country roads and on the outskirts of about 50 towns scattered between Naples and Caserta, where heaps of garbage lie on streets because of poor waste management and labor disputes.
The Mafia has infiltrated the consortiums that handle waste removal in nearly every town. It imposes high prices for removing trash and even employs workers who are easy for Mob leadership to control. The Camorra therefore wins both ways: It ensures that legal trash removal business is far from perfect, and it drives frustrated Italians into the hands of the Camorra's illegal collection and disposal businesses.
Trash has been found buried beneath roads, in ponds, and in 100-foot-deep pits, contaminating aquifers and fields and poisoning agricultural produce.
The inferno, covering more than 220 hectares, is administered by the Camorra and other criminal groups who have made illegal waste disposal one of their biggest revenue streams. "Monnezza [trash] is gold," Nunzio Perrella, a famous Mafia snitch, told judges in 1992.
This version of the Mob has been dubbed "the eco-Mafia" because it despoils the environment to make big money: $1.4 billion in 2012, according to Italy's environmental lobby Legambiente.
The legal disposal of hazardous waste is more expensive than that of normal trash and may cost as much as $826 per ton. The Mafia offers low-cost, highly convenient waste-disposal services by employing illegal workers and avoiding taxes and dues through money laundering.
The devastation, which has been going on for years, recently spread to more villages, triggering mass protests, public outrage, and doubts about whether Italy's premium products – including mozzarella cheese and San Marzano tomatoes – are contaminated.
Mozzarella producers recorded a 30 percent drop in sales in November, amounting to a loss of about $27.5 million.
"This is all bad publicity for Italy's products," said Raffaele Lettieri, mayor of Acerra. "It's driving down the global reputation of our vegetables and dealing a blow not just to the local economy but also to Italy's global image.
"My friends living abroad have stopped buying made-in-Italy products. Some 1,500 farmer families live off this land and each day take to the streets to protest." Lettieri has succeeded in halving the number of fires by tightening controls and increasing police patrols.
In Acerra, local task forces clear farmlands of highly flammable underbrush and open abandoned rubbish bags in search of evidence with which to track down offenders. A website publishes photos of transgressors submitted by locals and warns of new fires, while an app directs authorities to where trash has been abandoned.
So far three groups of culprits have been identified: specialized bands who burn rubber to extract copper wire; small businesses and artisans who violate production regulations, employ illegal workers, and illegally dispose of their toxic by-products; and self-defeating individuals who burn rubbish to draw attention to the waste scandal.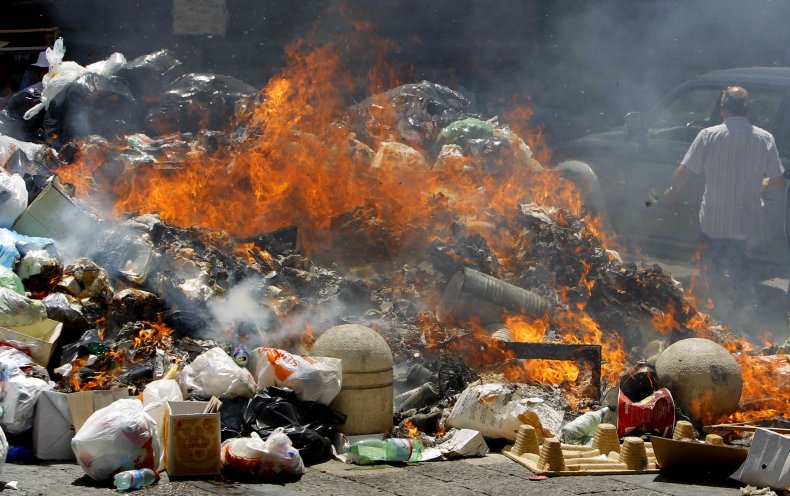 The fires are making Italians seriously ill.
"Many young friends of mine have died, and the number of people falling sick has drastically risen," said Vincenzo Cenname, mayor of Camigliano. There are no precise data, but Italy's health authorities have calculated that towns with the highest concentration of illegal dumps have higher infant and adult mortality rates, increased malformations at birth, and a rise in cancer rates up to 20 percent.
In the past 22 years more than 10 million tons of waste have been thrown into the land of fires. A total of 82 investigations have been conducted into 443 firms and more than 900 Mafiosi have been arrested, said Legambiente.
In 1997 Mob informer Carmine Schiavone testified how the Camorra dumped 800,000 tons of waste around the Mafia stronghold Casal di Principe. "In 20 years, everyone there risks dying of cancer," he said.
Some belated action is being taken. On December 3, the Italian government passed the Land of Fires Decree introducing harsher sentences – up to eight years in jail – for those found setting illegal fires and strict new controls on what may be burnt on farmland.
There will be a complete mapping of fields to identify those contaminated by the fires. Those fields will be isolated from the healthy ones, though exactly how this will work remains vague. The decree also allocates $826 million to clear illegal landfills and proposes the deployment of the military to root out illegal fire setters.
"We can't wait to enforce stricter penalties," said Lettieri. "Waste burning is a crime against humanity. It kills."
"The eco-Mafiosi are not gangsters who go around with a handgun, but they want to make easy money at the cost of the environment and people's health," said Cenname. "Many citizens still lack a civil conscience, and so long as the common good is not part of their DNA, things will never change."