New Video Game Lets You Kill ISIS While Fighting as Hezbollah in Syria and Lebanon
A new video game has allowed players to join Lebanese Shiite Muslim movement Hezbollah in its battle against the Islamic State militant group (ISIS) in Syria and Lebanon.
Dar al-Manar, a project of Hezbollah-affiliated Lebanese media outlet Al-Manar, published a trailer for its new title Holy Defense on an official website and social media earlier this month. The 3-D, first-person shooter calls on players to defend Shiite Muslim shrines and defeat hordes of ISIS fighters across various cities, towns and villages in Syria and Lebanon, recreating the actual battles fought by the Iran-backed militia against jihadis that once claimed half of Iraq and Syria before entering parts of Lebanon as well.
Related: Middle East's next oil war? Israel threatens Lebanon over Hezbollah and natural gas
"The Holy Defense game is not just a mere game, but a simulation aimed at documenting a stage of the holy defense facing the takfiri tide and confronting the American-Zionist project, chronicling the sacrifices made in this way," the description of the game reads on its official website.
The term takfiri describes a Muslim who considers other sects of Islam to be forms of apostasy and is often used by Shiite Muslim groups such as Hezbollah and its allies to describe hardline Sunni Muslim organizations like ISIS.
"[Holy Defense] is a tool to confront the savage culture that invades our markets through games that are stripped of feeling and belonging. It is a tribute to the souls of the martyrs and their families as well as the sacrifices of the wounded and their families," it added.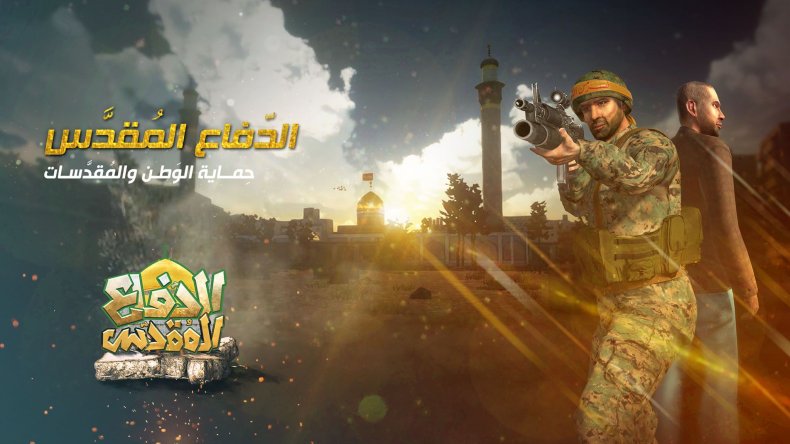 Hezbollah is considered a terrorist organization by the U.S., Israel and a number of other nations. It also forms one of the largest political parties in Lebanon, claiming the country's Christian president and Shiite Muslim speaker of parliament as allies. It was established in the 1980s with significant Iranian support in response to Israel's invasion of Lebanon, which came in the middle of a 15-year civil war there. Hezbollah played a leading role in local resistance against Israeli occupation and did so again after a second Israeli incursion in 2006.
Sometimes considered the world's most powerful paramilitary group, it has continued to clash with Israel and has been tied to international conflicts and underground activity around the world. As a 2011 uprising by rebels and jihadis began to threaten the rule of Syrian President Bashar al-Assad, an ally of Iran, Hezbollah poured into neighboring Syria, where it remains a leading force, fighting in support of the now-dominant Syrian government.
Holy Defense throws players in the middle of Hezbollah's battle with ISIS, which took advantage of the unrest in Syria to spread from neighboring Iraq in 2013. By 2014, the ultraconservative Sunni Muslim group had seized about half of Iraq and Syria, targeting minorities, including Shiite Muslims, as part of its quest to enforce its self-proclaimed caliphate. Along with a U.S.-led coalition and its mostly Kurdish allies, Hezbollah and its pro-Syrian government allies have largely defeated ISIS in Syria.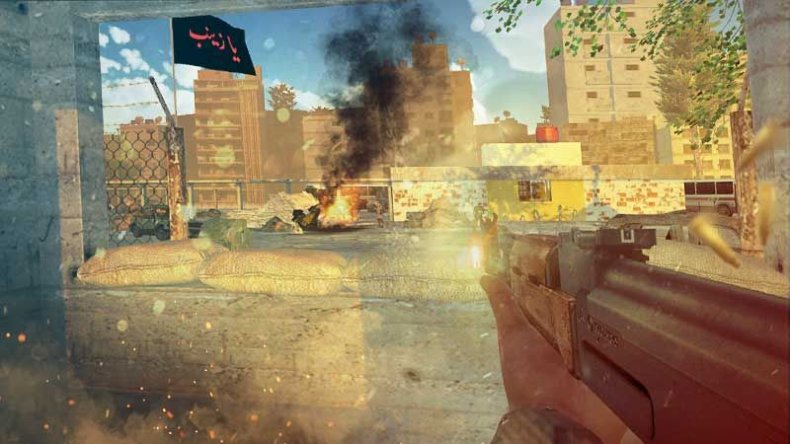 The game features missions at the Shiite Muslim Sayyidah Zaynab Mosque in southern Damascus, in nearby Al-Hajira, in the Syrian city of Al-Qusair and in Ras Baalbek, on the eastern outskirts of Lebanon, where Hezbollah, supported by the Syrian military and the Lebanese military both participated in operations to defeat ISIS and the Al-Qaeda-affiliated Hayat Tahrir al-Sham last summer.
In one mission, the player is tasked with assassinating an ISIS militant named Abdul Salam Abdul Razzaq al-Hindawi, or "Abu Abdo." In real life, Al-Manar identified Hindawi as a suspect who supplied explosives used in twin suicide bombings that killed dozens of people in the mostly Shiite Muslim Bourj el-Barajneh suburb of southern Beirut in November 2015. Al-Manar and the official Syrian Arab News Agency claimed later that month that Hindawi was killed in a special operation by Syrian security forces and Hezbollah.
The main trailer posted for Holy Defense showed fighters in Hezbollah uniforms firing assault rifles and missiles in rendered battles with plainclothes militants. Over gameplay footage, an Arabic-language narration described the game as "the tale of repelling takfiri aggression" allowing players to "take part in the march of redemption against the takfiris trying to destroy the holy sites and desecrate the homeland."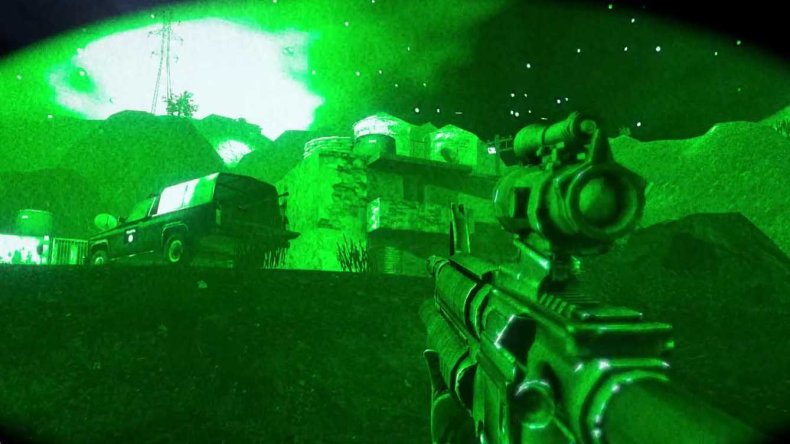 Another trailer opened with detailed shots of the simulated Sayyidah Zaynab Mosque, which the game promised players they could interact with and explore. The sacred site and the local Shiite Muslim population living nearby have been the target of numerous bombings, including a series of blasts that killed up to 60 people in January 2016 and were claimed by ISIS. The clip showed one character showing up at the mosque with a backpack in civilian clothes, possibly being recruited. He was later shown praying in a nearby room with a map of Syria and a portrait of Hezbollah Secretary-General Hassan Nasrallah.
Holy Defense appeared to be available in only a few select locations in Lebanon: Beirut's Al-Manar House for Artistic Production and Distribution (where Dar al-Manar, or Al-Manar House, presumably got its name), and the Al-Maaref Islamic Cultural House, which has two locations in Beirut, as well as one in Nabatieh and another in Baalbek, both hubs of support for Hezbollah.
Hezbollah has previously inspired two other computer games. Both Special Force, released in 2003, and its 2007 sequel, Special Force 2: Tale of the Truthful Pledge, portrayed Israel as the enemy, with the latter game being set during the 2006 war.