A video released on social media Friday appears to show three Minneapolis police officers pinning down George Floyd during an arrest that led to his death.
Previous footage of the encounter released on social media Monday showed only one officer, identified as Derek Chauvin, placing his knee on Floyd's throat while trying to restrain him. The new video is significantly longer than the original, and shows a different angle, recorded from across the street. It shows three officers, including Chauvin kneeling on Floyd's body while a fourth officer stands nearby.
The video has been verified by NBC News as being genuine, though information on who shot the video is unavailable.
The following video contains material that some may find disturbing. Discretion is advised.
Chauvin, along with the three other officers present at the time, was fired by the Minneapolis Police Department on Tuesday. On Friday, Chauvin was arrested and charged with third-degree murder and manslaughter in connection with Floyd's death. The two charges combined against Chauvin carry a maximum sentence of 35 years in prison.
According to NBC, the other three officers are Thomas Lane, Tou Thao and J. Alexander Kueng. It was not clear from the video which two of the three other officers involved in the incident were pinning Floyd to the ground. The county prosecutor did not respond to requests for comment about why they had not been charged along with Chauvin.
"This is by far the fastest we've ever arrested a police officer," said Hennepin County Attorney Mike Freeman at a Friday press conference. The other officers involved in Floyd's death are under investigation. Freeman said he expected them to be charged.
Newsweek reached out to the Minneapolis Police Department for comment. This story will be updated with any response.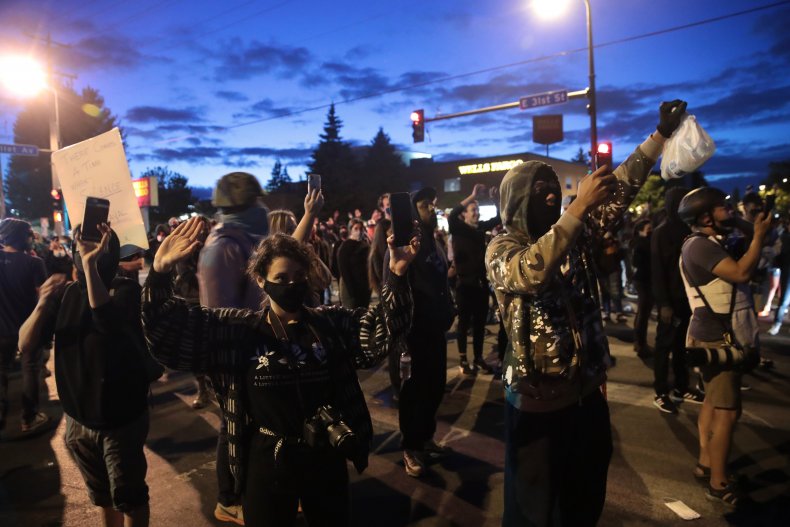 Attorney Ben Crump, who is representing Floyd's family said in a Friday statement that they expected a first-degree murder charge to be levied against Chauvin.
"We fully expect to see the other officers who did nothing to protect the life of George Floyd to be arrested and charged soon," Crump wrote.
Rumors had circulated on social media that Chauvin had left Minnesota and gone to Florida, where Chauvin owns a home. However, the Orange County Sheriff's Office tweeted Friday morning that they had "verified that the Minneapolis Police Department officer with a home in Windermere in unincorporated Orange County is not at that home, and has no plans to be in the area."
Thursday in Minneapolis, demonstrations turned violent as protesters clashed with police, looted local businesses and set the 3rd Precinct police building on fire. The four officers implicated in Floyd's death all worked in the 3rd Precinct.
Minneapolis Police Chief Medaria Arradondo apologized to Floyd's family Thursday during a news conference.
"I am absolutely sorry for the pain, the devastation and trauma that Mr. Floyd's death has left on his family, his loved ones, our community in Minneapolis and certainly across the country and the world," Arradondo said.
Minnesota Governor Tim Walz activated the National Guard on Thursday to help Minneapolis and St. Paul deal with the continued demonstrations.
"It is time to rebuild," Walz said in a statement. "Rebuild the city, rebuild our justice system, and rebuild the relationship between law enforcement and those they're charged to protect."