New Video Shows NFL's Aaron Donald Breaking Up Fight in Which He Was Accused of Assault
A new video released by Aaron Donald's lawyer shows the Los Angeles Rams star breaking up a fight in which he was accused of assault.
The video, which was posted to Twitter by Cara Sapida of Pittsburgh's WPXI, shows Donald pulling people off of DeVincent Spriggs, the man who accused him of assault following the incident on the city's South Side.
As the video begins, a major altercation can be seen, with people circled around Donald. While many of those in the video are throwing punches and fighting, Donald is seen grabbing one person and pulling him away from a man being assaulted.
While speaking with the sports radio station KDKA ("The Fan") in Pittsburgh, Donald's lawyer, Casey White, explained that the video shows that Donald had nothing to do with the fight.
According to the Pittsburgh Post-Gazette, the incident occurred on the night of April 10 when Donald attended a gathering at a private residence above a bar on East Carson Street.
"Somebody elbowed [Donald] in the back, and he turns around and it's this guy, it's Mr. Spriggs, and Aaron looks at him and goes, 'What's up?' And Aaron thinks, 'I don't know this guy,' and it's obvious to Aaron right away that he's drunk," White told the radio station.
Shortly afterward, Spriggs became aggressive toward Donald, but people at the party were able to "wrestle" Spriggs away, according to White.
"A short time later, Aaron and his brother, they go outside. Mr. Spriggs is still there," White said. "And Mr. Spriggs starts walking towards Aaron, and he's yelling and he's drunk and he's aggressive."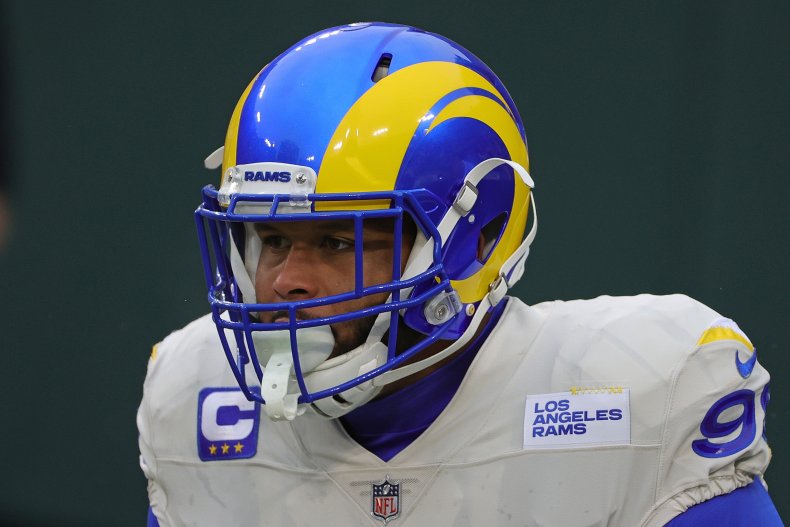 White said Spriggs had a bottle in his hand and attempted to swing it at Donald, who was able to duck, although the bottle grazed his head. "And that's when all hell breaks loose," according to White.
The lawyer said that "there's no dispute that Mr. Spriggs is injured," but noted that Donald was not the one who cause the injuries and instead was being restrained by people at the party.
"Aaron then breaks free from the restraints, and this is all on video so I'm not making this up," White said. "He then goes to the pile where this melee is taking place, and he starts tearing people off, protecting Mr. Spriggs. He actually saves Mr. Spriggs from further injury."
The video and comments by White come just a few days after Spriggs accused Donald of assault in the incident.
Attorney Todd Hollis, who is representing Spriggs, told KDKA that Donald allegedly beat up Spriggs at an "after-hours party." Hollis also provided a picture of Spriggs to KDKA, showing the injuries he received from the altercation.
Newsweek reached out to White and Hollis for comment but did not receive a response in time for publication.
According to an incident report from the Pittsburgh Public Safety Department, Spriggs first notified police of the incident at around 1 p.m. on April 11, while he was recovering at UPMC Mercy hospital in Pittsburgh.
"Officers spoke with a male victim with facial injuries and an injury to one arm. The male told police it happened in a bar somewhere on the South Side. He did not know the exact location or time of day it occurred," the report says. "He told police he accidentally bumped into another male at the bar who confronted him verbally. He says that male and another ended up punching and kicking him. The complainant admits to throwing a bottle of alcohol, but didn't know if he had hit anyone."
Donald was not named in the incident report, but it noted that "detectives are reviewing the complaint and are consulting with the District Attorney's office which will determine whether charges are warranted against the accused individual. They are also reviewing any available video footage."
Reached for comment by Newsweek, the Pittsburgh police department directed Newsweek to the incident report.
Correction, 4/16/2021, 2:40 p.m. ET: An earlier version of this article misidentified the news station where Cara Sapida works. It's WPXI, not WPIX.