New Video Shows U.S. Forces Rescuing ISIS Hostages in Hawija Raid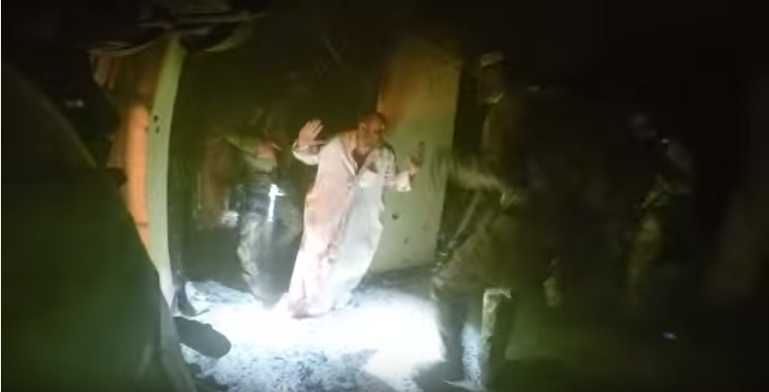 Dramatic video footage released on Sunday shows a joint U.S.-Kurdish mission that led to the rescue of dozens of hostages held at a prison in Iraq run by ISIS militants.
The two-minute-long video, released by the Kurdistan Region Security Council, shows groups of men running and being led out of a room amid gunfire as soldiers pat them down. Some emerge with their hands up, while others cover their ears from the crackle of weapons. The camera, which was reportedly mounted on a helmet of a Kurdish soldier, clearly shows the black-and-white flag associated with ISIS on the striped walls of a room.
Most of the hostages in the video are barefoot and wearing long robes. During the clip, the camera also pans down a long corridor, where a number of padlocked rooms can clearly be seen. A fire appears to be burning outside one of the windows.
On Thursday, U.S. special forces and Kurdish Peshmerga forces, with the help of U.S. airstrikes, released around 70 hostages from a prison in Hawija, in Iraqi Kurdistan. Among the hostages were 20 members of the Iraqi Security Forces, according to the Pentagon.
Master Sgt. Joshua Wheeler, 39, a member of the Delta Force, died during the raid. He is the first American soldier to die in combat fighting ISIS.
The Pentagon added that U.S. forces "recovered important information" about ISIS during the raid.
Five ISIS militants were captured in the raid, while 20 militants were killed, according to a statement from the Kurdistan Region Security Council.
The authenticity of the video has been confirmed by a U.S. military official.
The number and nationality of the soldiers taking part in the raid is not made explicit in the video. The hostages "faced imminent mass execution" by ISIS before they were freed during the operation, the Pentagon said in a statement last week.