New Vizio V-Series 4K HDR Smart TV Review: Streaming Content Is King
This year's V-Series model is still solid, but to quote Elvis Costello, "All this but no surprises for this year's girl." The mid-level TV set looks great, has a ton of internet smarts and features galore, but it doesn't carry a lot of surprises. It's exactly as Vizio markets it: "affordable performance." For some people, that's all they need and all they want. In that case, this 55-inch, 4K, HDR-capable TV for $500 remains a solid choice.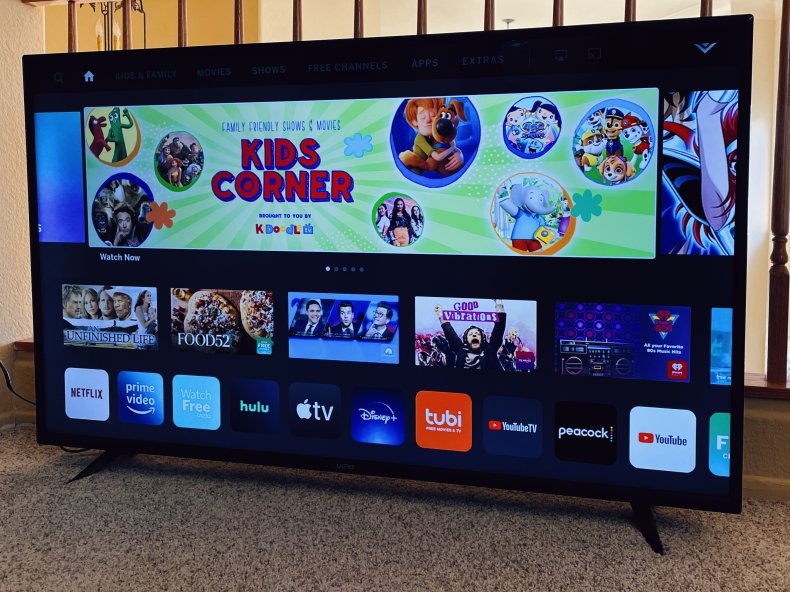 What exactly does affordable performance look like or mean? This 55-inch V-Series smart TV includes Dolby Vision HDR and a 4K resolution to help bring the content to life. It has HomeKit and AirPlay support to connect with Apple devices. It also has Alexa and Google Assistant built in to cover all your bases on the convenience side. This TV simply include all the expected modern features and may not contain many surprises, but its value is not boring.
The 2021 V-Series TV Set
The allure of the V-Series is not in its physical shape or size but in its content. The screen is framed by thin black plastic and held up by minimal plastic feet. The TV can just as easily be attached to a wall with a separate mount if freestanding isn't your thing.
The three 2.1 HDMI and component inputs are on the back right-hand side. The TV is a little chunky at 3.4 inches deep, but its appearance and port selection are all very standard. I wouldn't describe the physical design as sleek. I would say it's more on the neutral side: very bland and able to blend into any setting.
A Smart Connected TV
When the appearance of a set isn't the focus, the content takes center stage. In this case, the V-Series shines by presenting a plethora of viewing options.
WatchFree+ is a rebranded implementation of Pluto's free streaming service and lives in plain view. If you've never tried Pluto, it has an overwhelming amount of content, including dedicated channels and long-running shows like Deal or No Deal, Wings, Baywatch, and many more. It has a 007 channel that only plays James Bond films. There are ads, like broadcast shows, of course, but it's a solid replacement for needing an antenna or basic cable.
WatchFree+ is highlighted in the SmartCast interface, though it's far from the only way to view shows and movies. There are dedicated apps for Tubi, Disney+, Netflix, Peacock and even Apple TV+. There are even specialty apps like Facebook Watch and Pandora to cover more than the standard shows and movies.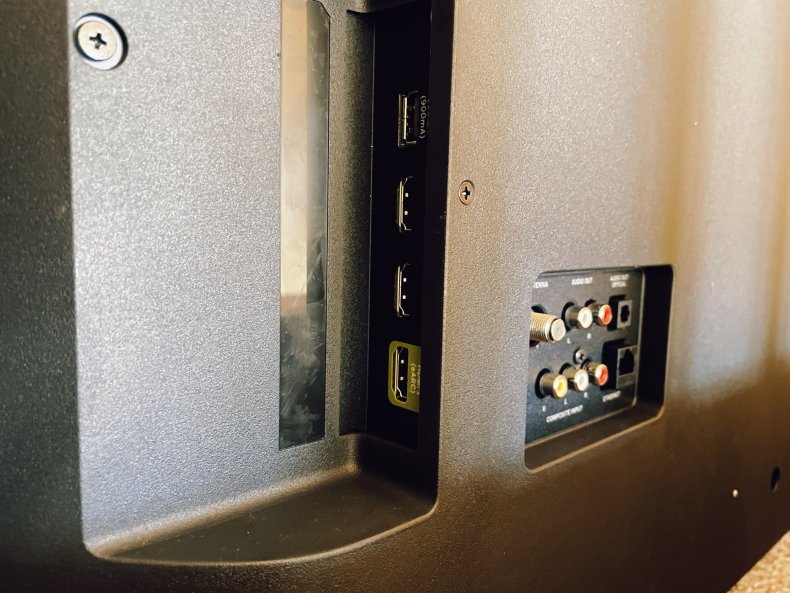 Streaming movies from Tubi or a number of the other streaming services looked great. The combination of HDR and 4K resolution makes content pop. The newer shows obviously look the best, but even regular high-def ones were more than acceptable. The picture quality here, on this screen size, outdoes its $500 cost. But its price point and hardware do dictate that the picture is not as flawless as the top of the line LCD screens. Its black levels are far from OLED. The TV does stand up well to other budget-friendly options, though.
When comparing it to a 50-inch LG TV that came out just a few years ago, the difference is extremely noticeable. The V-Series is great. But it just doesn't hold a candle to overall picture quality when comparing it directly to a 55-inch 2020 LG OLED TV.
Anecdotally, the contrast and black levels on Vizio's new V-Series were better than I expected. The picture was more natural and the colors more accurate than I was anticipating, as well. I was pleasantly surprised at every turn with the picture. I was less impressed with the sound from the built-in speakers, but that's not a surprise, and they were still acceptable.
The speakers, like the picture settings, have different profiles to change and adjust the defaults. Out of the box, the sound tries to mimic multispeaker audio. I wouldn't call it impressive by any stretch, but the overall sound is fine for a TV set.
Beyond the included apps, there are a lot of extra ways to get content on the screen, including Apple's AirPlay and Google's Cast. Both connectivity options allow sending content from a phone, tablet, laptop or Chromebook directly to the TV. For voice, there's Amazon Alexa and Google Assistant support. There's even HomeKit compatibility so the TV can show up and be controlled from the Home app on Apple devices.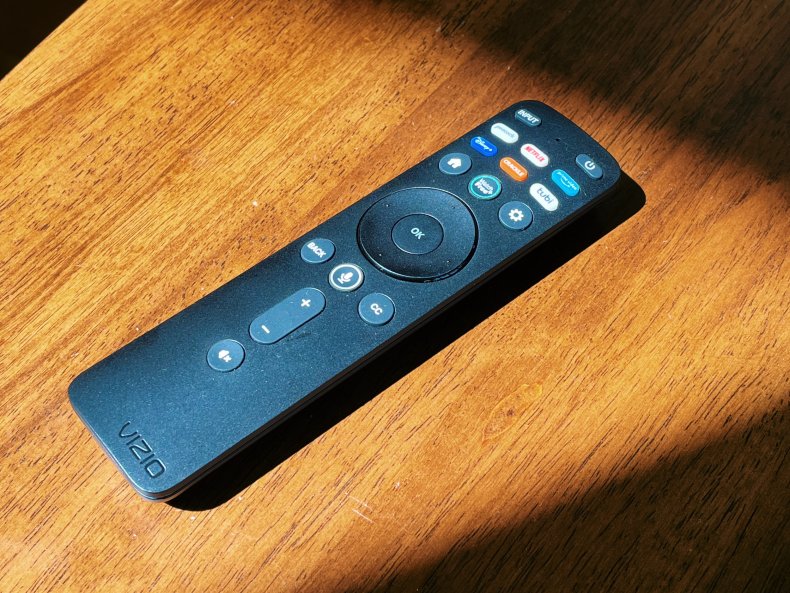 The all-new remote for the TV is Bluetooth enabled so it doesn't need line-of-sight for input. It has dedicated app buttons and can do voice search. It can be a bit sluggish registering the words said, but it does hear voice commands well. There are dozens of those commands, plenty of which can make operating the TV and finding content easier than wandering around the interface.
There's very little to complain about with the V-Series TV. Are too many apps or content choices a downside? There was nothing glaring, but I did encounter some annoyances. The biggest of which was when the TV didn't have a solid internet connection. The SmartCast software did not like that. It would keep quitting and reloading. The TV really wants to stay connected to the internet.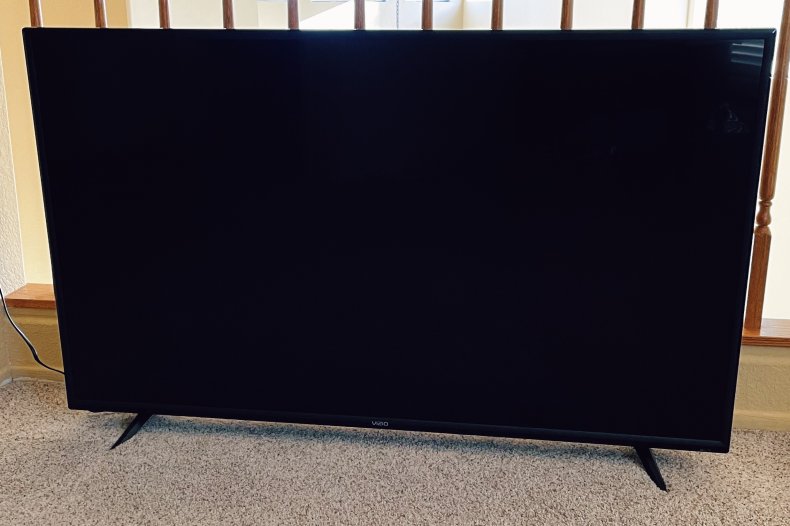 If you exclusively use a dedicated box like Roku, Apple TV or other hardware connected through an HDMI port, then you might not ever run into this issue. Another very minor issue was the remote turning on another Hisense monitor in an adjacent room. How? Why? I'm not quite sure. Again, a minor inconvenience that most people might not even run into.
Should You Buy a Vizio V-Series TV?
There's just not much to dislike about the V-Series TV, its features or its built-in content selections. It allows you to get right down to watching shows and movies by simply connecting it to a Wi-Fi network—no other box or device needed.
It's geared to provide affordable performance, and it delivers. It's not a massive upgrade over last year's model, but it is a perfect value for anyone looking to get a family room–size television set.
Buy at Best Buy.
Newsweek may earn a commission from links on this page, but we only recommend products we back. We participate in various affiliate marketing programs, which means we may get paid commissions on editorially chosen products purchased through our links to retailer sites.