New Washington COVID Rules Could Kill More Businesses Than Save Lives | Opinion
Amid a "third wave" of confirmed COVID-19 cases, Washington Governor Jay Inslee announced a series of mandates that have dramatically slowed the state's economy. The new rules treat the virus as if the 98.2 percent statewide survival rate is actually the death rate. These mandates could very well kill more businesses than they might save lives. It's why so many businesses are struggling to understand this new lockdown.
Restaurants and bars are again closed for in-person service, forced to make due with only takeout or outdoor seating. Gyms, indoor movie theaters and bowling alleys must shutter, too.
Retail businesses and personal care services, like barbers and nail salons, can remain open, but are limited to just 25 percent capacity. Professional services must mandate their employees work remotely when feasible, and not exceed 25 percent building capacity even if staff wear masks. Real estate open houses are prohibited entirely.
These moves constitute an overreaction that will crush businesses at the worst possible time. And they are most certainly not grounded in either sound science or sound data.
During the first week of November, when Inslee warned that the state was experiencing a surge in cases, there were only two combined outbreaks tied to retail and restaurant—and zero tied to grocery stores, real estate, bars and personal service providers. Yet these businesses suffer the greatest consequences of the new mandates.
Like many states, Washington's economy was impacted by COVID-related shutdowns. But thanks to a stable tech sector, the economy was able to stave off true calamity. The state faces a roughly $4 billion budget shortfall—far less than an earlier forecast that had projected double that. But the tech sector's success, buoyed by Seattle-based Amazon, hides a painful reality: Washingtonians are suffering well beyond what context-free unemployment numbers would otherwise indicate.
In Seattle, some restaurants, coffee shops and boutique retail shops owed their existence to a steady flow of Amazon employees as customers. When Amazon and others shifted to a work-from-home model, nearby businesses took a significant hit.
Working from home, Amazon employees no longer stopped by for burgers and beers at Tom Douglas-owned Bravehorse Tavern. In July, the chef and restaurateur announced he was permanently shuttering the restaurant, along with a second. Other restaurants followed suit, with at least 40 permanently closing in the area.
In Downtown Seattle alone, at least 140 businesses permanently shut down according to the Downtown Seattle Association. Now, just as downtown visitor traffic started to pick back up for the holiday shopping season, they'll be forced to restrict access to their stores while likely also cutting back on staff hours.
The woes extend far outside of Seattle.
With the airline industry suffering so dramatically, Boeing announced it would pull production of the 787 airliner out of Snohomish County. This impacts at least 1,000 jobs, on top of the previously announced 12,600 layoffs and buyouts.
In Spokane County, 25- to 34-year-old workers have been hit the hardest. They represent almost 50 percent of the total unemployed. The tragic irony is that this age demographic represents just 2 percent of all deaths statewide.
Inslee has no plan in place to address the inevitable economic impacts of another ruinous shutdown. He acknowledges that he only has a paltry sum of funds for business grants and loans, and also lacks any meaningful distribution plan. The governor is waiting for federal funding to help.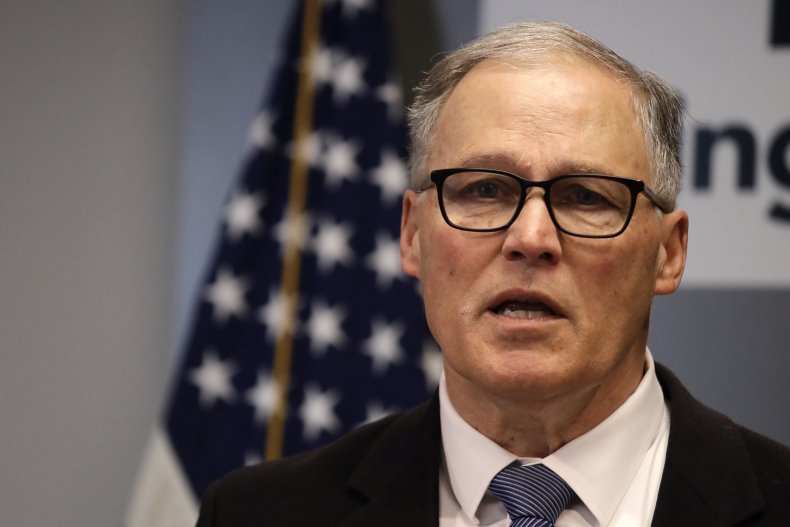 There is a way to slow the spread of COVID, while also helping the economy. It starts and ends with promoting mitigation efforts.
When public health officials tirelessly promoted mitigation efforts, from mask wearing to social distancing, COVID cases were manageable. But in the few weeks leading into and through the November election, Inslee and others gave up on meaningful pleas to stay vigilant in the fight against COVID. Add less messaging to pandemic fatigue during a holiday season, and you have a recipe for a surge in cases.
It's undoubtedly true that data show Washington is in the middle of a third wave. There is an increase in cases and hospitalizations. But public health officials stress that private social gatherings are responsible for the current surge. It's why the governor addressed the state with a plea to cancel Thanksgiving plans to travel to see family.
The retail industry and restaurants have kept strict COVID protocols in place, which is why they're connected to so few outbreaks. In Pierce, Walla Walla and Clark Counties, for example, less than 1 percent of COVID cases were traced to restaurants. This new round of forced closures, warned Anthony Anton, president of the Washington Hospitality Association, will kill 100,000 jobs statewide. That is a staggering statistic.
Why should restaurants suffer if they're not responsible for the surge? Inslee explains that "we have to reduce these transmissions any place we can," arguing that the mandates are not a form of punishment. Instead, Inslee asserts that "we have to identify every single environment where this transition can take place"—though, curiously, he hasn't stopped the Seahawks from playing two home games at Lumen Field since his new mandates began.
We're heading into the holiday season, where more family and friends will spend time with each other. Inslee offers a ban on indoor social gatherings that he admits is unenforceable. So the only mandates he'll enforce are the ones against struggling businesses that aren't responsible for the current surge. In what reality is that fair, and in what reality will that not decimate the state economy?
Jason Rantz is a frequent guest on Fox News and is the host of the Jason Rantz Show on KTTH Seattle, heard weekday afternoons. You can subscribe to his podcast here and follow him on Twitter: @jasonrantz.
The views expressed in this article are the writer's own.