Hong Kong saw a wave of pro-Beijing candidates elected to office following a Sunday election that Reuters reported saw a record-low voter turnout of barely over 30 percent. Pro-democracy activists in the area described the election as "undemocratic," Reuters wrote, and a sign of Beijing strengthening its grip.
The 30 percent voter turnout was roughly half the total seen in the city's 2016 elections. Activists said this is a product of Beijing's national security laws and electoral changes that have pushed the "special administrative region" away from its representational form of government and closer to the authoritative governance system employed throughout the mainland.
Upon Hong Kong being transferred from British colonial rule in 1997 to the Chinese government, the area was given its "special administrative" status that allowed it to maintain the Western aspects of its electoral and economic systems. This has been called the "One Country, Two Systems" principle and appears to be under further threat, given the results of the recent election.
In this election, almost all the available seats were taken by pro-Beijing candidates who Reuters reported cheered at the vote-counting center, stating, "guaranteed win" as the votes poured through. The city's leader Carrie Lam held a press conference where she acknowledged the low turnout but did not cite specific reasons.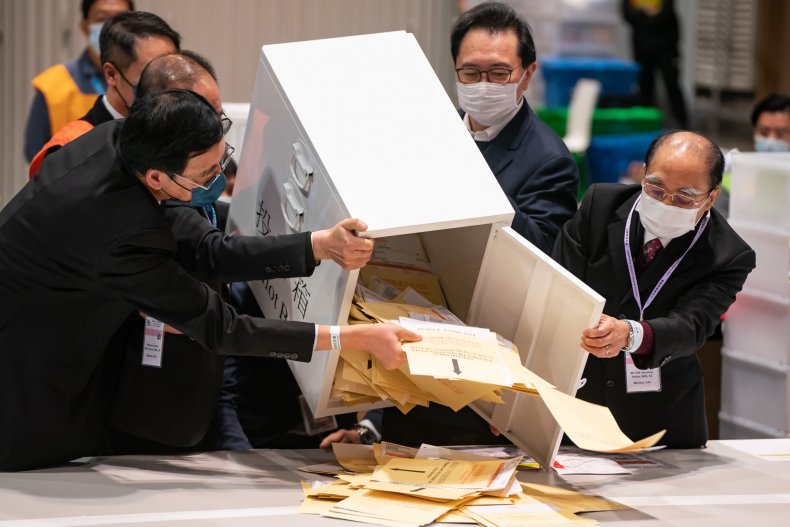 "But 1.35 million coming out to vote—it cannot be said that it was not an...election that did not get a lot of support from citizens," Lam said, according to Reuters.
From 2019 to 2020, Hong Kong saw a mass wave of protests that started after plans were announced to allow the extradition of individuals from the region to mainland China, which critics believed would undermine the city's independence. The rule was removed, but citizens continued to protest, demanding full democracy.
The later demand was not met, and the national security law was put in place to legally crackdown on individuals who advocate for Hong Kong's breaking away from mainland China.
Reuters wrote that the law resulted in a number of Democrats who originally wanted to run for office being locked up in jail and forced others to flee the city. The low turnout, combined with the fact that the government vetted candidates to ensure only pro-Beijing patriots ran undermined the legitimacy of the zone's democratic system, Reuters wrote.
Statements from the G7 of Canada, France, Germany, Italy, Japan, Britain, and the United States expressed "grave concern" over the decline of Hong Kong's democracy, writing:
"We strongly reiterate our call on China to act in accordance with the Sino-British Joint Declaration and its other legal obligations and respect fundamental rights and freedoms in Hong Kong, as provided for in the Basic Law. We also call on China and the Hong Kong authorities to restore confidence in Hong Kong's political institutions and end the unwarranted oppression of those who promote democratic values and the defense of rights and freedoms."