New White House Report Predicts Over 100K New U.S. COVID Cases a Day, Contradicting Trump's Claim that Nation is 'Rounding The Turn'
A new White House report suggests that the U.S. could see over 100,000 new COVID-19 cases a day this week, contradicting comments made by President Donald Trump that the nation is "rounding the turn" with the virus.
The internal report was written by Dr. Deborah Birx, coordinator of the White House coronavirus task force, according to The Washington Post, which obtained the report.
"We are entering the most concerning and most deadly phase of this pandemic ... leading to increasing mortality," Birx wrote in the report, according to The Post. "This is not about lockdowns—It hasn't been about lockdowns since March or April. It's about an aggressive balanced approach that is not being implemented."
According to The Post, the report goes against many of the things Trump has continued to do throughout the pandemic, such as holding large campaign rallies, and notes that the U.S. is currently entering a treacherous period and should expect to see more than 100,000 new COVID cases per day this week.
Across the U.S. there are currently over 9.2 million cases of the novel coronavirus, according to a tracker from Johns Hopkins University, and at least 231,510 deaths.
The report obtained by The Post comes after Trump said the U.S. is "rounding the turn" with the novel virus. The president made the comment during the final presidential debate with Democratic candidate Joe Biden.
The president made similar comments on several other occasions, including two campaign rallies—one in August in Nevada and one in September in Pennsylvania.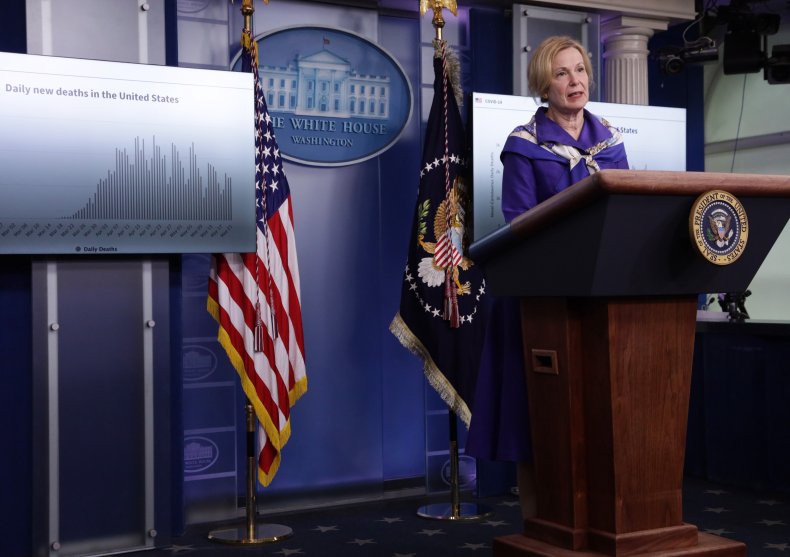 In addition to Birx's report contradicting Trump, several other medical professionals have made similar comments in opposition to the president's words.
Dr. Anthony Fauci, the nation's leading infectious disease expert, spoke with MSNBC's Andrea Mitchell in early September about Trump's claims and said: "I'm sorry, but I have to disagree with that because if you look at the thing that you just mentioned, the statistics, Andrea, they're disturbing."
During a recent interview with BBC, Fauci, director of the National Institute of Allergy and Infectious Diseases, was asked if the U.S. was "rounding the turn" again, to which he responded by saying, "No, it's not."
"I mean I think if you just look at the numbers, you can have opinions about what's going on, but the data speak for themselves," Fauci said. "Yesterday we had over 70,000 cases additional cases in a day and we had about 100, oh, I would say about a thousand deaths, excuse me, a thousand deaths."
Newsweek reached out to the White House for comment but did not receive a response in time for publication.
Correction 11/3/20, 3:50 a.m. ET: This article was updated to correct the spelling of Deborah Birx.