New Years Day Traditions From Around the World To Make 2020 a Very Happy New Year
It's official, 2020 is here. Entering both a new year and a new decade can inspire us to look ahead, plan for the future and hope for an auspicious start to a new chapter.
Around the world, many countries carry cultural traditions meant to usher in every new year with good fortune and positive energy, aside from the common American practice of finding a person to kiss before singing of Auld Lang Syne as the ball drops in Times Square.
From the southern United States to Colombia to the Philippines, Greece, and Japan, Newsweek has compiled a list of several practices you can do to begin the new year with a little positivity, and dare we say it, luck.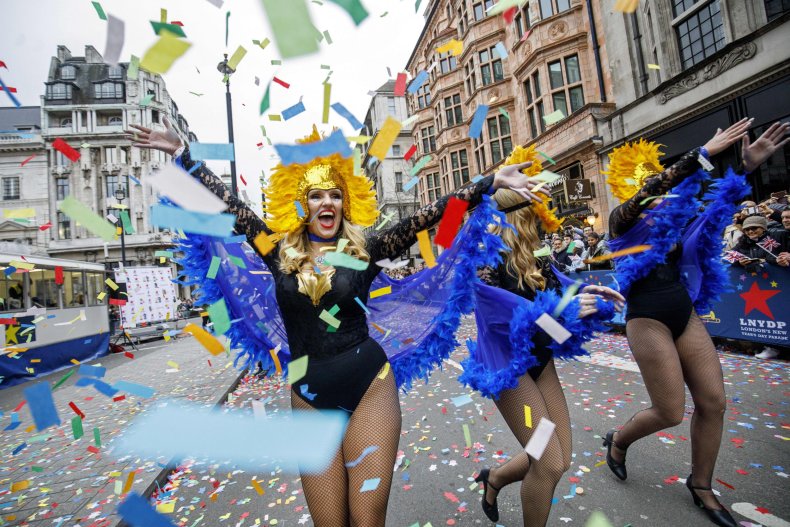 Eat your way to a health and prosperity.
In the southern United States, it is a longstanding tradition to dine on a dish called Hoppin' John throughout the first day of the year. The meal, which consists of black-eyed peas cooked with rice, pork (usually ham, but can also include hambones, fatback or bacon) and peppered with a little seasoning is believed to bring prosperity. The ingredients can be prepared any way one sees fit and is often accompanied by side dishes like collard greens and cornbread. In order for it to be truly lucky, the superstition dictates, one must eat at least 365 black eyed peas on January 1—one for each day of the year.
Similarly, many Germans eat pork and sauerkraut on New Year's Day, in the hopes of gaining "as much luck as the many strands in the cabbage," as writer Carly Mallenbaum put it for USA Today.
Instead of cabbage, buckwheat soba noodles are commonly served on New Year's Day in Japan in a tradition known as "Toshikoshi soba" because the long noodles are thought to symbolize long life.
Prepare to travel.
According to culture blogs, many people in Colombia will tote around empty suitcases each January 1 with the hopes of ushering in a year filled with travel, adventure and new experiences.
Round out the festivities and leave your windows open.
As the Philippines enters 2020, many round items such as fruits and coins will be placed prominently in households across the island nation where they will remain on display throughout the day on January 1 to bring luck and prosperity in the new year.
As an added precaution, many will leave a door or window slightly ajar (if not completely open) as a way to send negative energy packing and invite good energy to flow into the space as the decade changes.
Onions are lucky?
Yes, onions may make you cry, but in Greece, many hang the multi-layered vegetables on the front doors of their homes as a symbol of rebirth. Some parents even wake their children on New Years Day by tapping them on the head with the new year's onion. How's that for kicking 2020 off with a bang?