New Year's Eve 2021 Appetizer Ideas, From Steak Frites Bites to Bruschetta
Move over, pigs in a blanket—your New Year's Eve menu just got tastier. It's likely that many of us will be spending the night at home amid the coronavirus pandemic. Instead of exhausting yourself by making another big meal hot on the heels of the holiday season, why not make some appetizers? Sometimes appetizers are best part of the night, and if you cook enough, you can definitely make a meal out of them.
These recipes are cheesy, flavorful comfort food that are easy to make last-minute, and will make for great leftovers. From spinach artichoke zucchini bites to chicken Parm sliders, these recipes will elevate your appetizer game, and make your New Year's Eve celebration all the more delicious. Fair warning though—don't read this article on an empty stomach.
Stuffed Mushrooms
If you're a picky eater and not a fan of mushrooms, try stuffing them. Filling them with breadcrumbs and topping them off with herbs and cheese is a great way to dress up an otherwise mundane food. This Delish recipe makes eight servings, and only takes an hour to make. If you're anticipating a time crunch, the mushrooms can be stuffed in advance and kept in the fridge until you're ready to cook them. After they're baked garnish them with parsley and extra Parmesan cheese, because why not?
Buffalo Chicken Dip
This Taste of Home recipe is perfect for wing fans who want the flavor but don't want the mess of devouring them. Only five ingredients are needed for this dip, which layers the chicken and sauces in a pan to bake for less than half an hour. The recipe recommends using shredded rotisserie chicken, along with serving the dip with French bread baguette slices, celery ribs or tortilla chips. This writer further recommends mixing the leftovers with mac and cheese the following day (you're welcome).
Waffle Fry Nachos
This potato packed take on the nachos from Taste of Home is super simple to throw together. Simply cook the waffles fries according to their package, and load them up with salsa, cheese, bacon, onions, and other nacho toppers. Then cook it in the oven for about five minutes, and top with sour cream and guacamole. One reader commented that they sprinkle taco seasoning on the waffle fries for an extra kick of flavor.
Onion Beef au Jus
These beef and onion appetizers are huge hits, according to the readers of Taste of Home. Make sure you save the juices for serving, adding that extra moisture and flavor. Though they take a little more time to prepare and cook than other recipes listed here, you will have plenty of leftover beef and zero regrets.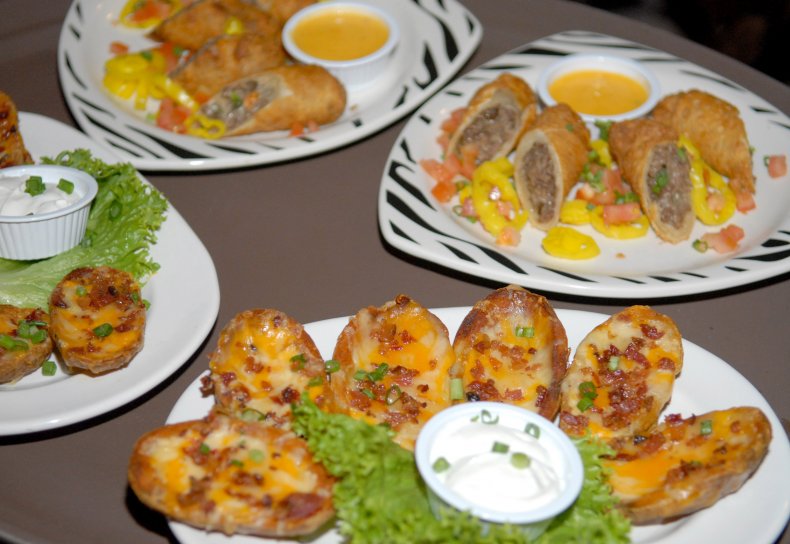 Spinach Artichoke Zucchini Bites
Take your spinach artichoke dip to the next level with these appetizers. The Delish recipe yields two dozen, but they'll be gone quick. Garlic, red pepper and sour cream are part of the mixture, which can be made ahead of time, this way you can just scoop the mixture onto the zucchini slices. The recipe recommends cooking the bites in an air fryer if you're tight on time.
Chicken Parm Sliders
These mini sandwiches are a surefire crowd-pleaser—even if you won't have a crowd this year—and who doesn't like chicken Parm? Taste of Home notes that once the rolls, chicken and marinara sauce are ready, you bake the sliders, uncovered, which gives the cheese a chance to really melt all over each sandwich. Add a couple slices of pepperoni, extra cheese, or sliced red peppers for extra flavor in each sandwich.
Steak Frites Bites
Can't go to your favorite French bistro? Don't feel like eating entire plate of French fries? If you have a grill available, try out this recipe from Delish. Make sure you don't load each steak frites bite with too many fries—they may fall apart while grilling. This recipe recommends serving the bites with steak sauce, but other savory options are aioli dressing, herb butter, hollandaise sauce or even a herby bèarnaise sauce.
Bruschetta With Tomato and Basil
The Spruce Eats has an easy recipe for the refreshing appetizer. Here, the secret to perfecting this crostini of sorts is to let the chopped tomatoes marinate in the olive oil for 10 minutes. Additionally, the bruschetta comes out better if you take the time to char the bread in the oven before assembling, but that's just this writer's opinion. The recipe notes that Romans add anchovies and fresh mozzarella on top of their bruschetta, in case you're looking for a way to vary it up. Serve with some chilled wine and enjoy!