New Year's Eve Fireworks Canceled in San Francisco Due to Omicron Concerns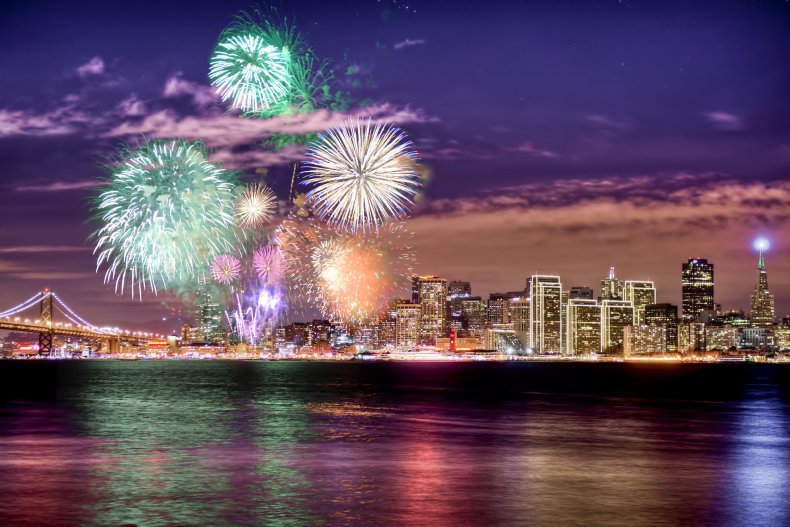 San Francisco has canceled a New Year's Eve fireworks celebration for the second year running out of concern for a surge in cases of COVID-19.
San Francisco Mayor London Breed announced alongside the city's public safety officials that the planned show had been canceled on Tuesday. The city said in a news release that the move would "best protect San Franciscans and essential front-line workers" at risk due to the rise of the highly contagious Omicron variant.
Officials noted that community spread of the variant still posed a serious risk despite 84 percent of eligible residents having been fully vaccinated and 55 percent having received booster shots. Research has shown that the currently approved or authorized vaccines are less effective at preventing transmission of Omicron, although they are still highly effective at preventing severe disease.
"While we are all understandably eager to ring in a new year with San Francisco's customary New Year's Eve fireworks show, we must remain vigilant in doing all we can to stop the spread of the COVID-19 Omicron variant," Breed said in a statement. "Thanks to our employee vaccine mandate, our public safety workers are well-protected against COVID, but they still must take all precautions to help limit the spread."
"By canceling the New Year's Eve fireworks show we are reducing everyone's exposure to COVID-19, while ensuring continuity of citywide public safety operations," she added.
The event would have required a significant deployment of essential emergency workers like police officers, firefighters and paramedics—leading city officials to voice concerns that it could put public safety at risk. San Francisco's Emergency Operations Center will still be active on New Year's Eve to deal with other potential issues.
California's COVID-19 test positivity rate has recently skyrocketed, quadrupling in only two weeks to a positivity rate of 9.7 percent by Tuesday. Data from the University of California at San Francisco (UCSF) indicates that the Omicron-fueled surge is evident throughout the San Francisco Bay Area.
Dr. Robert Wachter, chief of medicine at UCSF, described the quick rise of Omicron in some parts of the Bay Area as a "vertical jump" in an interview that The San Francisco Chronicle published on Monday.
The doctor said that almost 25 percent of patients recently admitted to the UCSF Medical Center had tested positive for the virus, up from around 4 percent two weeks earlier.
"If you walk into a room with 25 or 30 people, you can be about 95% sure that someone in there has COVID," Wachter told the paper. "These rates are crazy high compared to anything we've seen before."
The Centers for Disease Control and Prevention (CDC) estimated on Tuesday that the Omicron variant was responsible for 59 percent of all new U.S. COVID-19 cases by Dec. 25. The CDC downgraded a previous estimate that the variant accounted for 73 percent of cases by Dec. 18, with a new estimate plummeting to only 23 percent.
However, experts are still expecting Omicron to become more prevalent and fuel a spike that could see the current wave of the pandemic rise to an unprecedented new height. Records were smashed with an official CDC tally of more than 440,000 new COVID-19 cases recorded on Tuesday.