As 2019 ends and a new decade begins, most partygoers across the United States can expect a rather underwhelming set of weather patterns, as well as "higher than average" temperatures, according to forecasters.
"Much of the central U.S. looks fairly dry and tranquil, which will be good for traveling," said AccuWeather Senior Meteorologist Brett Anderson. Meanwhile, the National Oceanic and Atmospheric Administration (NOAA) noted that patches of cold left over from a winter storm are likely to sweep through the north-central U.S., from December 31 to January 2.
As the residual effects of the storm make it across the Great Lakes, one more day of rain, snow and some ice is expected across the Northeast, with cold temperatures on the New England coast, where Maine may see between 6 and 12 inches of snow.
As for the western United States, NOAA forecasters predict that "showers and thunderstorms" are likely "to develop across the western Gulf Coast region on Wednesday in association with a warm front lifting northward from the Gulf of Mexico." This will bring dry weather conditions from western Texas to the Midwest, and from Florida to the Mid-Atlantic.
Read on for the new year's city-specific weather forecasts across the U.S.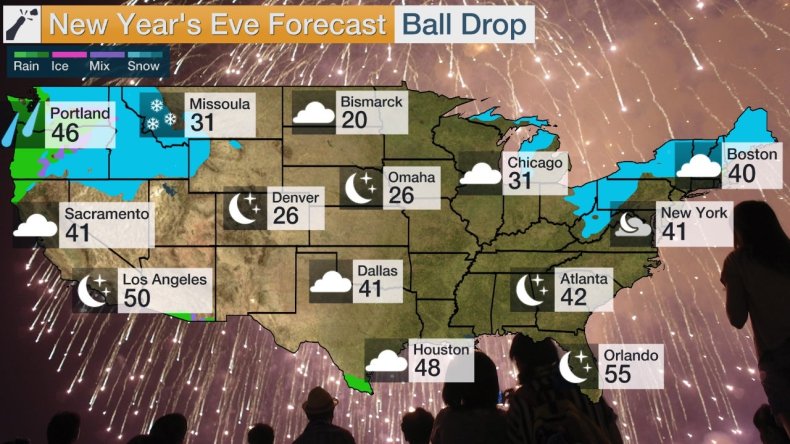 New York City
A "few passing clouds will pass through, with an isolated shower or two" in the Big Apple, the Weather Co., an IBM business, told Newsweek. Winter Storm Gage will pass "well to the north early next week."
"Dry weather looks likely for the ball drop, with temperatures running in the 30s to near 40 F," according to AccuWeather Senior Meteorologist Brian Thompson. He noted that the temperature is slightly above average for this time of year.
Boston
Rain showers are predicted to fall across the city on New Year's Eve, the Weather Co. said, though skies should clear by midnight. However, "breezy conditions" may occur on the first day of the new year as Gage passes through.
Philadelphia
Slightly above-average temperatures are expected as a high pressure buildup sweeps across the city in the new year, along with breezy conditions, the Weather Co. said.
New Orleans
"In the South, moisture is expected to surge northward from Mexico, which will result in increasing showers in the Gulf Coast region," AccuWeather's Anderson predicted.
Also expected in the Louisiana city as the decade turns is "a mix of sun and clouds." There also will be a few possible showers and mild temperatures and a "soggy system," coming in from Northern Mexico, for the first few days of 2020.
Miami
Like many cities along the East Coast, Miami may experience a "few scattered showers" on New Year's Eve, though January 1 "is expected to be quiet," the Weather Co. said.
Atlanta
Like Philadelphia, Atlanta is likely to see "high pressure," "mild conditions" and "a few passing clouds" on New Year's Day, according to the Weather Co.