New Year's Eve NYC Live Stream 2020: Watch Times Square Ball Drop Online and On TV
People will gather with family and friends on Tuesday evening to mark the end of the past year and the start of the new one, and those who can't make it to the big Times Square celebration in Manhattan can watch it from home.
It's a tradition that's more than 100 years old: Hundreds of thousands of revelers gather in the iconic location for music, celebrity appearances and to witness the ball drop at midnight. Space for witnessing the spectacle in person is limited and on a first-come, first-served basis. Meanwhile, more than 1 billion people will watch the festivities online from around the world.
Those who can't make it to Times Square have four ways to watch the celebration at home, as Times Square's management association has its own live stream while Fox, CNN and ABC will all host coverage.
Times Square New Year's Eve Ball Drop Live Stream
Beginning at 6 p.m. EST, people can tune in to a live webcast to catch all the action at Times Square.
The New Year's Eve live stream will also be available on mobile devices for free at TimesSquareNYC.org, NewYearsEve.nyc and TimesSquareBall.net. Those who prefer to use a mobile application can watch on Facebook and Twitter.
Hosted by Jonathan Bennett, who played Aaron Samuels in Mean Girls, the festivities will kick off at 6 p.m. with the lighting and raising of the Times Square New Year's Eve ball. Over the next six hours, there will be musical performances from the Village People, LL Cool J, USO Show Troupe, Julianne Hough, Alanis Morissette, X Ambassadors, Sam Hunt, Post Malone and BTS.
The 60-second countdown to the new year will begin at 11:59 p.m., when the ball begins its 70-foot descent.
Dick Clark's New Year's Rockin' Eve With Ryan Seacrest (ABC)
On TV, Dick Clark's New Year's Rockin' Eve is an iconic staple of the last night of the year, although it's now hosted by Ryan Seacrest. This year, actors Lucy Hale and Billy Porter and singer Ciara will join Seacrest as co-hosts, according to ABC.
The network's coverage will begin at 8 p.m. EST and can be streamed on televisions nationwide on the location's respective ABC channel. People can also catch the musical performances on ABC's website and on mobile devices through the ABC application, although cable login credentials may be required to access the content.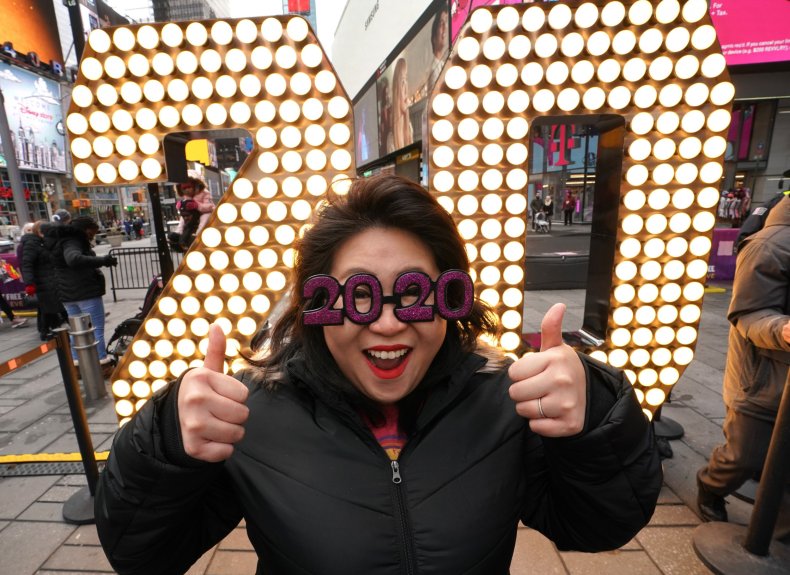 New Year's Eve Live With Anderson Cooper and Andy Cohen (CNN)
For the third year in a row, Anderson Cooper and Andy Cohen will co-host CNN's New Year's Eve coverage live from Times Square. Coverage will also begin at 8 p.m. EST and continue until 12:30 a.m. on Wednesday, where co-hosting duties will be handed off to CNN anchors Don Lemon and Brooke Baldwin. Lemon and Baldwin will join the Central Time Zone's countdown to midnight live from Nashville.
Fans can watch on television through their designated CNN channel or on the CNN website. Viewers can also tune in with their phone, smart TV or iPad with the CNNgo mobile application.
Performances and appearances for CNN's coverage will include Christina Aguilera, Lenny Kravitz, Shania Twain, Patti LaBelle, Keith Urban, 50 Cent and the Chainsmokers, according to CNN.
New Year's Eve With Steve Harvey: Live From Times Square (Fox)
Steve Harvey is back as host of Fox's New Year's Eve celebration and will be at the helm for three and a half hours of coverage. This year, Harvey will share his hosting duties with TV personality Maria Menounos and NFL Super Bowl champion Rob Gronkowski.
Coverage is scheduled to begin at 8 p.m. EST and will be available on TV as well as the Fox website. Viewers may have to input their login credentials to access the live stream online.