New Year's Eve Performers, Schedule 2018: Times Square, Hollywood, New Orleans, Las Vegas
As 2018 draws to a close, people around the globe gather together to welcome in the New Year, and for some, those festivities will include live performances.
While Times Square in New York City is one of the most iconic spots to spend New Year's Eve, large parties have popped up across the country. All touting their own flair and performers, revelers can take in the musical performances in person or for some performances, through a live stream from the comfort of their own home.
Times Square Musical Performances
About a million people will pack themselves into Times Square and an additional billion people are expected to watch the festivities around the globe. To kick off the musical performances of the night will be musician Robin Thicke. He's scheduled to perform a medley of his hit songs "Magic," "Living in New York City" and "Blurred Lines" from 6:46 p.m. EST until 6:56 p.m. EST.
Following Thicke, at 7:39 p.m. EST, The Lab dance crew will perform a choreographed routine until 7:44 p.m. EST.
Coming to the stage at 8:02 p.m. EST, the United States Open Show Troupe will perform a Military Salute to honor the Armed Forces.
After their five-minute performance, singer Bebe Rexha will take the stage at 8:11 p.m. EST to perform the songs "Meant to Be," "Me, Myself & I" and "I'm a Mess," which is scheduled to last until 8:23 p.m. EST.
Following the Waterford Crystal Toast, country musicians Dan + Shay will perform the songs "Tequila" and "All to Myself" from 8:32 p.m. EST until 8:40 p.m. EST.
Revelers will be treated to a performance of "Broken," "These Are My Friends" and "Maybe, I'm Afraid" by lovelytheband from 9:02 p.m. EST until 9:14 p.m. EST.
From 9:25 p.m. EST until 9:30 p.m. EST, Lance Bass will sing "Sleighin' the Holidays," followed by New Kids on the Block with a medley of their songs from 9:36 p.m. EST until 9:43 p.m. EST.
Kicking off the 10 p.m. EST hour will be Mau y Ricky with Lali Esposito, who will perform a medley of their hit songs "Mi Mala," "Desconcidos" and "Ya No Tiene Novio."
Coming to the stage at 10:20 p.m. EST will be Snoop Dogg, whose five-minute performance will be followed by Bastille.
From 11:01 p.m. EST until 11:09 p.m. EST, Paulina Rubio will perform a medley of her songs, which will be followed by a performance of Sting's song "Brand New Day" at 11:19 p.m. EST.
Headlining Dick Clark's New Year's Rockin Eve in Times Square will be singer Christina Aguilera, who will perform from 11:37 p.m. EST until 11:47 p.m.
Bebe Rexha will return to the stage to perform John Lennon's "Imagine" at 11:55 p.m. EST, the final performance before 2018.
Performances can be viewed here.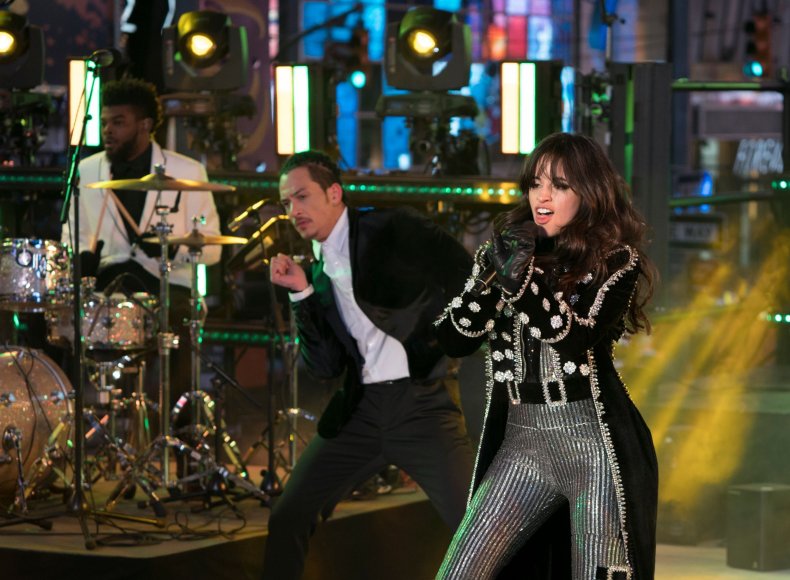 Las Vegas New Year's Eve Performers
Unlike Times Square, which hosts one giant hours-long event, Las Vegas's New Year's festivities require patrons to make a choice. However, they've got more than one great show to see on the Las Vegas strip on December 31.
Tickets went on sale in August for Lady Gaga's New Year's Eve performance in Las Vegas at the Park Theater at the Park MGM hotel. The performance is scheduled to begin at 8 p.m. PST and is part of Lady Gaga's 27-show residency at the venue.
Bruno Mars' 24 Karat Magic New Year's show is scheduled to begin at 8 p.m. PST at the T-Mobile Arena.
Gwen Stefani will spend New Year's Eve performing at Planet Hollywood with a show that lasts 90 minutes. Tickets begin at $90, according to Vegas.com, and the show begins at 7:00 p.m. PST.
Celine Dion will perform at Caesar's Palace at 7:30 p.m. PST with a concert that lasts 90 minutes. Tickets start at $127, according to Vegas.com.
New Year's Even New Orleans Performances
Dick Clark's Rockin' New Year's Eve special will also take place in New Orleans with actress Lucy Hale as host. Musical performers include Florida Georgia Line and Marin Morris. A schedule for the exact timing of the performances has not been released.
Dick Clark's Rockin' New Year's Eve will be streamed live by ABC here.
Hollywood NYE Music Acts
Dick Clark's Rockin' New Year's Eve also hosts events on the West Coast, the final time zone in the contiguous 50 states to ring in 2019. Singer Ciara is set to host and perform at the event and will be joined by almost 15 other artists to help fans celebrate the end of 2018.
A schedule hasn't been released for performance times but the musicians have been identified as Kelsey Ballerini, The Chainsmokers, Foster the People, Dua Lipa, Macklemore with Skylar Grey, Ella Mai, Charlie Puth, Lauren Alaina, Bazzi, Kane Brown, Camila Cabello, Halsey, Shawn Mendes and Weezer.