Unusual New Year's Eve Events Across the U.S., From Possum to Potato Drops
It's New Year's Eve, which means cities across the U.S. will be celebrating in their own way. From a potato drop in Idaho to a possum drop in North Dakota, hundreds of unusual items are dropped to celebrate the clock striking midnight. Here are some of the most quirky objects that get dropped across the U.S.
Alabama
Alabama's midnight drops include a Moon Pie in Mobile and a meteorite in Wetumpka.
Arizona
At midnight, a pinecone will be dropped in Flagstaff, a deuce of clubs card in Show Low, a Taco in Tucson, a boot in Prescott, and an Iceberg lettuce in Yuma.
Arkansas
Fayetteville usually drops a hog, but the city won't see another hog drop until New Year's Eve 2020.
Florida
Key West will drop a conch shell and a drag queen, Miami will drop an orange, and Sarasota will drop a pineapple.
Georgia
Atlanta usually drops a peach but will drop a "rooster" this year, and Tallapoosa will drop a stuffed possum.
Idaho
The potato was named Idaho's state vegetable in 2002, so it's no surprise it's involved in the New Year's Eve celebrations. Boise is hosting its seventh annual Idaho Potato Drop, which will see a 1,200-pound fiberglass potato lowered by a crane when the clock strikes midnight.
Louisiana
New Orleans will drop a Fleur de Lis at midnight. Until 2008, the city dropped a gumbo pot.
Maine
Eastport will drop a maple leaf at 11 p.m., followed by a sardine at midnight, and Kennebunk will drop a wild blueberry.
Maryland
Havre de Grace is celebrating its 20th anniversary of dropping a foam duck, and Princess Anne will drop a muskrat.
Michigan
Traverse City will drop a cherry to celebrate it being the Cherry Capital.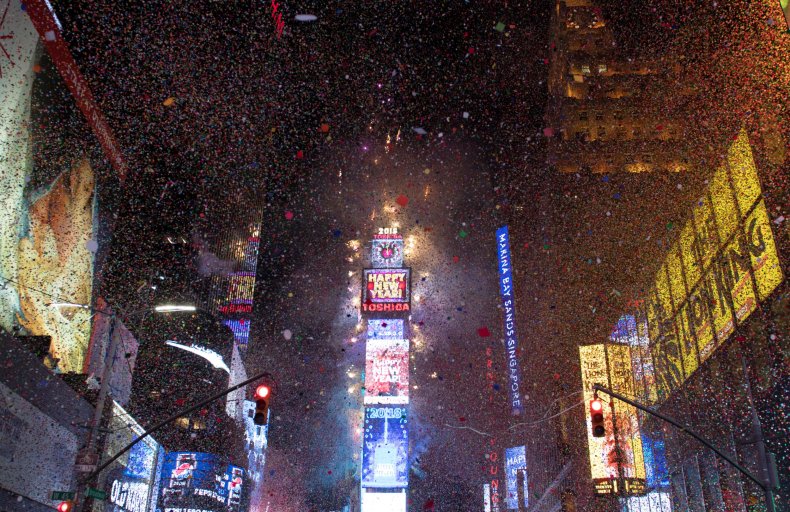 New Jersey
To celebrate the year 2000, New Jersey dropped mossbunker fish and on New Year's Eve 2010, Snooki from Jersey Shore was lowered.
New Mexico
Las Cruces is celebrating its sixth annual chili drop this year.
New York
New York is known for its crystal ball that drops in Times Square. A ball has dropped in Times Square to celebrate New Year's Eve since 1907 and has been lowered every year except 1942 and 1943 due to the war. In the 1980s, the ball was transformed into a red apple.
North Carolina
North Carolina began hosting a Possum Drop in the 1990s, which saw a live possum in a plexiglass box get lowered at midnight. But after protests from animal-rights groups, 2019 will see a stuffed possum lowered instead.
While many animals are symbolically dropped at midnight across the U.S., please note that live animals are not used. Instead, cities typically drop stuffed animals, models or puppets.
Ohio
Marion and Chagrin Falls will both drop a giant ball of popcorn and Port Clinton will drop a giant walleye fish.
Pennsylvania
Pennsylvania is the state where most objects are dropped, including an anchor, a beaver, a beer bottle, a button, a kettle, peeps, and a pickle. https://www.pennlive.com/entertainment/2016/12/weird_things_pennsylvania_drop.html
South Carolina
South Carolina will drop a giant golf ball and a giant pair of flip flops.
Wisconsin
Plymouth will drop a giant cheese wedge, Prarie du Chien will drop a carp, and Sister Bay will drop a cherry.