The 2020 New Years Resolutions That Will Actually Improve Your Life, According to Experts
As 38 percent of Americans prepare to take on at least one New Year's resolution in 2020, most (51 percent) are hoping to tidy up their finances, eat more healthfully (51 percent) or exercise more (50 percent), according to Ipsos.
For many, these well-intentioned plans will have faded from view by February, but some—almost 20 percent of resolvers, according to one study from the University of Scranton—will create meaningful, long-term change. What's more, researcher John Norcross found that those who make formal resolutions are 10 times more likely to reach their goals than non-resolvers.
Ahead of the new decade, Newsweek reached out to leading advice givers, wellness professionals and happiness experts for their top resolution recommendations for roaring into the 2020s.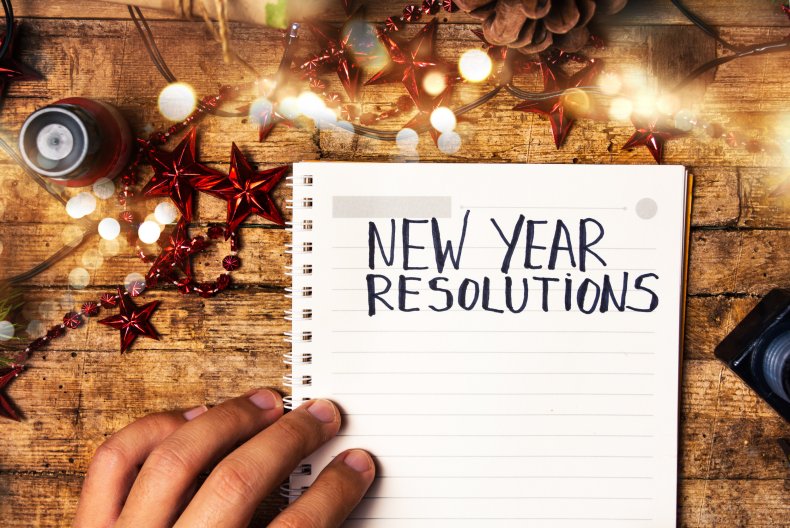 "The one new year's resolution I would recommend is to take time to experience gratitude—that feeling of appreciating all the blessings in your life," Dr. Laurie Santos, Yale University professor of psychology and host of The Happiness Lab podcast told Newsweek. Gratitude, according to Santos, can be a jumping off point for more tangible lifestyle changes.
"There's lots of research showing that experiencing more gratitude can boost happiness, but gratitude has also been shown to increase self-control—which can lead you to be more patient, save more money and even eat healthier. So experiencing more gratitude is like a meta-resolution—it allows you to feel happier but it also gives you the psychological strength you need to achieve other goals in the new year as well," Santos wrote.
Doctor Deepak Chopra, the author of 90 books on wellness including 2019's Metahuman, offered similar advice, recommending introspection grounded in daily practice.
"Start every day with silent reflection. Ask yourself four questions before you begin your day: Who am I? What do I want? What's my purpose? What am I grateful for? Living the questions moves you into the answers—a more meaningful and purpose-driven existence," Chopra advised.
Podcast hosts Kristen Meinzer and Jolenta Greenberg, who have lived by the advice of more than 25 self-help tomes for their show By the Book, a podcast that examines the benefits and downsides of popular lifestyle guides, both encouraged focusing on compassion in 2020. "My one recommendation for improving one's well-being in the new year is to commit daily acts of kindness. Start each day asking yourself, 'What can I do to make someone else's life better?' Then find ways throughout the day to answer that question with actions," Meinzer told Newsweek.
Complementing her partner's outward focus, Greenberg reiterated the importance of self-care: "This year, I super recommend trying a resolution that gets you excited or feels like an act of kindness and care you're giving to yourself. For example: I've had a really rough 2019, so my 2020 resolution is to give myself a few minutes each day to crochet or play piano, two things I love to do but sacrifice pretty easily when I'm stressed or depressed."
"I'll admit I'm biased, but when it comes to wellness, I always recommend people focus on food first," Melissa Urban, creator of the Whole30 diet, told Newsweek. "Our relationship with food is so foundational, and I've seen that when we're nourishing ourselves well from a place of self-care, it spills over into every area of our lives—more energy, better sleep, improved self-confidence, and improved capacity to manage stress. Whether you join the January Whole30, commit to a 'dry January,' or plan a month of home-cooked dinners eaten around the table, making even small changes to your habits and relationship with food can bring unexpected big benefits."
Happiness and habit change expert Gretchen Rubin, the author behind the New York Times bestsellers The Happiness Project and Better Than Before couldn't pick just one resolution to promote.
"Walk for 20 minutes every day in 2020. Research makes it clear that exercise boosts our health. Active people have lower incidences of heart disease, obesity, cancer, dementia, and Type 2 diabetes, and usually live longer than people who are sedentary. Exercise improves focus, energy, sleep, and creativity. Exercise makes people less likely to develop depression and reduces anxiety, and is linked to happy moods. But many of us don't get much physical activity—and many people are completely sedentary. The encouraging thing is that when we go from no activity to a little activity, we get a big boost," Rubin wrote to Newsweek.
Rubin's second recommendation was to pursue meaningful social connections. "Bonds with other people are key to a happy life, so any resolution that strengthens relationships will make us happier. Resolve to start or join a book club. Have coffee once a week with your best friend. Take a class where you'll meet people with a common interest," she advised.
Finally, the grande dame of contemporary advice givers, E. Jean Carroll, author of Elle's "Ask E. Jean" column and the memoirist behind What Do We Need Men For? offered this advice for marching boldly into the future:
"Forget about yourself. Don't eat like a pig. Dress how you want to be treated. Stay keyed into other people's vanity (it reveals their weakness). Be amused, never angry. Adopt a puppy. Or a kitten. Stand up for what you believe in. And to Make America Fantastic Again, vote the men out of office, and vote the women in!"