A New York Amber Alert was issued on Monday after a baby in Manhattan was allegedly kidnapped by her biological father without permission.
Authorities activated the alert for 9-month-old Mi Angel Gaines just after 12:30 p.m., almost 10 hours after the baby was first thought to have been taken by 22-year-old Antonio Armstrong from Eighth Avenue in New York City's Harlem.
Officials say Gaines was last seen in a stroller on Douglass Boulevard near 141st Street wearing a red, white and blue onesie early Monday morning. She is roughly 15 inches tall and 19 pounds with black hair and brown eyes.
According to the New York Police Department (NYPD), the baby was "taken under circumstances that lead police to believe that they are in imminent danger of serious harm and/or death."
Armstrong is about 5 feet, 10 inches tall and about 200 pounds, with black hair and brown eyes. Officials say he has a microphone tattoo on his neck. Police have not provided any further details on the custody arrangement for Gaines but said Armstrong is her biological father.
Armstrong reportedly grabbed Gaines after assaulting her mother.
Anyone with information has been told to call the NYPD's 32nd Precinct at 212-690-6315.
The Amber Alert System allows law enforcement across the county to notify the public about missing children who are believed to have been abducted and are in imminent danger.
Amber, which stands for America's Missing: Broadcast Emergency Response, was created in memory of 9-year-old Amber Hagerman, who was killed in January 1996 after being kidnapped while riding her bicycle in Arlington, Texas.
According to the system's website, the alerts aim to "instantly galvanize the community to assist in the search for and safe recovery of a missing child."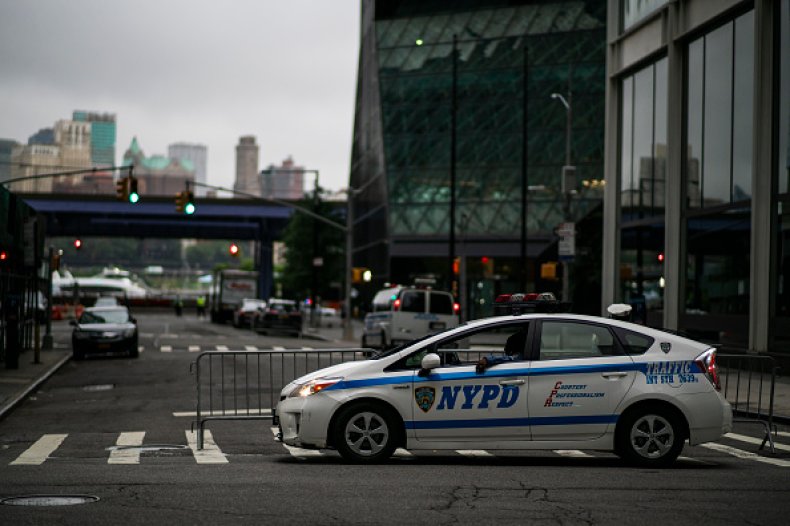 The NYPD is also asking for the public's help in identifying the perpetrator of an attempted rape that occurred in midtown on early Saturday.
Authorities say a 27-year-old woman was walking along 33rd Street around 7 a.m. when the suspect approached her from behind and grabbed her throat with both hands. The man then allegedly pushed the victim down against a storefront gate, pulled his pants down and attempted to rape her.
The woman was able to break free from his grip and the suspect ran off, police said. She suffered a minor abrasion to her head but was treated by first responders at the scene.
Officials released surveillance images of the suspect on Sunday night and are asking anyone with information to call Crime Stoppers at (800) 577-TIPS.