New York is now among the top 10 states in the U.S. for new COVID-19 cases over the past two weeks.
According to a tracker from the New York Times, among the number of cases reported in the last 14 days, New York ranks as the 10th state.
Over the past two weeks, New York has seen a 167 percent increase in the number of COVID-19 cases, and they are currently reporting at least 880 new cases per day.
According to the tracker, over the past two weeks, Tennessee has seen the largest increase in COVID-19 cases, as they are reporting a 340 percent increase. Following behind Tennessee is Alabama (310 percent increase); Massachusetts (291 percent increase); Puerto Rico (249 percent increase); Vermont (244 percent increase); California (198 percent increase); Georgia (193 percent increase); Florida (190 percent increase); and Louisiana (176 percent increase).
Data from the New York State Department of Health shows that from July 13 to July 17, the state has reported over 800 new cases daily.
In a statement sent to Newsweek, a spokesperson for the New York State Department of Health wrote, "While the numbers are still some of the lowest since the pandemic began, as the overall rate of vaccination increases and the rate of testing decreases, it's not surprising that those individuals getting tested now are more likely to test positive."
The statement continued, "Those who are unvaccinated have the greatest risk of becoming seriously ill, which is why the New York State Department of Health urges all eligible New Yorkers to get vaccinated as soon as they are able."
The news of New York ranking in the top 10 states new daily cases over the past two weeks comes as the COVID-19 Delta variant, or B.1.617.2, continues to spread across the U.S.
The New York Department of Health recently released data which shows the Delta variant makes up at least 41 percent of all tested cases in the past four weeks. While 41 percent of all cases in the state are the Delta variant, New York City Health Commissioner Dave Chokshi recently said the variant accounts for at least 69 percent of cases in New York City alone.
Despite the rise in cases in New York City, Chokshi recently said the city has no plans to impose a new mask mandate, following a decision by Los Angeles County officials to reinstate their mask mandate.
"What we do know is that when you're fully vaccinated, it does offer strong protection against particularly severe illness," Chokshi said while appearing on CNN's New Day.
When asked by host John Berman, "But no mask mandates in New York for now?" Chokshi said, "That's correct."
New York City Mayor Bill de Blasio also recently praised the city's vaccination rate, despite a rise in Delta variant cases.
"15 months ago, our city was the epicenter of the #COVID19 crisis," de Blasio wrote in a tweet. "Today, a Yale study shows New York City's vaccine roll out literally changed the course of history, saved thousands of lives and stopped hundreds of thousands of COVID cases in their tracks."
According to data from the state's department of heath, at least 61 percent of New York residents have received at least one dose of a COVID-19 vaccine while 55.9 percent have received both doses.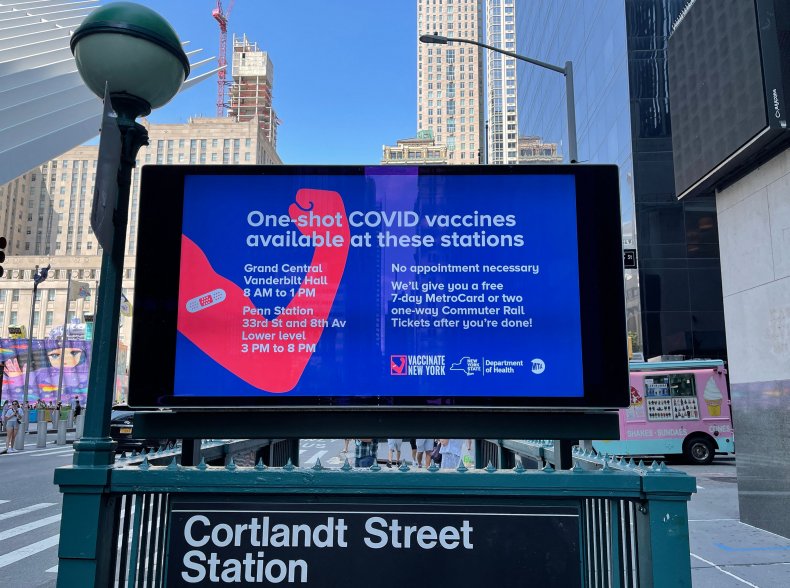 Updated 07/19/2021, 3:40 p.m. ET: This story has been updated to include a statement from a spokesperson for the New York State Department of Health.