New York Experiences First COVID-19 Deaths as Cases Jump by Over 100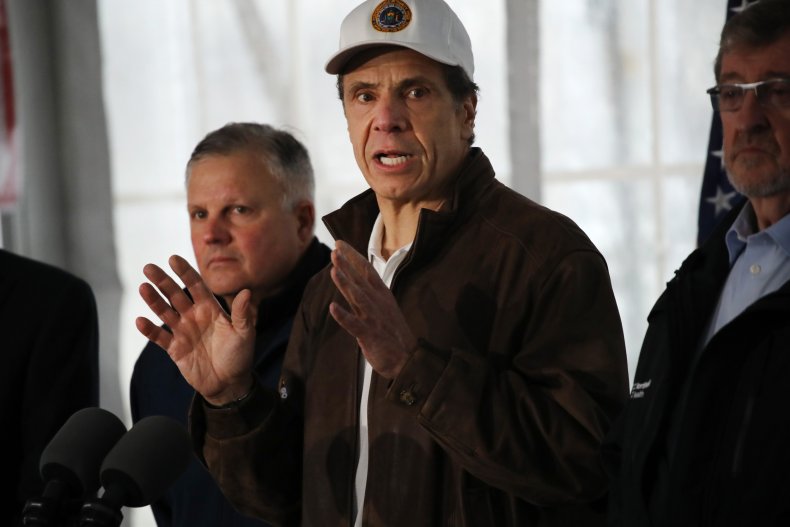 The number of COVID-19 cases in New York has surged to 524, Governor Andrew Cuomo announced Saturday, up over 100 since Friday. Cuomo also disclosed the state's first death due to the disease, an 82-year-old Manhattan woman who had a pre-existing illness, emphysema.
Many pre-existing conditions can exacerbate the health risk posed by the disease.
"Information and facts defeat fear," the governor said in a conference call. "The anxiety in society is obviously an issue we have to address as much as we have to address dealing with the virus at this point."
Later in the day, a second person who had died in Rockland County earlier this week tested positive for COVID-19, a spokesperson for the county executive confirmed to Newsweek. That individual was 64 years old and had "other significant health problems which were likely contributory to death," Rockland County Chief Medical Examiner Dr. Laura Carbone said in a statement.
Cuomo announced in the call Saturday morning that he will be directing insurers in the state to waive co-payments for telehealth visits, which have been encouraged by officials as health-system capacity becomes strained.
Deliberations about whether to close schools in the state, which houses the largest school district in the country, continue to beleaguer politicians. School closures remain within the purview of local authorities. However, if a member of an individual school community tests positive for COVID-19, the state's Department of Health will require the building to close for 24 hours in order to be disinfected.
New York City Mayor Bill de Blasio has hesitated to pursue widespread school closures in part because a substantial portion of the city's residents depends on schools for social services, such as free or reduced-cost meals.
New York now contains more COVID-19 patients than any other state in the country, according to a running tally maintained by The New York Times. Official data from the Centers for Disease Control and Prevention indicate the state of Washington has more cases, however their information is updated on a lagging basis.
The governor said that a seven-day waiting period for unemployment insurance claims arising from the outbreak will be waived, giving a boost to many of the state's under-insured or uninsured workers who may be wary of the economic costs of self-isolation.
Cuomo acknowledged another issue that has been exacerbated by the disease in this critical election year. Public-office seekers have reported being rebuffed while attempting to gather signatures in order to appear on primary ballots. Discussions over whether it would be possible for the state to reduce or eliminate signature thresholds for petitions remain ongoing.
"The number of positive cases is more a function of the number of tests we're taking," Cuomo warned. "The more tests we take, the more that number will go up. Nobody believes there's only 500 cases of coronavirus in New York today. We believe there are thousands of people who have coronavirus."
Updated 5:35 PM ET to mention a second death related to COVID-19 in Rockland County.
Correction 8:18 PM ET, to indicate that the age of the second person who died was 64 years old, not 65 as initially stated by the medical examiner's office.