New York Assembly GOP Starts Impeachment Process Against Cuomo With Push for Commission
New York Assembly Republicans will introduce a measure to form an impeachment commission designed to gather "facts and evidence" regarding Governor Andrew Cuomo's handling of nursing home deaths during the pandemic.
Nursing home deaths have plagued Cuomo's response to the pandemic as the governor is facing heavy criticism for withholding information from legislators. Some have called for his resignation while others pushed for voters to recall him. Outside of a successful challenger in the 2022 election, the only method of removing Cuomo from office is through impeachment.
On Thursday, Assembly Republicans announced a resolution to create an impeachment commission consisting of eight bipartisan members of the legislature. The panel would have 60 days to conduct its work and submit its findings and recommendations to the state legislature.
"The Cuomo Administration's nursing home cover-up is one of the most alarming scandals we've seen in state government," Assembly Minority Leader Will Barclay said in a statement. "It is incumbent upon the Legislature to undertake a comprehensive, bipartisan review of the Cuomo Administration's policies, decisions and actions on this matter and render a decision on what steps must be taken to hold the governor accountable."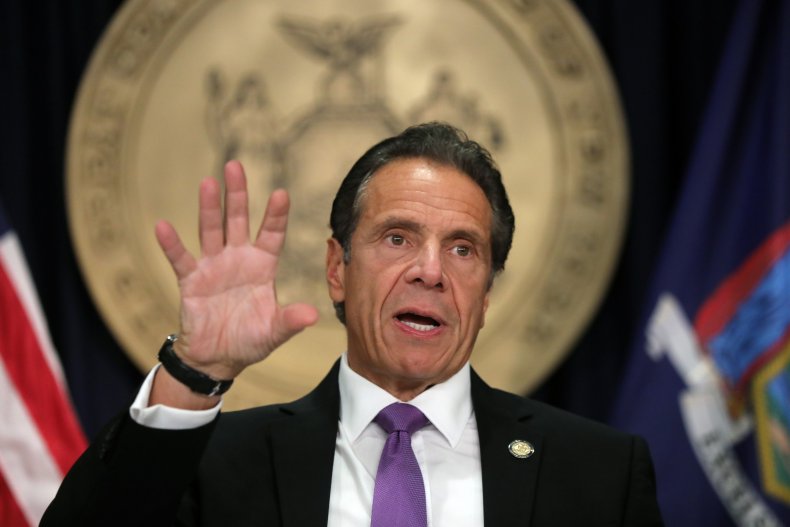 Introducing the resolution is the first step in the process of potentially impeaching Cuomo. But, the commission might never come to fruition. For the resolution to pass in the Assembly, Republicans would need support from at least 32 Democrats and the one Independent. In the State Senate, Republicans would need 12 Democrats.
Melissa DeRosa, Cuomo's top aide, told legislators in a call that the governor's office delayed providing information to the legislature about nursing home deaths because it worried about the data being "used against" them in a Department of Justice investigation. The decision was quickly labeled as a "cover-up," and Democrats are pushing to strip Cuomo of the emergency powers he was granted at the start of the pandemic.
Democrats accusing Cuomo of "obstruction of justice" indicates there is "clearly a willingness" on the other side of the aisle to "pursue a path" like impeachment, Michael Fraser, Barclay's communications director, told Newsweek. However, he wouldn't characterize Barclay as being "confident" in Republicans' ability to pass the resolution forming the commission and put the onus on Democrats.
"The likelihood of passage is going to be up to the Democrats and we'll see how many are going to walk the walk and try to advance this," Fraser said.
Newsweek reached out to Cuomo for comment, but did not receive a response in time for publication.
This is a developing story and will be updated as more information becomes available.