New York-Based Climate Activists The Yes Men Revealed as Source of Bank of England Prank
New York-based climate activists have revealed themselves as the culprits of a hoax press release that had flummoxed the Bank of England (BOE).
The group, known as The Yes Men, circulated a release that said the central bank's corporate bond buying programme was set to go green. It said the bank would stop buying bonds from oil and gas companies to protect the taxpayer from losses on "stranded assets."
The BOE has bought debt from a range of different companies over recent years to help cut borrowing costs. It also double the size of this scheme in March to help the financial system cope with the hit of the coronavirus.
The release was posted on a duplicate Bank of England website with a similar URL to the bank's own, as well as being emailed to press and posted on social media.
The bank issued an announcement denying it had anything to do with the news on Monday afternoon.
A spokesperson said: "We are aware that a group purporting to be the Bank of England has published fake announcements today through social media and email."
"The Bank has engaged with media organisations which reported on these announcements, which have retracted the false reports. The Bank is also working to remove these false announcements from other websites."
"The Bank investigates any such mis-use of its name and will consider further legal options to require groups which so mis-use it to cease and desist," it continued.
After the source of the disruption was revealed to be The Yes Men, a note was posted on the group's website that read: "Fake news!!! But what else can you do when the central bank of a rather important country has no clue how to stop climate catastrophe?"
The Yes Men's previous targets have included George W. Bush, the World Trade Organisation and Canada's largest oil conference.
The group also partook in a collaborative project, which was nine months in the making, releasing fake editions of The Washington Post in 2019. They were distributed throughout Washington, D.C.
Printed copies accompanied a fake website replicating the longstanding news organization, reporting the fictional downfall of the Trump presidency thanks to women-led protests and chronicling how Trump's imagined exit from the White House had effects rippling across the globe.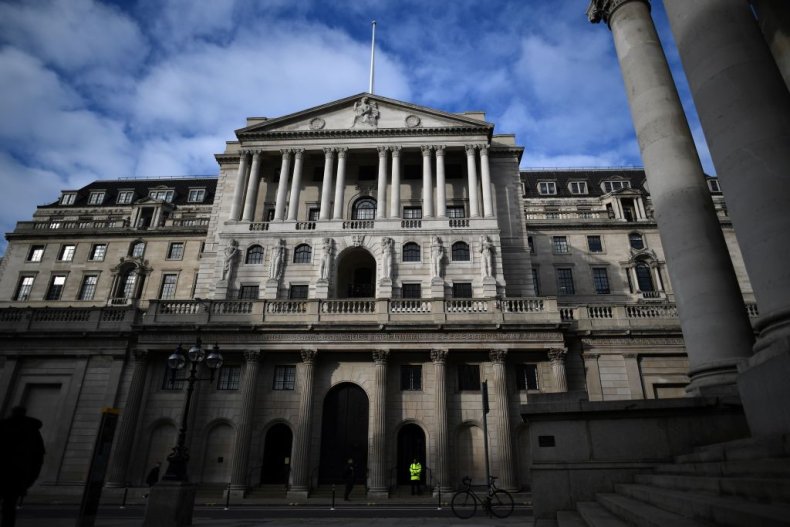 "We wanted to show how it would feel—even for a split second—if a central bank took steps to protect against climate calamity," said Jeff Walburn of the Yes Men.
"Andrew Bailey and other heads of the Bank of England have acknowledged that the threats are clear, but rather than walk their talk on climate risk, they keep dragging their well-heeled feet."
The Bank of England is set to publish its Financial Stability Report on Friday, setting out what it feels are the biggest threats to the U.K. financial system.