New York Becomes Second State to Ban Police Chokeholds
New York Governor Andrew Cuomo signed a police reform bill Friday that bans the use of chokeholds by police officers, as protests continue over the death of George Floyd while in Minneapolis police custody.
"The truth is, this police reform is long overdue, and Mr. Floyd's murder is just the most recent murder," Cuomo said during a Friday press conference. "It's not just about Mr. Floyd's murder. It's about being here before—many, many times before."
Shortly after signing the bill, Cuomo posted a tweet that detailed its other changes, including an end to Section 50-A of the state's Civil Rights Law, which previously allowed police officers to be exempt from cross-examination during criminal prosecutions and prevented disciplinary records of police officers, firefighters or corrections officers to be released without their consent.
In Cuomo's tweet, he also noted that the new bill "prohibits false race-based 911 calls" and makes the state's attorney general "the independent prosecutor in killings of unarmed civilians by police."
The governor also signed an executive order, titled the New York State Police Reform and Reinvention Collaborative, that will require police agencies across the state "to develop a plan that reinvents and modernizes police strategies and programs in their community based on community input."
"Police forces must adopt a plan by April 1, 2021, to be eligible for future state funding," according to a press release from the state.
Newsweek reached out to Cuomo for further comment but did not hear back before publication.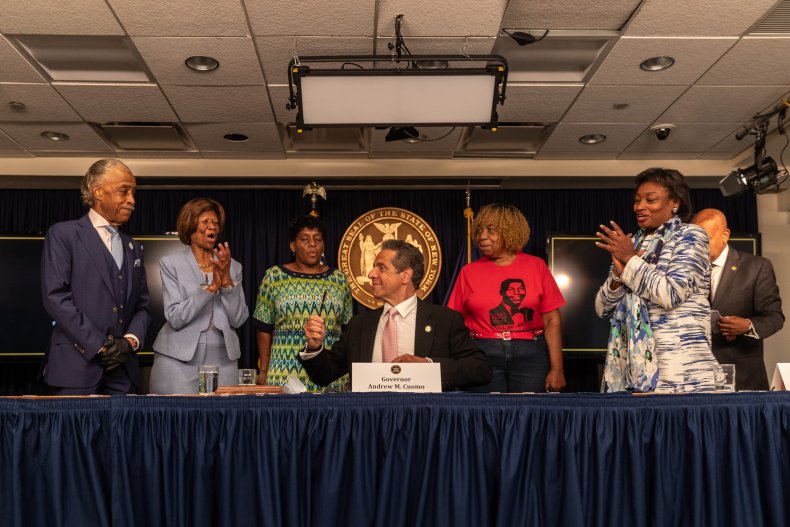 In addition to New York, other states across the country, as well as cities, have adopted similar measures banning police chokeholds.
On June 5, California Governor Gavin Newsom said he would immediately order police departments across the state to stop training officers in the use of carotid holds, which he called "a stranglehold that puts people's lives at risk."
On Tuesday, Washington, D.C., Councilwoman Brianne Nadeau said the district's council had unanimously passed a police reform measure that bans police chokeholds.
In Minneapolis, where Floyd died shortly after police officer Derek Chauvin knelt on his neck, the use of chokeholds by police is now banned. The change is part of a plan first approved by Mayor Jacob Frey and the City Council and then put into effect by a Hennepin County judge's order. The court order also requires officers to notify a supervisor if they see an inappropriate use of force, among other measures.
Similar directives were also introduced in Denver, Houston and Phoenix.
This past Sunday, the Denver Police Department announced it was banning the use of chokeholds and carotid compressions, "with no exceptions." Shortly afterward, the Phoenix Police Department followed suit and said it would halt the use of the "carotid control technique."
During Floyd's funeral in Houston, Mayor Sylvester Turner said he would sign an executive order banning police chokeholds.
"In this city, we will require de-escalation," he said. "In this city, you have to give a warning before you shoot. In this city, you have a duty to intervene. In this city, we will require comprehensive reporting. In this city, you must exhaust all alternatives before shooting."
Before Turner's announcement, Dallas instituted a formal ban on police chokeholds, as well as any excessive force used to block a person's airway.
In addition, the Miami-Dade Police Department in Florida recently announced a ban on police chokeholds. "I have decided to no longer authorize the utilization of the applied carotid triangle restraint," the department's director, Alfredo Ramirez, said.
"This decision was based on a multitude of factors to include officer and public safety; feedback from policing professionals, members of our community, local leaders and officials; and recommendations from the Police Executive Research Forum," Ramirez added.