New York Ice Cream Shops React To Governor Cuomo's Boozy Dessert Law
New York Governor Andrew Cuomo signed legislation on Monday that would allow for the sale of ice cream and "other frozen desserts" made using liquor in the state.
Boozy ice creams will be limited to five percent alcohol by volume and would be labeled, similarly to already existing wine, beer and cider-infused treats. The bill has been positioned as both a boon for consumers—who get to lick, lick, lick whiskey ice cream or gin sorbets—and an expanded field for liquor distillers, dairy farmers, craft producers, food retailers and restaurants.
"New Yorkers are already able to responsibly enjoy beer, wine, and cider infused ice creams. Thanks to this bill, vendors will now be able to offer their customers another delicious treat," state senator Rachel May said, in a press statement released by the governor's office. "This legislation will help New York's dairy industry and our liquor and craft beverage industries at the same time. I am very grateful to the Governor for signing this into law, and I look forward to sharing some maple bourbon ice cream with him at next year's State Fair!"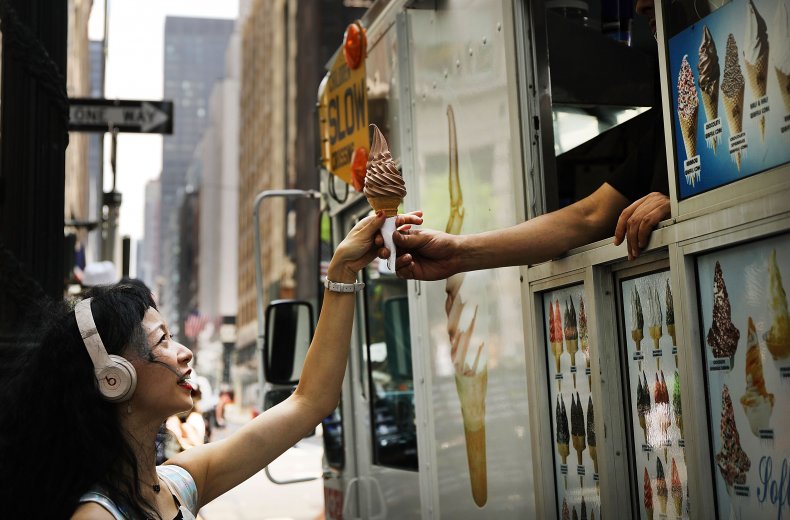 In the same statement, member of the state assembly Donna Lupardo raised the new possibilities for New York distilleries, which could work with state ice cream makers for new combos of New York spirits and New York desserts.
New York City ice cream makers are already considering their options, including some that have created liquor-based flavors in the past.
"At Van Leeuwen we make four new special flavors every month and sometimes incorporate alcohol. We have used whiskey and other liquors in the past, and have a special coming out later this year that will be using beer," Van Leeuwen Ice Cream Co-Founder Laura O'Neill told Newsweek, in response to emailed questions. "We only ever incorporate alcohol for the flavor, and by the time it becomes ice cream, it would only be trace amounts. We have a vegan bourbon apple crisp coming out this fall that will be available in our stores and also nationwide in pints."
But others have pointed out that allowing alcohol in ice cream isn't a fix for New York businesses struggling due to a lack of state aid for mitigating against the economic impact of the ongoing coronavirus pandemic.
"Our mission since Day One has included supporting the source farmers and processors that make delicious food possible," Jennie Dundas, Co-Founder of Blue Marble Ice Cream in Brooklyn told Newsweek. "Of course, I am encouraged to see Albany get creative to help dairy farmers and small business. Here in the city, however, we are waiting for overdue legislation on commercial leases. If we and our b2b clients go out of business after years of rugged, hard work, because we can't afford our rent, no amount of booze in my ice cream will soothe my sorrow. It won't be good for the source farmers either."
A Monday New York Times article outlined the damage already done by the lack of rental assistance for businesses after the original federal aid package passed in March, and the dire possibilities of continued inaction from state government. More than 2,800 New York City business have permanently since March 1, and 520,000 jobs have disappeared. A third of the city's 240,000 small businesses are at risk of never reopening. On Monday, the New York Post reported that 83 percent of New York restaurants and bars were unable to pay their full July rents, while 37 percent were unable to pay at all.
Newsweek reached out to the governor's office by phone and email, but did not receive back immediate comment prior to publication.
Other ice cream makers contacted by Newsweek, including the New York area Ample Hills Creamery, Morgenstern's Finest and the Chinatown Ice Cream Factory either did not respond to calls and emails by time of publication or were not yet ready to share any reactions or potential plans for creating flavors based on the new legislation.
Since 2011, breweries, wineries and micro-distilleries have exploded in the state, making New York one of the top five states for craft beverage producers, with the most cider makers of any state and the second-most craft breweries and distilleries, according to figures collected by the Cuomo administration.
In 2012, Governor Cuomo hosted the first Wine, Beer, Spirits and Cider Summit at the state capitol in Albany (a follow-up to a previous Greek yogurt summit), which opened a new governmental focus on promoting state beer, wine and spirits producers. Subsequent annual summits resulted in loosened regulations, tax breaks and new licenses, including the authorization of home wine making centers for craft hobbyists, non-profit tasting permits.
"The craft beverage industry has experienced explosive growth in New York and with that comes a responsibility to advance regulations that help ensure long-term viability, protect consumers and provide farmers with opportunities to increase their business," Governor Cuomo said in the Monday press release. "This legislation will further grow a burgeoning industry and boost small businesses while helping to put them on a path of sustained growth that empowers both producers and consumers."
But whatever it means for industry, it is sure to mean even more for this long, hot summer.