Video: Knife-Wielding Man Walks Into New York Police Station Begging to Die, Gets Taken Down with Stun Guns
A man described as "emotionally disturbed" was subdued by police officers on Sunday after walking into a Brooklyn station armed with a knife and asking to be shot.
The incident started after Starlin Lopez, 26, entered 1000 Sutter Avenue at roughly 8:30 a.m. yesterday, police said. He was downed with stun guns after a brief confrontation with multiple officers. An arrest was made in under one minute, surveillance footage shows.
A 40-second clip of the altercation was uploaded to Twitter yesterday by the NYPD's Chief of Department Terence Monahan and the Sergeants Benevolent Association advocacy group.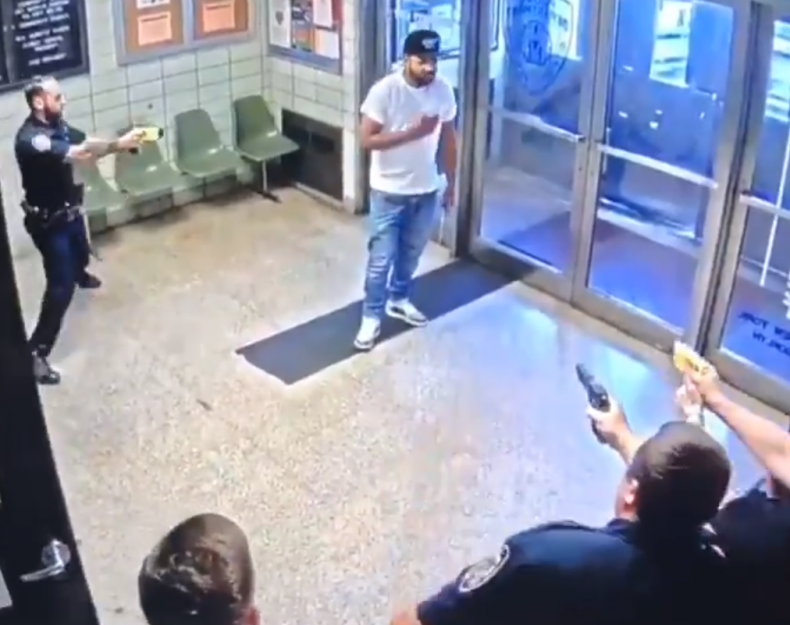 Monahan wrote: "Cops face split second, life & death decisions every day. When an emotionally disturbed man holding a long knife walked into 75th Precinct—and asked to be shot—these cops reacted quickly. Though prepared for the worst, they delivered a safe outcome for everyone."
The video shows Lopez casually walking into the station holding the knife in his left hand. An officer immediately spots the weapon and distances himself from the subject while motioning at him to drop it. After approximately 10 seconds, a man and woman in the lobby move away from the area, as two more police officers approach the scene and draw their weapons.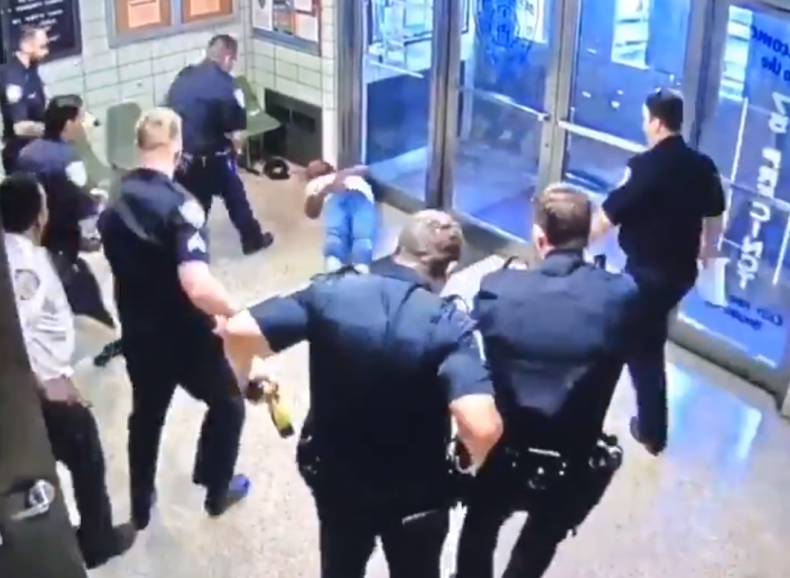 About 29-seconds into the ordeal, another officer emerged from the left side of the frame and deploys his stun gun. An officer with a firearm drawn switches to a stun gun as a third officer arrives to his right. As Lopez drops to the ground, he is swarmed by at least eight officials.
"Man walks into police precinct and pulls a knife. Is the city really this far gone? Great job once again by NYPD cops," the Sergeants Benevolent Association tweeted yesterday afternoon.
According to the New York Post, citing police sources, the knife-wielding man told the officers: "Why didn't you shoot me," and on the way to hospital said "I'm too chicken to kill myself." Prior to being subdued, he allegedly said: "The government is f**king me... I want you to shoot me."
Despite being detained, he is not expected to face charges, local media reported.
Laury Lopez, the man's sister, told CBS New York he has mental health issues and lives with their mother. "He hears voices and everything, so maybe that's why he came to the precinct. There's no reason that he takes a knife and he comes [to] do this," she said, noting he did not take medication yesterday. The man was being treated at the Brookdale Hospital Medical Center.