New York Crash Leaves At Least Nine Hurt, Bus Dangles From Bronx Overpass
A New York City bus driver lost control and crashed through an overpass barrier on Thursday night, injuring at least nine people in the 50 foot drop.
The NYPD said an MTA articulated bus was travelling through an intersection at the Cross Bronx Expressway and University Avenue at around 11.10 p.m. on Thursday evening. No other vehicles were involved in the accident and no arrests have been made.
Officials said that either the vehicle's brakes failed or the driver did not navigate the turn, causing the bus to plummet off the overpass, leaving it hanging over the road below.
The New York City Fire Department (FDNY) confirmed they had several units at the scene and that nine people had been injured in the crash.
It was unclear how many people were on the bus when it crashed. Among the injured were at least six passengers and the driver, who is in a serious but stable condition with an injury to his jaw, NBC reported.
Apart from the driver, FDNY said two people suffered non-life-threatening injuries and six people had minor injuries. All of them were taken to an area hospital.
Social media footage shows the blue MTA bus split at its joint and the front of it touching the road below.
FDNY Acting Battalion Chief Steven Moore said in a statement his team were at the scene ensuring all the fuel and other hazardous materials in the bus were secured before it could safely be pulled onto the road below.
FDNY Deputy Chief Paul Hopper oversaw emergency medical treatment and transport at the incident.
He added: "We assessed and treated a total of eight patients from this accident. The bus fell approximately 50 feet onto the access road. The patients suffered injuries consistent with a fall from such a great height."
New York City council member Mark D Levine wrote on Twitter that emergency services had sealed off the area after the incident. Delays are expected in the area until a crane arrives to move the bus from the overpass.
Another city council member Ydanis Rodriguez called for an investigation into the accident.
"This occurred on the Cross-Bronx Expressway & Major Deegan Expressway. I sincerely hope everyone is okay.@MTA We need to investigate what might have happened that caused the bus to go over the edge in this way," he wrote on Twitter.
Newsweek has contacted the NYPD and FDNY for further comment.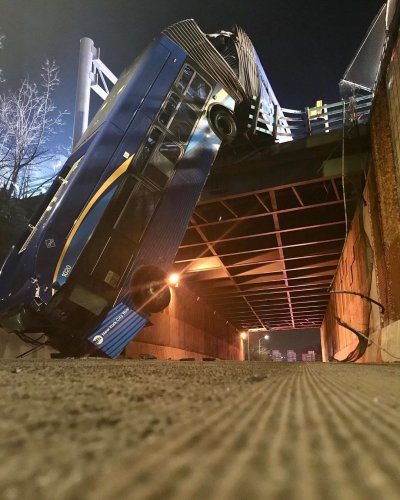 Update 1/15/21, 9:15 a.m. ET: This article was updatd to include images from the scene.