A New York police officer who spent nearly two years in prison for planning to kidnap, murder and cannibalize young women—before having his conviction overturned—hopes to cash in with a grisly self-penned horror novel.
Gilberto Valle was arrested in 2012 after his wife found the gruesome plans on his computer. He was convicted in 2013, and nicknamed Cannibal Cop by the press.
But Valle maintained his innocence, claiming that he never intended to enact his plans and they were merely an elaborate fantasy.
In 2014 a judge ruled in his favor, quashing his conviction and describing the plans as "fantasy role play."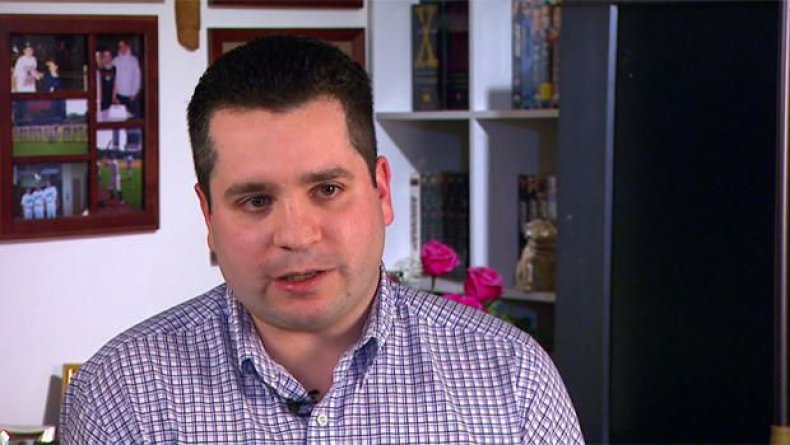 "Even though I've been completely exonerated, all this stuff about 'Cannibal Cop' is still there," Valle, 33, told the New York Daily News on Monday. "Writing the book comes down to me trying to find a way to make a living."
His work, A Gathering of Evil, explores his cannibalistic fantasies—telling the story of a group of "wealthy and violent" sadists who kidnap two New York women.
The publishers promise a "feast of gut-churning horror."
"Coming from me, it has to be a disturbing book," Valle joked to The New York Post.
Of his reputation, he said: "I could have tried to run from this. But I didn't think that was realistic," Valle said. "Option 2 was to just sort of accept it and make a new life with it."
He added: "You know [the] old cliché, make lemonade out of lemons."
Valle penned a memoir of his criminal trial entitled Raw Deal—and horror publishers Comet Press offered him a book deal.
Valle said the book is "very graphic," "not for everyone," and a total fantasy.
"It's a sexual fetish," he explained. "It's something that I didn't choose, and it's something that I live with and that I'm fine with."
Valle said he is currently working for a friend's construction company, but would trade anything to have his old life as an NYPD officer back.
"I loved being a cop and I was good at it," he told the Daily News. "Unfortunately that's not going to happen, so I have to figure out a way to make a living."