Central Park's Touching Bench Plaques Pull at Heartstrings: 'Marry Me'
The dedications dotted around benches in New York's Central Park have been pulling at the heartstrings of many, after a video gained over a million views showing them.
"If you see me crying in the park, no you didn't" wrote TikTok user Tihana Bulut, @_tihaaaaaa, before displaying her favorite dedications from the park.
Central Park allows people to put their own dedication on a bench in the park, for a fee of $10,000. Inscriptions usually capture beautiful moments in life or remember lost loved ones.
"I've spent a lot of time in Central Park, wandering through and reading these bench dedications, Bulut told Newsweek. "I'm generally an emotional person so it's pretty easy for me to cry -- needless to say, I used up more than one tissue while reading those dedications. I tried my best to keep my composure in the park though, I didn't want to scare anyone!"
"The TikTok was really just meant to be a way to aggregate the videos I took so that I could remember them, I never anticipated that it would be this popular. I wanted to showcase the ones that meant the most to me, that evoked emotion while also telling a story. I think one of the most interesting aspects of these dedications is that they're so short, leaving a lot of room for interpretation for what they really mean, which is a really beautiful and captivating thing."
In less than a day, the video gained over 200,000 likes, with many displaying their emotions online and sharing their own favorites in response. Bulut even has a list of dedications she plans to visit next, urged by family members they are dedicated to.
"Marsha, I couldn't get this park to fit on a ring, so I hope this works instead. Will you marry me?" asked one dedication.
Another read: "Judy and Al Reba. We will always love this park and we will always love each other. December 8, 2007."
"'Life is a bit more fun when you decide to live it. Break routine, have fun, explore.' 39 countries in 28 years. June 11, 1992 - Dec 26, 2020. www.connorreisenbigler.life. You are deeply loved and sorely missed by all whose paths you crossed and hearts you touched," displayed the following plaque.
A visit to the site pays further tribute to the late Connor Reisenbigler, who, the website explains, would skateboard through Central Park for his morning commute.
"On this bench, V.L. will one day propose marriage to H.R.H," read one bench, followed shortly by another coordinating one: "and she will one day say yes."
Pulling at the heartstrings of all dog owners, one dedicated itself to a beloved pet and his "fetch hill," at the park: "This is Woody's fetch hill. In memory of all the hours you played here. We love you, Woody K."
The final dedication read: "Yiqi. Wherever you are, you are always in my heart. Yi."
The video can also be viewed here.
"Connor Reisenbigler's family commented on my post and I was able to speak with his girlfriend for some time and learn more about his life, which was hands down the most rewarding part of this whole experience," said Bulut.
"I found out that Connor received his master's in urban planning at the time of his passing...and I recently graduated with my master's in urban planning! It's not a common degree, so it makes me think I was meant to see that bench and learn a little more about him."
Bulut went on to share some more of her favorite Central Park dedications in a following video, and was similarly put in contact with one of the people featured in it, who confirmed their relationship captured in the dedication was still going strong.
"I posted a bench where the dedication wrote: 'On this bench on Dec 31, 2011 at 5:17 PM David White and Alison Wholey decided to live the rest of their lives together.' David White found the TikTok and informed me that he and Alison were still happily married and now also had children," she explained.
Sharing More Stories
"I can't express the pure joy I have experienced knowing that my simple videos mean something to those who left these dedications. I hope that I can continue to share these stories and learn a little bit more about those who wrote them."
After views flooded in, the TikTok user was inundated with requests to show other plaques that viewers also had personal connections with. "Please do my Grandmother's plaque. It's on the bench right behind the Met on the east side behind the American Wing. Her name was Jane," asked one person.
"My great great aunt bought her 'roommate' of fifty years a bench in Central Park, look out for Ethel for me," asked another.
Central Park's "Adopt-a-Bench" program has run since 1986 and provides funding to maintain the park's 10,000 benches. So far, 7,000 benches have been "adopted."
"Whenever I visit New York, I take at least two hours to wander around reading these. I haven't been able to go in two years. Thank you," wrote one viewer of the video.
"We are so insanely lucky to be able to be here reading these benches," wrote another.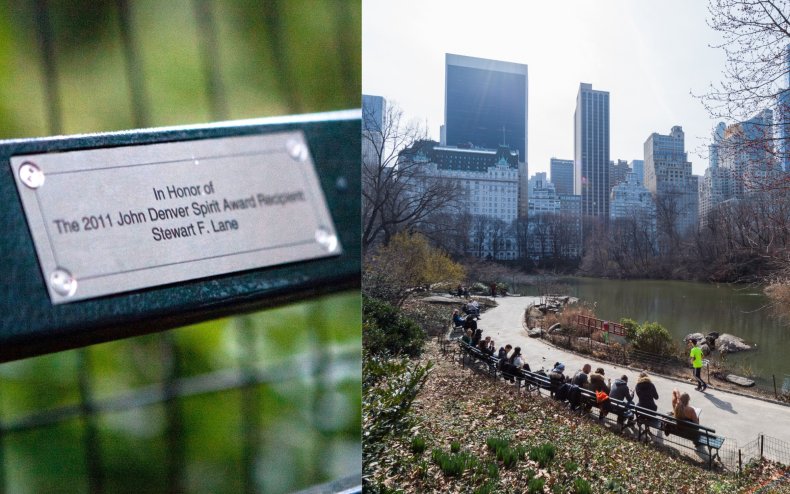 Update 11/18/2021 at 4:41 a.m. ET: This article was updated to include comment from Tihana Bulut.