19 Incredible Photos Giving a Window Into 19th Century New York
Think of New York City today and many will likely picture Times Square, the glittering lights of Broadway and the fashion of Fifth Ave.
In the 1800s, however, the Big Apple was a very different place, as seen in these scenes below, captured by, among others, photographer Jacob Riis who documented poverty in the city during the period.
Take a look through...
Building Brooklyn Bridge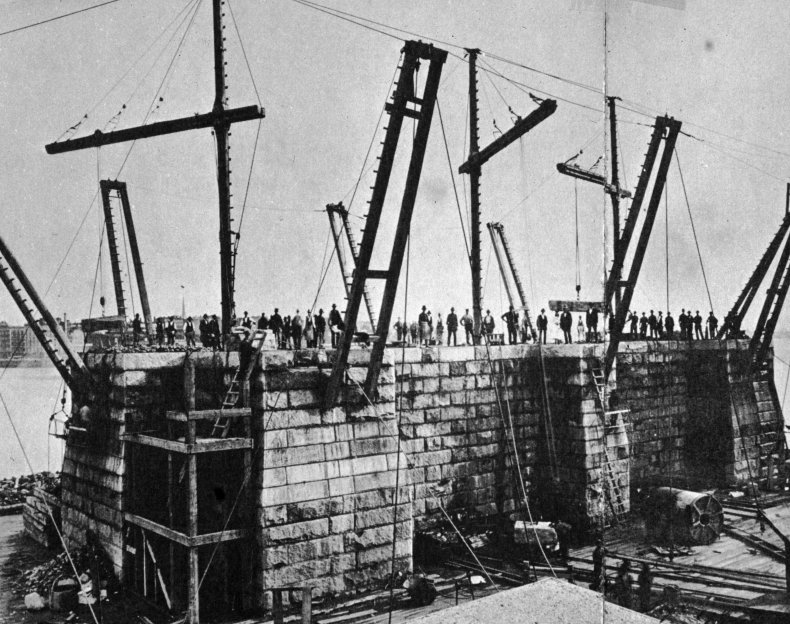 It's hard to imagine Brooklyn Bridge not being there.
However prior to 1869, there was no bridge connecting Manhattan and Brooklyn.
Building starting that year and the bridge was opened for use in 1883, becoming at the time, the world's longest suspension bridge.
To quell fears that the bridge was not stable enough, the following year, P. T. Barnum's Jumbo the elephant led a parade of 21 elephants across it.
Oysters Street Carts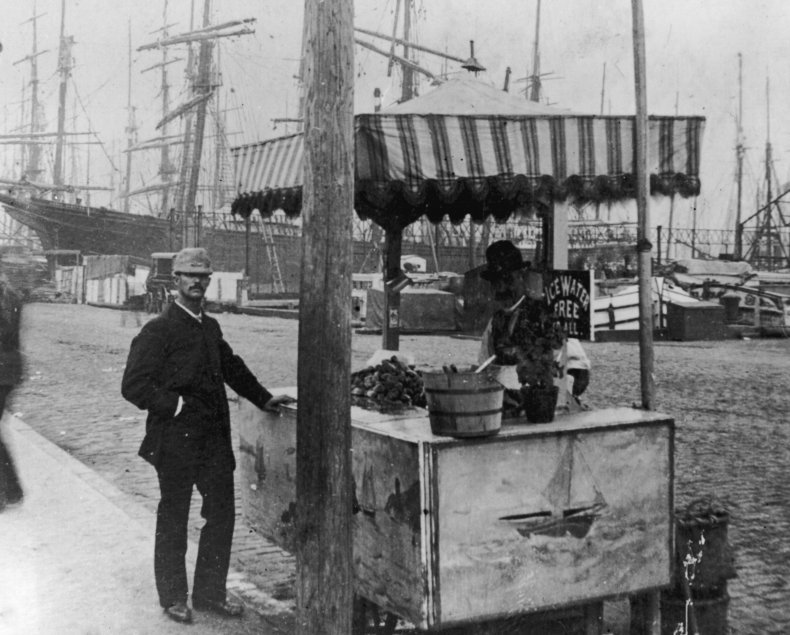 New York's bays and harbors were once home to about half the world's oyster population. Yet due to over-harvesting, the growth of Manhattan and poor waste management, the oyster population has been massively depleted.
In the 1800s, oyster carts and taverns filled the city, like modern day hot dog vendors.
New York's oysters were nutritious, tasty and cheap to buy.
Infamous Five Points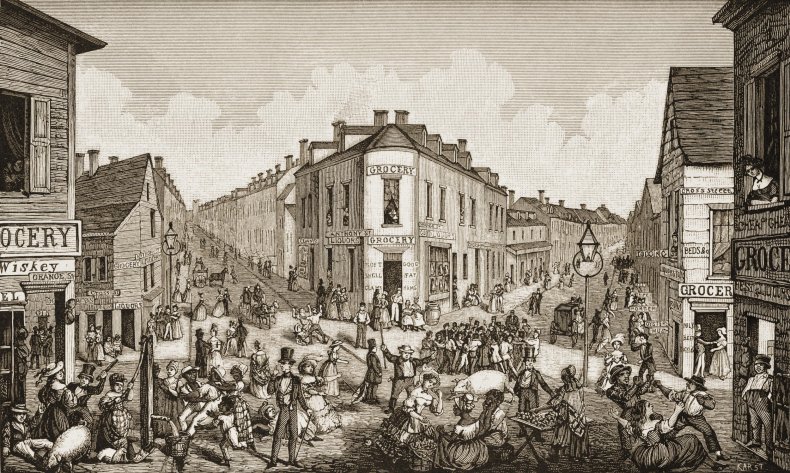 Manhattan's Five Points, named after the intersection, was a notorious area of 19th century NYC.
At the time, it was considered rife with poverty, crime, murder, unemployment and disease.
It was also a magnet for the poorer population, including Irish immigrants and emancipated Black people, when the middle class left the area after the Collect Pond was transformed into a landfill, resulting in poor drainage and sliding foundations.
Nowadays, the Five Points area has been absorbed by the Civic Center and Chinatown.
Tenement Dweller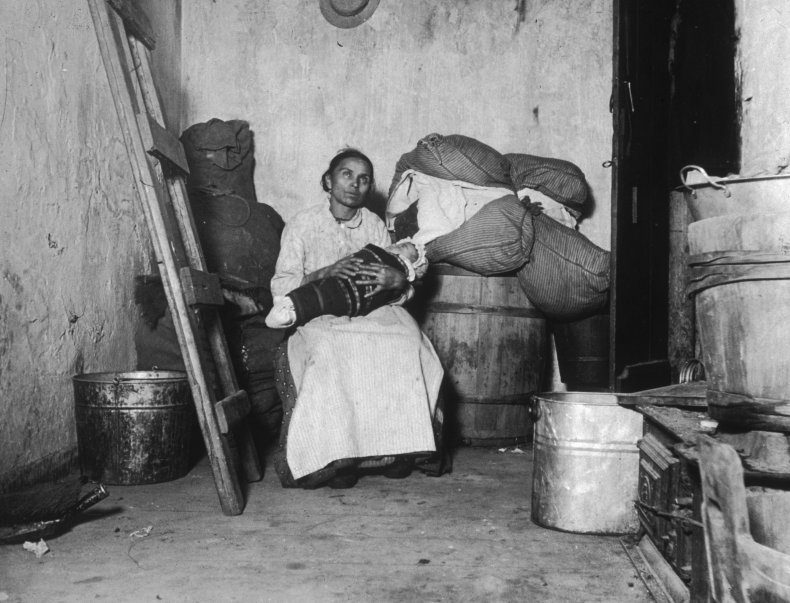 One of the earliest adopters of flash photography, Danish-American journalist Jacob Riis is credited with significantly helping social reform in New York due to his photography of impoverished people.
Along with humanitarian Lawrence Veiller, his photography of slums helped the implementation of "model tenements" (apartment buildings).
A number of parks and areas are named after Riis, including the Jacob Riis Park in Queens.
Pupils Attend School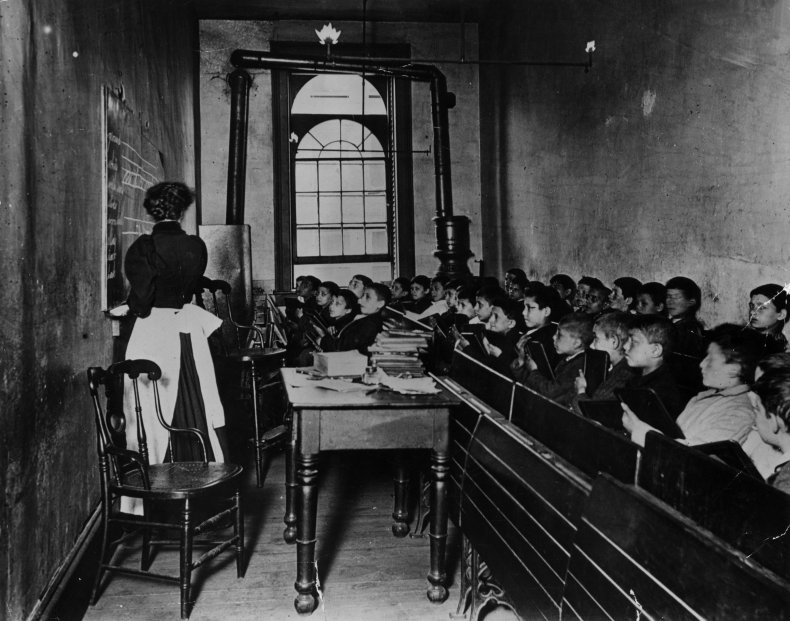 The first New York school established by European settlers opened in the 1630s. Two and a half centuries later, schools were overloaded after a compulsory attendance law for the primary grades was enacted in 1874.
Also in the 19th century, a Catholic parochial school system was introduced as an alternative to state education.
It wasn't until a century later that secondary education was offered to students.
Young Boy / Factory Worker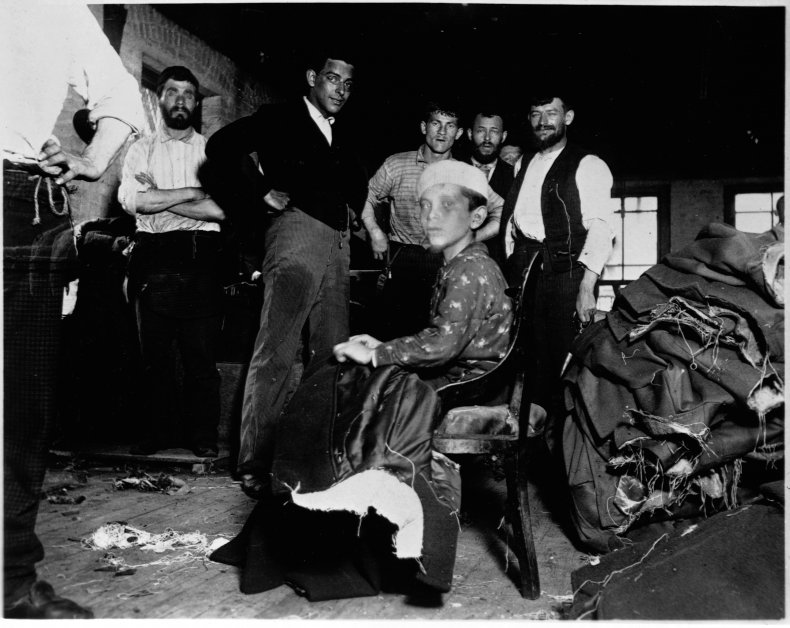 Tenement sweatshops were rife in the 1800s, as recent immigrants clamoured for work, resulting in long-hours and low-pay being the status quo.
While many people succumbed to exhaustion and malnutrition, other contractors became organisers of their fellow immigrants and set up their own garment shops.
Public Bath (circa 1895)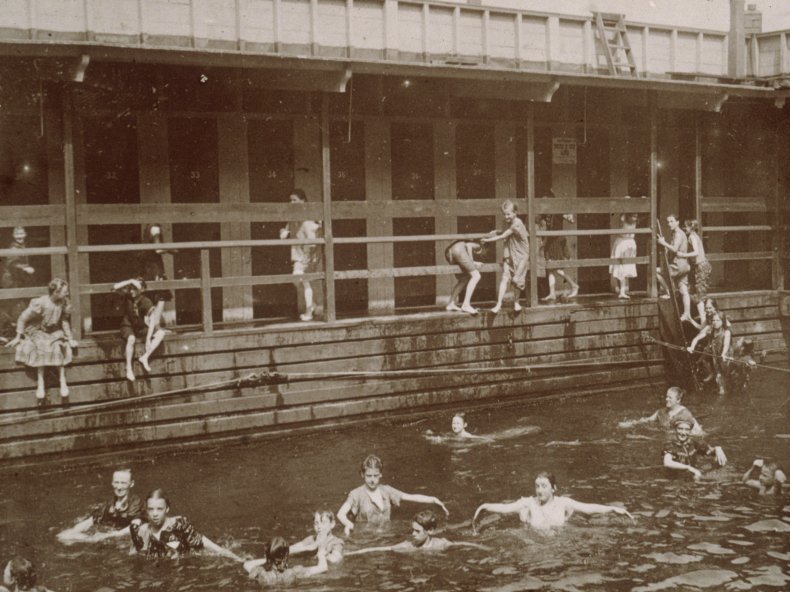 In the late 19th century, public baths became integral for tenement dwellers, for whom access to clean running water was uncommon.
Temporary public baths began to spring up after 1870, with multiple baths being installed in 1888 insisting on a 20 minute time limit for users.
Not only did the baths allow for higher levels of cleanliness and relief in the hot summer months, it was believed that they would reduce the spread of disease.
Hell's Kitchen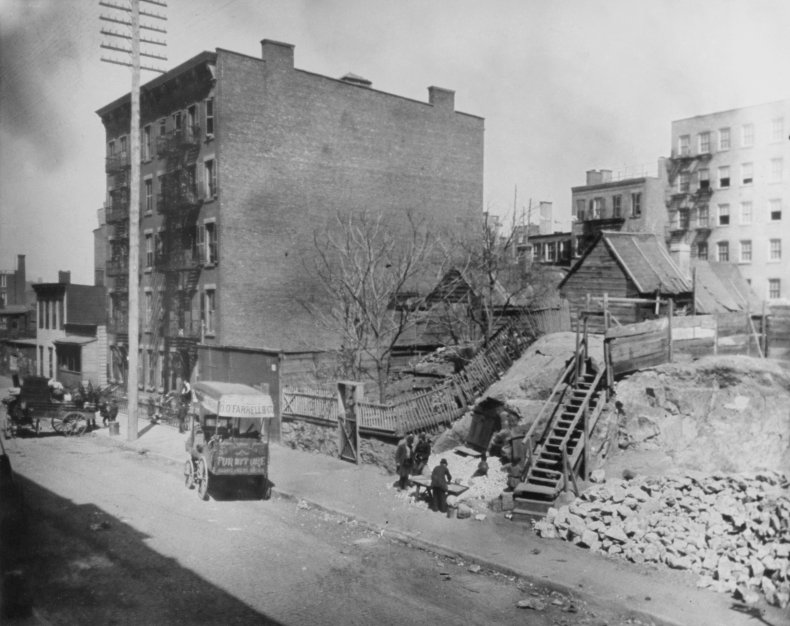 Hell's Kitchen, aka Clinton, in Manhattan's Midtown may be more gentrified nowadays, but it was in the 1800s when its gritty reputation earned the district its name.
It is thought Davy Crockett first used the phrase in reference to Five Points in 1835, saying: "In my part of the country, when you meet an Irishman, you find a first-rate gentleman; but these are worse than savages; they are too mean to swab hell's kitchen."
The phrase first appeared in print in the New York Times in 1881, when a reporter wrote about a murder investigation, referring to a tenement building on 39th Street and Tenth Avenue as "Hell's Kitchen" and saying that the area was "probably the lowest and filthiest in the city."
Union Square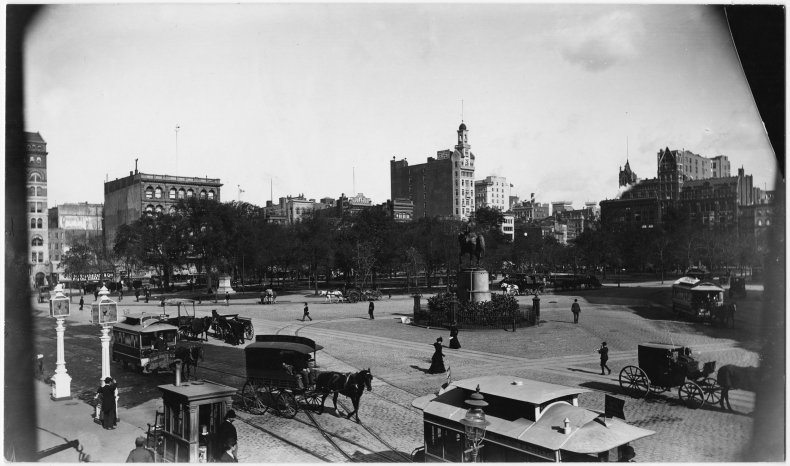 In the early 19th century, Broadway and the former Bowery Road—now Fourth Avenue—came together to create an historic intersection, Union Square.
The area became filled with affluent real estate and hotels, while in the 1870s The Rialto became New York City's first commercial theater district.
Also in this century, the famous statues of George Washington and Abraham Lincoln were erected in the area.
New York World Building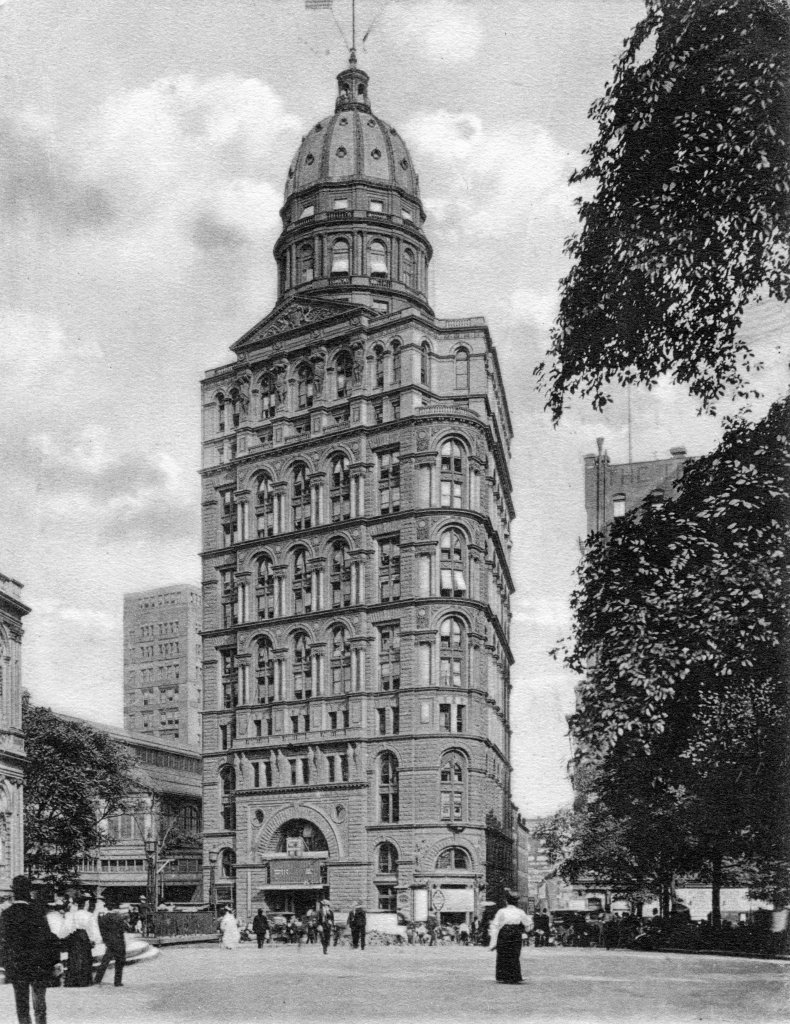 Commissioned by Joseph Pulitzer and designed by George B. Post in the Renaissance Revival style, the New York World Building—also known as the Pulitzer Building—was completed in 1890.
It served as the headquarters for the New York World newspaper, in an area of the Civic Center that came to be known as Newspaper Row.
At 350ft, the building was New York City's tallest building at the time of its completion.
The building was demolished in 1955 to make room for an expanded entrance ramp to the Brooklyn Bridge.
Building Skyscrapers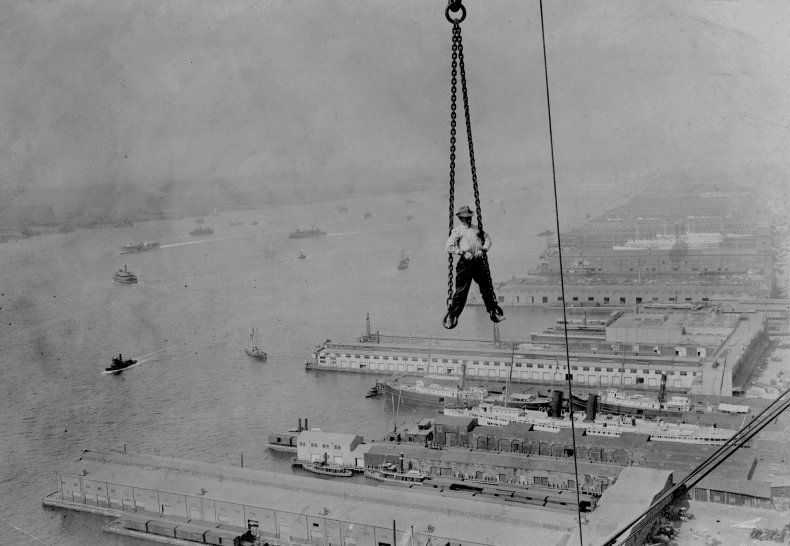 Skyscrapers began to be built in the 1880s in New York, but as seen in this picture, it wasn't for the faint of heart.
While Chicago initially outdid New York in its amount of tall buildings, a breakthrough was made when the use of metal-frame construction techniques was authorised.
Penny Farthing Race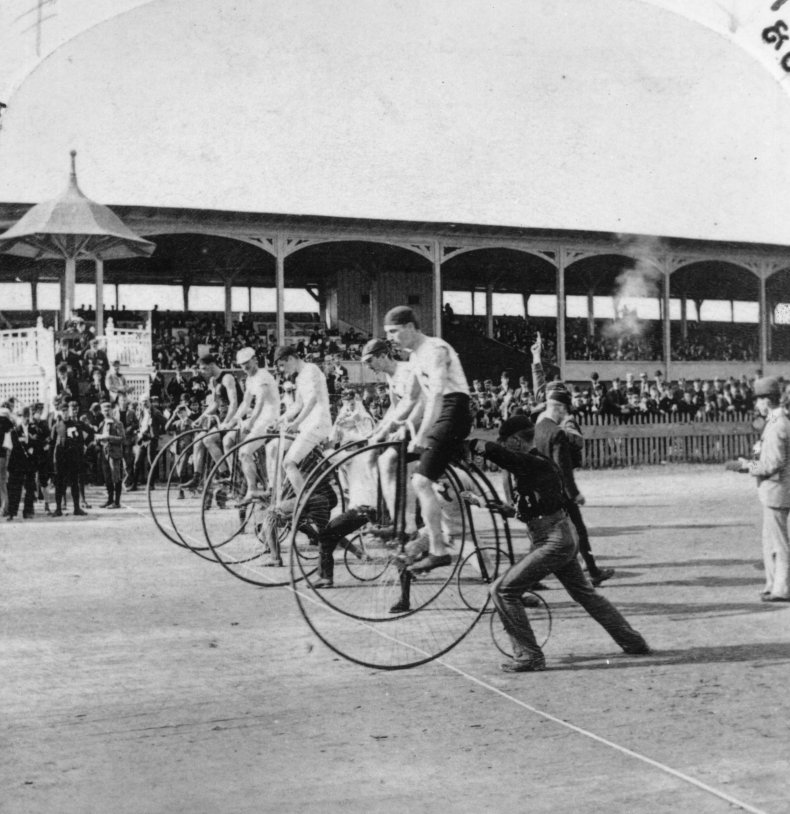 Penny farthings - named so due to the huge difference between the size of its two wheels - was extremely popular in the late 19th century.
First built by James Starley in 1870, the distinctive contraption is considered to be the first dubbed "bicycle" and led to a boom in races.
Within three decades, the development of modern bicycles—which offered more comfort through pneumatic tires—penny farthings were phased out.
The photo above was taken in 1890, shortly before use of the pneumatic tire became widespread use in the U.S.
John Jacob Astor's House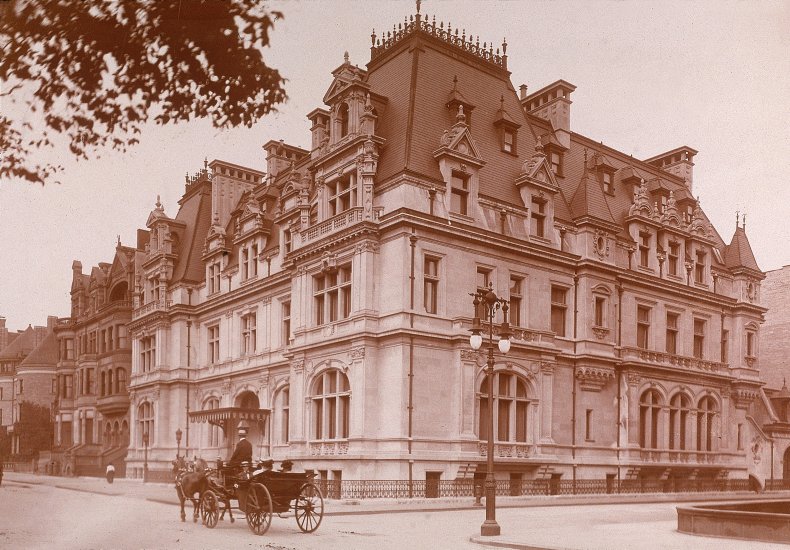 As well as owning a country estate in Rhinebeck, business magnate and real estate developer John Jacob Astor IV owned a luxury mansion at 840 Fifth Avenue.
Called the Mrs William B. Astor House, the mansion featured a ballroom and a marbled great hall and was decorated with Astor's mother's art collection and dazzling chandeliers, becoming a venue for some of New York's most exclusive parties.
John Astor died on the Titanic when the ship sank in the early hours of April 15, 1912.
At the time of his death, he was worth an estimated $87 million—the equivalent to $2.33 billion today—making him one of the richest people in the world at the time.
The Vanderbilt Coach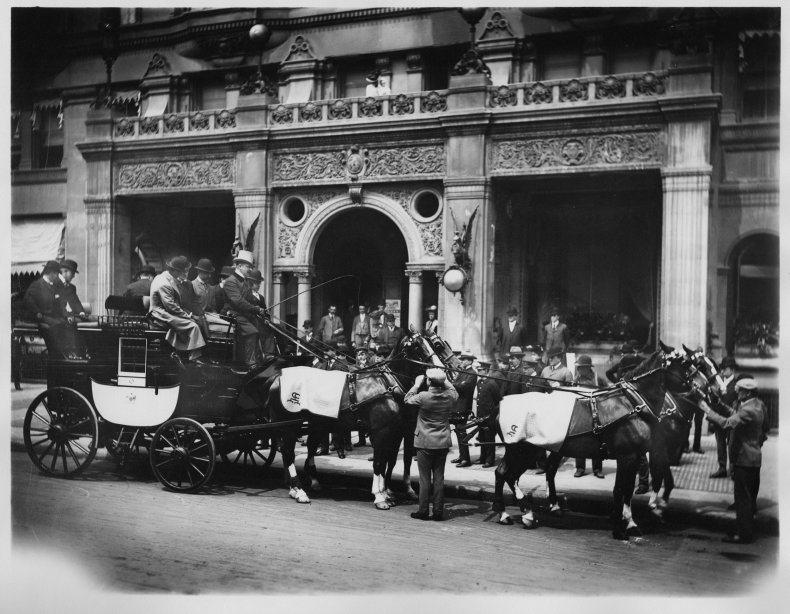 Pictured here is the Vanderbilt, or Peacock, coach, owned by Alfred Vanderbilt.
Following the death of his father Cornelius Vanderbilt II in 1899, he found himself the head of the Vanderbilt family.
Vanderbilt was responsible for the building of the Vanderbilt Hotel, which he made his family home, and had holdings in many railroads. His passion though was coaching, then a sport in which gentlemen demonstrated their skills traveling on coaches.
He died in the sinking of the British ocean liner RMS Lusitania in 1915; this ship's sinking by a German U-boat helped build American support for joining World War I.
Central Park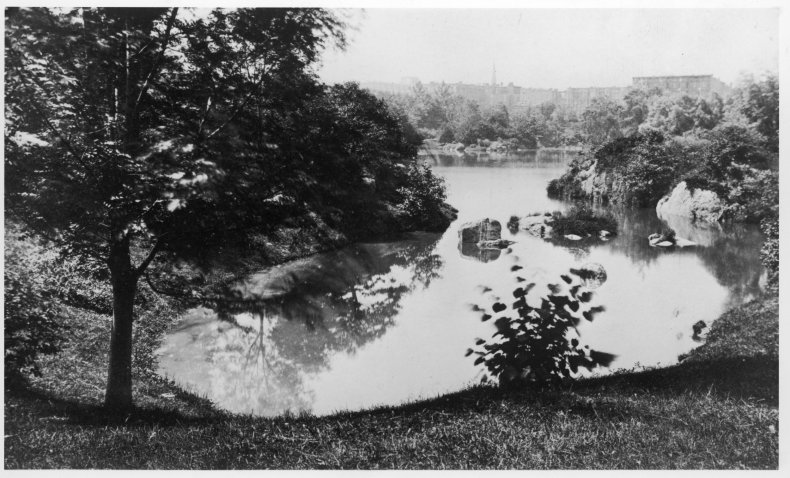 In this image from sometime in the 1860s, Central Park is very fresh.
It was only approved in 1853 and landscaping work began four years later by architects Frederick Law Olmsted and Calvert Vaux. It was completed in 1876.
Originally designed to cover 778 acres, today it spreads across 843.
Cleopatra's Needle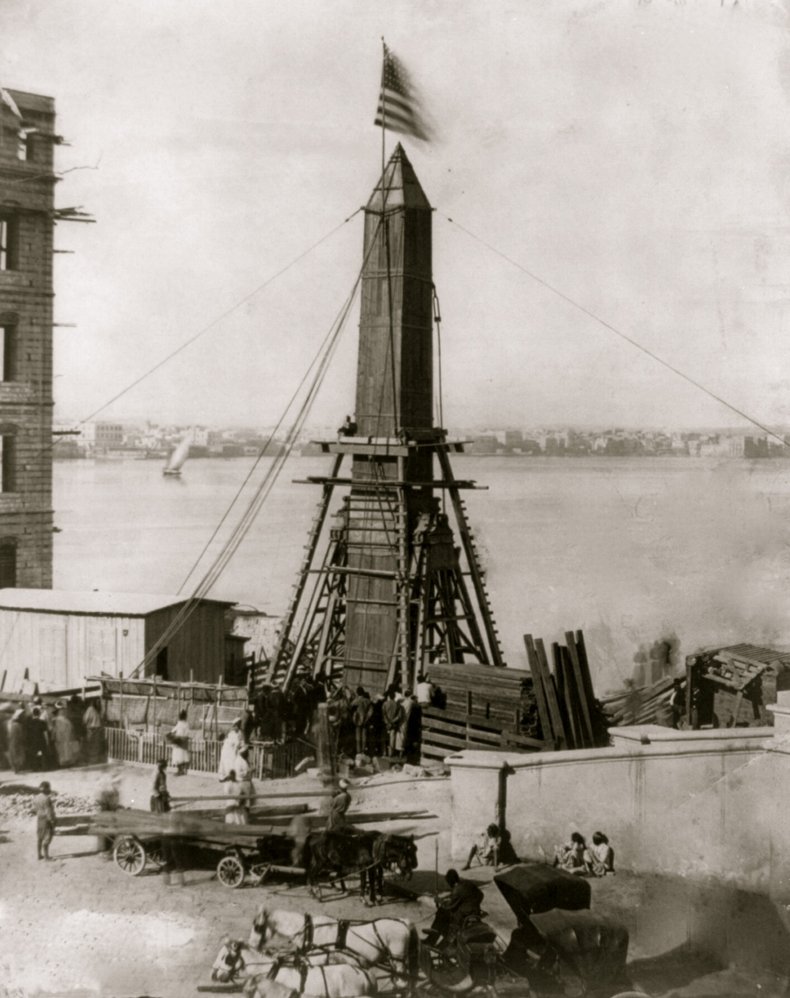 Speaking of Central Park...
In 1877, Cleopatra's Needle—a 69ft red granite obelisk—was secured by judge Elbert E. Farman, the U.S. Consul General at Cairo, as a gift from the Khedive—Egypt's leader— for the States remaining an ally.
Three years later, the obelisk made its journey to America and was installed in Central Park, where it remains today.
The Menagerie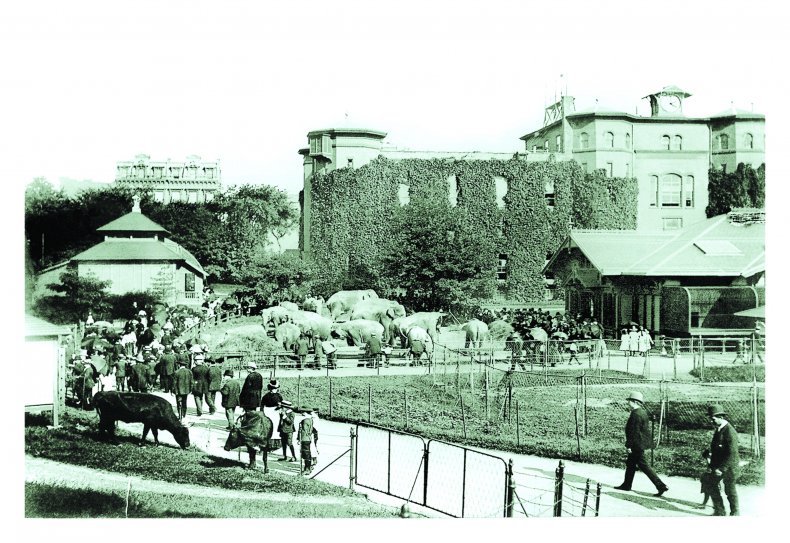 In 1864, a menagerie was installed in Central Park, becoming the first public zoo in New York City.
It was not a part of the original plans, but evolved from exotic animals being gifted to the park, with more than 250 animals being donated between 1864 and 1865.
In 1934, the rebuilt and expanded zoo, called Central Park Zoo, was opened.
Statue of Liberty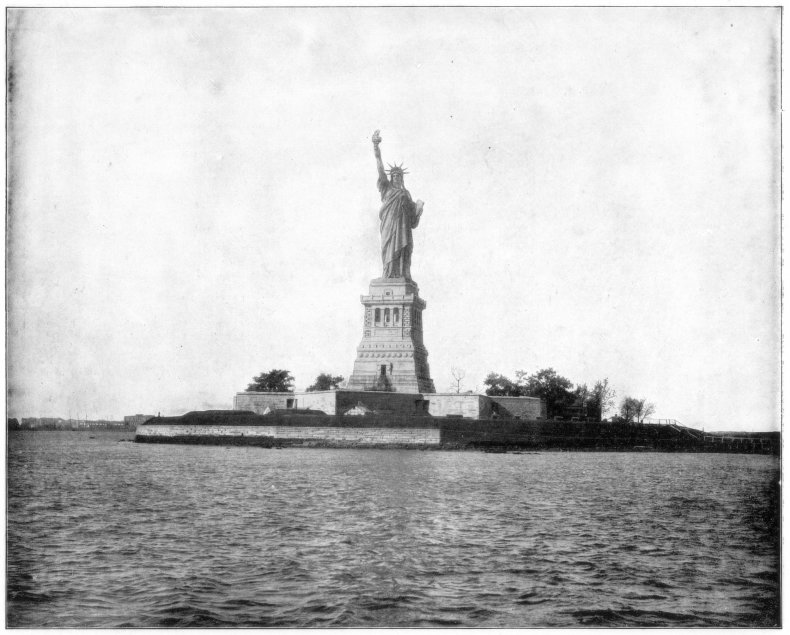 Now an icon of New York City, it wasn't until 1886 that the Statue of Liberty took up her place on Liberty Island, then called Bedloe's Island.
The statue designed by Frédéric Auguste Bartholdi was gifted to the States from France.
President Grover Cleveland presided over the dedication on October 28, 1886, with New York's first ever ticker-tape parade marking the statue's completion.
Macy's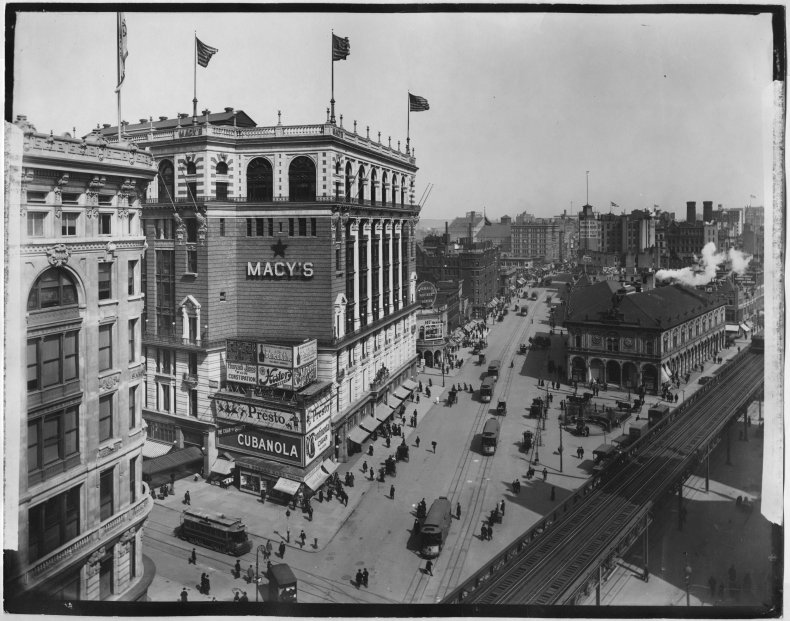 When Macy's opened in 1858 in New York City, it was a dry goods store called R. H. Macy & Co., and it was situated on Sixth Avenue between 13th and 14th Streets.
The store began to grow successful with its made-to-measure clothing for men and women, elaborate window displays, and an in-store Santa Claus at Christmastime, and began to expand into other buildings.
It wasn't until the early 1900s that Macy's moved to its flagship location at Herald Square at 34th Street and Broadway, where it remains today.