New York City to Administer 6,000 More Coronavirus Tests Daily, Mayor Announces
New York City intends to administer 6,000 more diagnostic tests per day to identify cases of the novel coronavirus, Mayor Bill de Blasio announced on Sunday.
During his daily news briefing to share updates regarding the city's outbreak and administration's ongoing response, de Blasio outlined expanded testing that will be made available to New Yorkers at CityMD locations across the five boroughs. The health clinics will generally offer walk-in testing seven days a week at sites during most business hours, with additional hours Monday through Friday, and cover costs to uninsured patients themselves. Specific information about business hours at individual sites is accessible via CityMD's website.
A statement from the mayor's office released later on Sunday said New York City's new partnership with CityMD will essentially triple its current quantity of diagnostic testing sites. At the morning's news conference, de Blasio confirmed tests will be administered at 123 clinics in Manhattan, Queens, Brooklyn and the Bronx.
While escalating diagnostic testing availability, he said CityMD intends to administer 140,000 free antibody tests to healthcare workers and first responders over the next few weeks, in addition to 140,000 residents not employed by an essential industry. Antibody tests evaluate the presence of proteins produced in response to the new coronavirus to determine whether an individual has ever been infected. New Yorkers can access those tests at one clinic located in each borough by making an appointment with CityMD online.
De Blasio released details about his administration's plan for increased testing as the city met its initial per diem goal for diagnostic assessments. The objective aimed to distribute 20,000 tests per day by May 25, a threshold the mayor said was met one week ahead of schedule.
"We're going to keep growing," he said Sunday, noting that 20,000 tests administered per day amounts to nearly 150,000 per week, a significant milestone for the city as it works to manage further transmission of the virus nearly two months into its lockdown. "Our goal is to continue to build that rapidly," de Blasio continued of New York City's testing capacity, "and CityMD's really helped us take a big step forward."
During the state's daily coronavirus briefing on Sunday, Governor Andrew Cuomo announced comparable progress with regard to diagnostic testing outside of New York City. He said statewide testing capacity had reached 40,000 per day at more than 700 locations, doubling what it had been two weeks prior. The governor also shared plans to increase testing further through an additional partnership with CVS, which will allow more than 60 New York state pharmacies to offer diagnostic tests.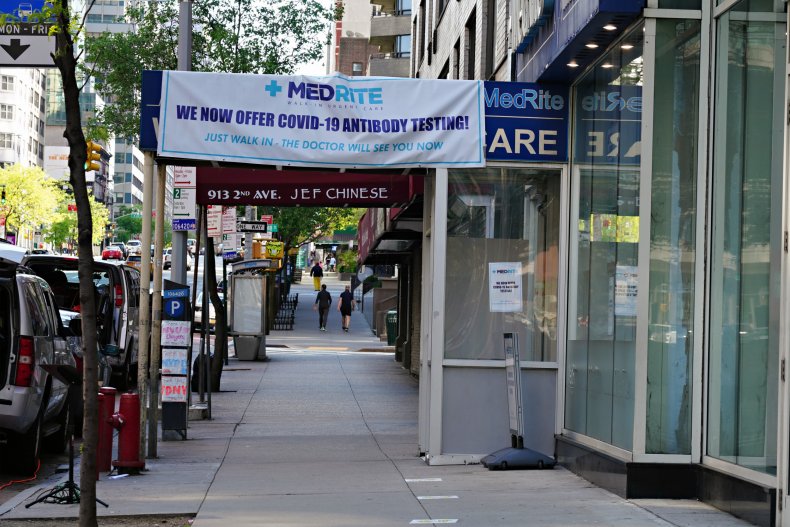 Individuals working in industries that have or are scheduled to resume operations under the state's Phase 1 reopening strategy are now eligible to receive diagnostic tests at New York's testing locations, Cuomo added. The state's reopening plan applies to individual areas with declining incidences of the virus, as recommended by federal criteria. Previously, diagnostic tests were offered to individuals experiencing symptoms of the respiratory illness, healthcare workers and first responders--as well as anyone who believes they may have recently come in contact with an infected person.
Both de Blasio and Cuomo have prioritized mobilization of diagnostic and antibody testing across New York, the national epicenter of the United States' outbreak. As of Sunday afternoon, more than 350,000 of the country's 1.4 million coronavirus cases had been diagnosed within the state, according to Johns Hopkins University's tracker. At least 28,232 New York residents have died as a result, while close to 60,800 have recovered.