New York City Attack: ISIS Supporters Celebrate Deadliest Terror Attack in Manhattan Since 9/11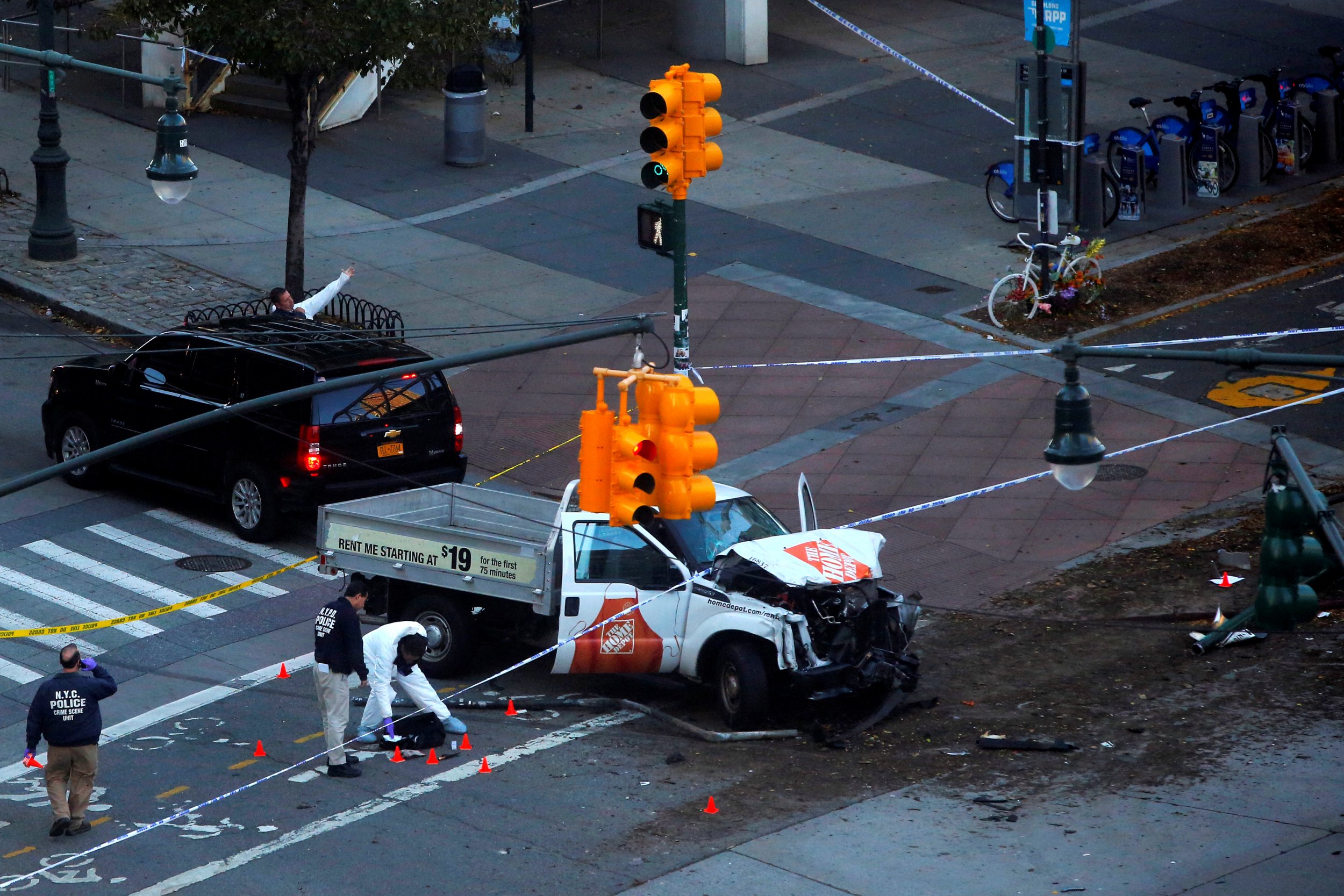 Supporters of the Islamic State militant group (ISIS) celebrated a truck ramming attack Tuesday in New York City. ISIS-linked social media accounts lit up after a man intentionally drove a rented Home Depot truck into cyclists and pedestrians, killing eight and injuring dozens more on a bike path near Styvesant High School located off the West Side Highway of Manhattan.
After crashing his vehicle, initial reports suggested the suspect exited holding two firearms that have since been described as imitation guns by authorities. Police shot the suspect and had taken him to custody.
"Trick-or-tweet New York City" wrote one ISIS supporter, adding a happy face image, after the attack. "Allahu Akbar," wrote another.
President Donald Trump seemed to link ISIS to the terror attack Tuesday night without details. He wrote on Twitter: "We must not allow ISIS to return, or enter, our country after defeating them in the Middle East and elsewhere. Enough!"
Rita Katz, director of SITE Intelligence Group, which tracks terrorism, wrote on Twitter that the attack fit with ISIS' practices. She wrote: "After #NewYork attack, no claims by any terrorist group. However, attack style (use of truck) fits style of an #ISIS-inspired attack."
Related: New York City Attack Live Updates: Truck driver shooting near World Trade Center leaves many killed
Some witnesses said Tuesday's suspect shouted Allahu Akbar ("God is greater") after the attack, suggesting the man's motive may have been related to Islamist extremism. Officials said they were not anticipating any further violence in connection to the bloody incident.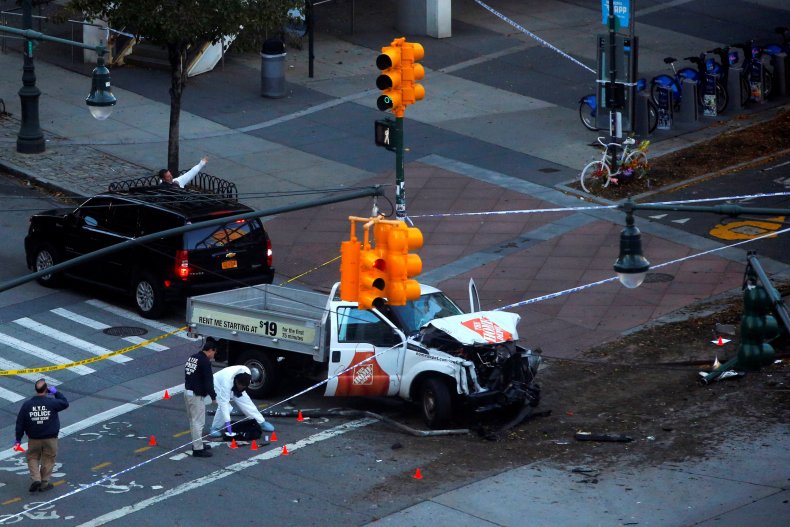 About two hours after the massacre, New York City Mayor de Blasio described the attack as an act of terrorism, making it the deadliest act of terrorism in the city since the 9/11 attacks. The September 11, 2001 attacks, considered the deadliest acts of terrorism in modern history, took the lives of nearly 3,000 people, mostly in New York City, and were conducted by Islamist militant group Al-Qaeda, from which ISIS later spawned in Iraq.
News of Tuesday's attack quickly spread through social media, including pro-ISIS channels on encrypted messaging application Telegram. Supporters cheered the carnage by sharing images.
The assailant's connection to the group remains in question, however, and unfounded ISIS claims that it was behind the deadliest shooting in U.S. history earlier this month have shed doubts on the veracity of the group's allegations. Until now, authorities have found no evidence to suggest that 64-year-old Stephen Paddock acted on behalf of ISIS when he shot dead up to 58 people at a country music concert from his 32nd floor hotel room in Las Vegas.
The method of using a rented truck for vehicular ramming attacks has been used by attackers reportedly inspired by ISIS before and the group itself has suggested such techniques in its publications. In one such article published in the November 12, 2016 edition of its Rumiyah digital magazine, ISIS called on its followers to rent trucks and use them to mow down civilians. The piece, entitled "Just Terror Tactics," featured an image of the upcoming Macy's Day Parade.