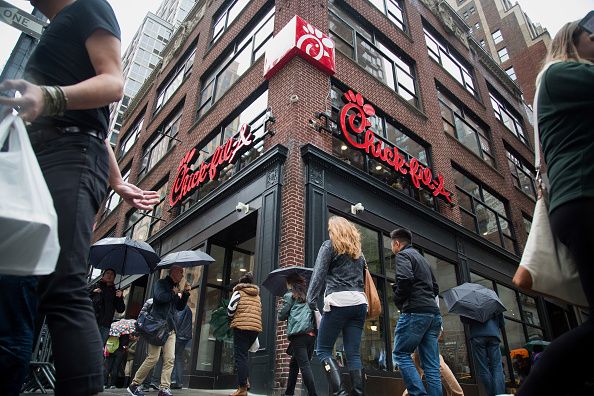 New Yorkers really love their Chick-fil-A.
New York City is slowly starting to become the leading capital of the fast food nation, according to an article from Crain's New York. The article found that the busiest lunchtime restaurant is the Chick-fil-A in Midtown, where the restaurant sells 3,000 sandwiches a day and a person orders a chicken sandwich every six seconds.
The favorite lunchtime spot that racks up $13 million in revenue is currently expanding and plans to open 12 new restaurants in the city. One of their new chains is set to open in the Financial District and will be a five-story-high building with a rooftop that overlooks the Freedom Tower.
But, New Yorkers love fast food so much Chick-fil-A is not the only fast food chain expanding. In September, Taco Bell announced their plans to expand their chain and triple the number of restaurants—25 so far—and Five Guys has grown to 20 restaurants in the city since 2009.
"Fast-food chains used to draw a skull and crossbones around New York when they were looking for places to expand," Gary Occhiogrosso, who runs consulting firm Franchise Growth Solutions, told Crain's. "Now they all want to be here."
These new chains are replacing diners and restaurant due to the rise of rent and costs. As of today, the Department of Health found that New York is home to 3,419 chain-restaurant locations.
The New York City Center for an Urban Future found that Dunkin' Donuts was at the top of their list of New Yorker's favorite chains with 596 stores. Other fast-food chains that ranked in the top ten included Starbucks, Baskin Robbins and McDonald's.
Former Mayor Michael Bloomberg tried to get New Yorkers to be a bit healthier by banning trans fats from cooking oils and asking fast food restaurants to put the calorie count next to their food items, so customers could understand what was in their lunch. Early this year, New York City also forced restaurants to post the amount of sodium content in their foods.
Despite the backlash, the city thrives on these chains and city officials like Mayor Bill de Blasio have commended the city's fast food workforce of 65,000 employees. New York Governor Andrew Cuomo helped raise the minimum wage for fast food employees to $15 an hour, which goes into effect at the end of next year.
With 4.4 million people working in New York City, sometimes it's just hard to pass up a quick, cheap bite to eat at a local fast food chain nearby. If your next lunchtime spot is at Chick-fil-A, tell them not to skimp out on the signature sauce!