New York City Bill to Allow Noncitizens to Vote Has Support From Incoming Mayor Eric Adams
The New York City Council will soon consider a bill to allow noncitizens to vote in local elections, a measure that has support from Mayor-elect Eric Adams.
The "Our City, Our Vote" legislation would allow legal permanent residents and those with work authorization to participate in municipal elections. The measure would impact about 800,000 New Yorkers, The New York Times reported on Tuesday.
City council members are scheduled to take up the measure for a vote next month.
Adams, who cruised to victory in November against Republican Curtis Sliwa, repeatedly expressed support for the bill during his campaign. The Democrat will officially be sworn into office in January.
"We cannot be a beacon to the world and continue to attract the global talent, energy and entrepreneurship that has allowed our city to thrive for centuries if we do not give immigrants a vote in how this city is run and what our priorities are for the future," Adams said in February, adding that it's "our moral and democratic responsibility to enfranchise taxpaying, hardworking legal immigrants and give them the voice they deserve."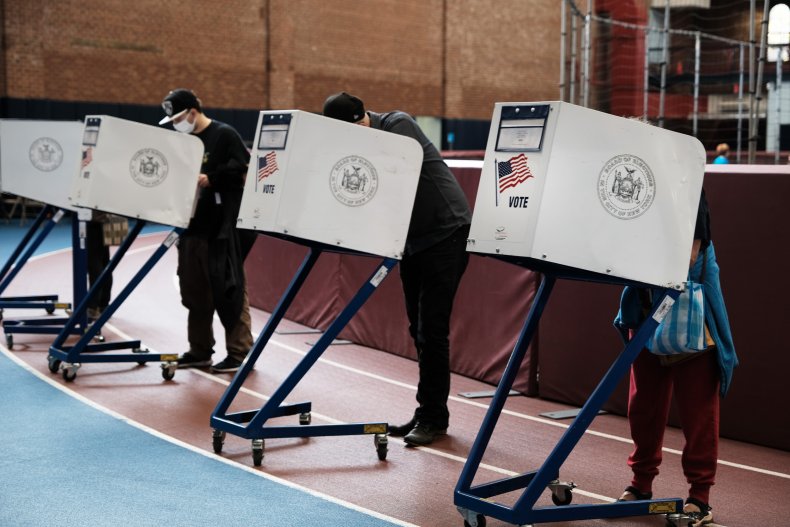 In testimony submitted to the city council in September, Adams said he was proud to be a part of the initiative's campaign and continues to support its passage.
"Currently, almost one million New Yorkers are denied this foundational right," he wrote. "They work here, pay taxes here, support local businesses here, and yet, they have no say in the functioning of the local government under which they must live. No democracy should have constituents who have no pathway to effect the management of their representative government."
If the measure is passed, New York would be the largest city in the country to allow noncitizens to cast a ballot in local elections.
While the measure has support from Adams, current Mayor Bill de Blasio said in September that he had "mixed feelings" about the proposal as he thought it may lessen the incentive for people to gain citizenship.
De Blasio has also questioned the legislation's legality, though activists and city council members have attested that it is legitimate.
"Our Law Department is very clear on this. It's (not) legal for this to be decided at the city level. I really believe this has to be decided at the state level, according to state law," he said during an appearance on WNYC's The Brian Lehrer Show.
Newsweek reached out to Adams for additional comment.