New York City Coronavirus Death Toll Surpasses 1,000, Confirmed COVID-19 Cases Exceed 41,000
The COVID-19 death toll in New York City surpassed 1,000 on Tuesday as the most populous U.S. region continues their battle with the coronavirus pandemic that has now infected more than 41,000 people in the city.
At 5:00 p.m. ET on Tuesday afternoon, the New York City Department of Health confirmed that 1,096 people have died due to the virus, with 41,771 confirmed cases and 8,549 hospitalizations.
The city's death toll was reported at 914 on Monday night and 776 on Sunday.
New York City's grim new milestone comes roughly two days after the state's death toll climbed above 1,000 on Sunday.
Newsweek reached out to New York City Mayor Bill de Blasio's office for comment.
President Donald Trump advised Americans to use scarves as makeshift masks on Tuesday as the U.S. struggles to source enough protective gear for its citizens. "You know, you can use a scarf, a lot of people have scarves," Trump told reporters during today's White House COVID-19 press conference. "My feeling is if people want to do it there is certainly no harm to it. I would say do it rather than going out to get a mask."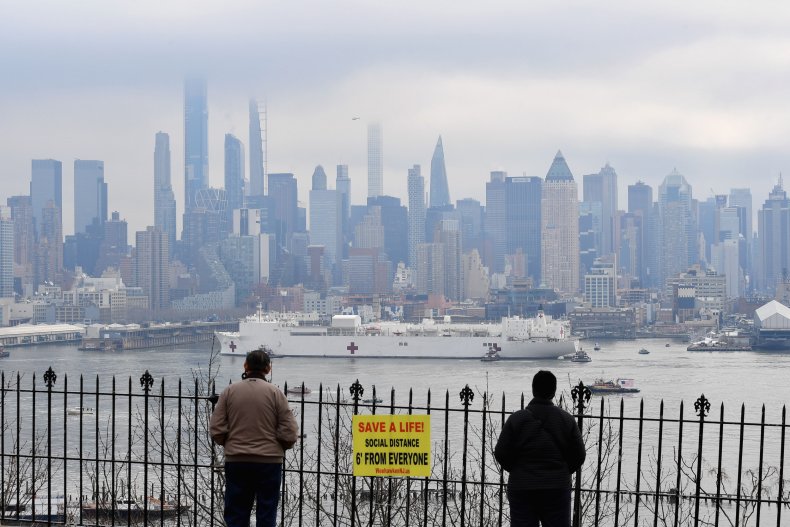 Trump also said the U.S. government is holding back approximately 10,000 ventilators to prepare for an expected surge in cases. "We're giving massive amounts of medical equipment and supplies to the 50 states," the president said. "We also are holding back quite a bit. We have almost 10,000 ventilators that we have ready to go."
"We have to hold them back because the surge is coming and it's coming pretty strong and we want to be immediately able to move it into place without going and taking it so we're ready to go," he added.
During the same task force briefing, Dr. Deborah Birx estimated that between 100,000 and 240,000 people could die domestically, even with the country's social distancing regulations in place. She says the figure is less than the 1.5 to 2.2 million that might have died if the government did not put intervention measures in place to contain the virus.
"There's no magic bullet. There's no magic vaccine or therapy. It's just behaviors," Birx said.
Despite federal social distancing guidelines, large crowds of people gathered to greet the USNS Comfort Navy ship as it docked in New York City on Monday morning to help hospitals overwhelmed with coronavirus patients. The ship, which has 1,000 beds and 12 operation rooms, will not be treating COVID-19 patients, but alleviate pressure from the city's hospitals currently dealing with the novel virus.
As of Tuesday evening, more than 181,000 coronavirus cases had been confirmed across the U.S., including at least 3,600 deaths, according to a tracker maintained by Johns Hopkins University.
New York City Coronavirus Death Toll Surpasses 1,000, Confirmed COVID-19 Cases Exceed 41,000 | U.S.