New York City Leader Jimmy Van Bramer Posts Screenshots of 'Threatening" Amazon Text Messages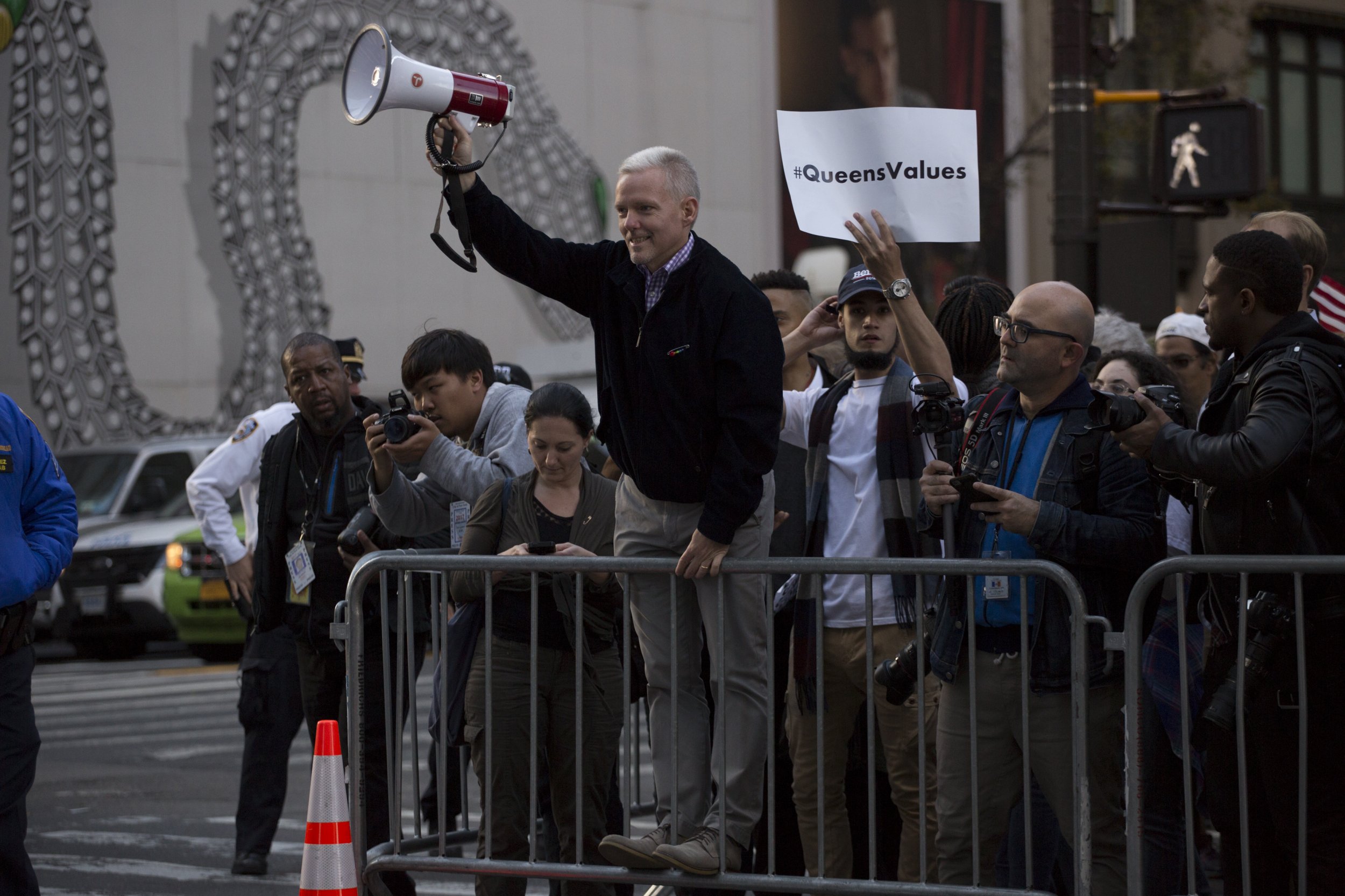 New York City council member Jimmy Van Bramer released screenshots of seemingly threatening text messages he received from a constituent angry over Amazon's canceled plans for a second headquarters (HQ2) in Queens, including one that references a "firing squad."
Van Bramer posted the screenshots to Twitter on Friday shortly before 1 p.m. and identified the messages as coming from Josh Bowen, a restaurateur angered by the tech giant's scrapped plans to build HQ2 in the Queens borough. The profane text messages implore Van Bramer to call and "apologize" to John Shoettler, Amazon's vice president of real estate, for criticizing the company's original plans to come to the city.
"You will call John Schoettler and apologize. You can be at the back of the parade or in front of the firing squad," the screenshot reads. "...Call now and I can stop the growing forces that will end councilman VanJobKillers career."
The message continues: "I can leave you out of it and focus on Amazon coming back or I can add another sound bite onto the funeral pyre of Jimmy's career."
Amazon canceled its plans for a New York City HQ2 site in February, after grappling with roughly 3 months of intense criticism. Bowen, who owns John Brown Smokehouse in Long Island City, has been traveling and making public appearances in a bid to woo Amazon back, even visiting Seattle in an attempt to meet with the upper echelons of the tech company. In an interview with Fox News, the restaurateur said the messages he sent to Van Bramer weren't threats of physical violence but doubled down on his criticism of the local elected.
"I did not threaten him," Bowen said, calling the politicians who opposed the plans "dumb." "...He's my council man. He has not done his job at all."
As part of the original plans for the headquarters, Amazon pledged to create up to 40,000 jobs in Long Island City. In exchange, the company would have benefitted from a $500 million state grant and tax breaks totaling an estimated $2 billion. The company soon faced fierce opposition from local unions, activists and city leaders, who argued the tech giant's presence would have exacerbated existing gentrification and contributed to rising rental costs.
Van Bramer, who is also the deputy leader of the city council, was one of the deal's most vocal opponents. Along with a chorus of community members, he argued that state grants should instead be directed toward public housing and revitalizing the community. Jeff Bezos, the owner of Amazon and the richest man in the world, could afford to build the second headquarters without state grants, he said.
"Amazon is a trillion dollar company," Van Bramer said in December. "Jeff Bezos is the richest man in the world. They do not need a $500 million cash grant from taxpayers to build HQ2 in (Long Island City)/ That money should be redirected to the four public housing developments in Western Queens, today."
In the weeks since Amazon pulled out of the deal, many business leaders in the city have signed an online petition urging the company to reconsider. A Twitter account named "JimVanJobKiller" also sprung up in February, releasing a torrent of criticism against politicians who opposed the deal.
"As representatives of a wide range of government, business, labor and community interests, we urge you to reconsider, so that we can move forward together," reads one online petition from The Partnership for New York City, which represents the city's business leadership.
Meanwhile, New York Gov. Andrew M. Cuomo has been resolute in his support for HQ2. In a Friday radio interview with WNYC, Cuomo said he still welcomes the project but has no reason to believe Amazon will revive the plans.
"Would I like them to?," he said. "Certainly. But I have no reason to believe that."