Nearly Half of New York City Residents Don't Want to Re-Open The Economy Before June, New Survey Finds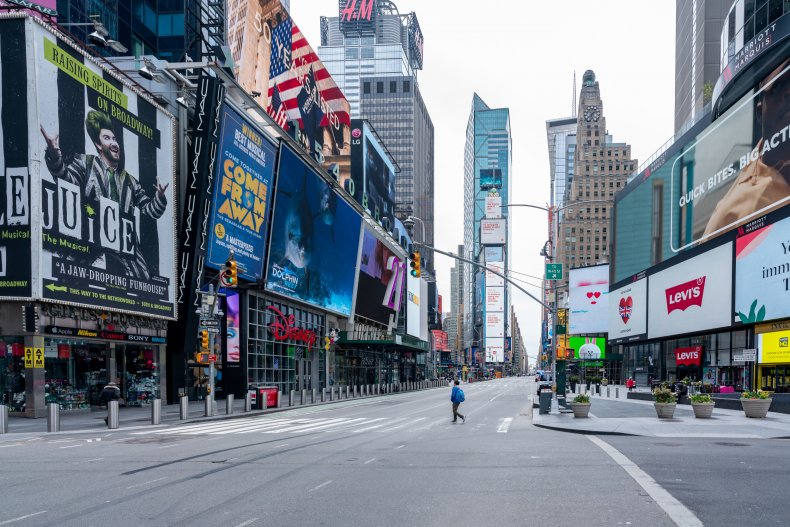 Almost half of New York City residents believe Governor Andrew Cuomo should hold off on re-opening the city's economy until June 1—at the earliest—according to a new tracking survey.
The survey, commissioned by the CUNY Graduate School of Public Health & Health Policy, found that 49 percent of city residents opposed lifting restrictions on non-essential businesses before June. Another 39 percent of respondents wanted these businesses to re-open sometime in May, and 12 percent said they wanted this to occur before the end of April.
"The New Yorkers we surveyed have been badly buffeted by the coronavirus," Ayman El-Mohandes, dean of the graduate school, said in a press release. "This experience appears to have made them more cautious than some in other parts of our country."
As of Monday afternoon, New York City has had 132,467 cases of COVID-19 that have resulted in 9,101 confirmed deaths, according to data from Johns Hopkins University.
Counties comprising most of New York City represent four of the five U.S. counties with the highest death tallies from the disease. The other county on that list, Nassau, sits directly adjacent to New York City on the Long Island peninsula.
On Thursday, Cuomo extended New York's lockdown order until May 15. This comes as transmission of the virus has started to plateau, and, recently, decline—a key indicator that restrictive public health measures are working to contain the outbreak. Cuomo also announced a regional coalition of seven states that will coordinate when lifting restrictions on businesses and schools.
This approach stands in contrast with some other states that have expressed a zeal to restart local economies without delay. Georgia Governor Brian Kemp, for example, announced Monday that some businesses, such as gyms and nail salons, can begin to re-open under restrictive conditions later this week. Theaters and restaurants will be given the same license starting on Monday.
A trend map from Johns Hopkins University shows that the number of COVID-19 cases in Georgia, which currently stands at around 19,400, is continuing to rise at a linear rate. Kemp said at a press conference that he remains "encouraged by the data" and his state's ability to scale testing, though he acknowledged that Georgia is "probably going to have to see our cases continue to go up."
New York City residents still reported outstanding concerns about setting economic activity back into motion in their state. Two-thirds of employed residents "expressed concern about returning to their jobs," according to the CUNY survey. And an outright majority of workers said they could not return to their jobs without new protocols: 28 percent said they insisted on COVID-19 tests before working again and 27 percent of them said they would not return out of fear of contracting the disease.
A majority of respondents said there would be no parent in the household if non-essential businesses resume operations. This finding is complicated by the fact that New York City Mayor Bill de Blasio announced in mid-April that schools will be closed for the rest of the academic year.
As it stands, 37 percent of New York City residents reported that either they or someone in their household has suffered a job loss. This has impacted Hispanic residents most acutely, according to the survey. Forty-four percent of Hispanics in the city said so, more than any other subgroup measured. Hispanic residents are disproportionately represented in the city's food services sector, which has been battered by the economic slowdown resulting from COVID-19.
Hispanics are also overrepresented in their share of the mortality. While 34 percent of COVID-19 deaths in the city are from Hispanic residents, according to an estimate from the New York City Department of Health and Mental Hygiene, they only comprise 29 percent of the city's population.