New York City Girls Club Gets Surprise Visit From Michelle Obama: 'I'll Never Forget the Girls' Reaction'
Michelle Obama made a surprise visit to a New York City girls' club on Saturday, in what a city councilwoman described as a moment "she will never forget".
The former first lady surprised young women at the Lower Eastside Girls' Club and her appearance was caught on video by New York City Councilwoman Carlina Rivera.
"Thanks to @MichelleObama for making our little corner of the Lower East Side brighter today!" Rivera wrote on Twitter.
"I will never forget the girls' reaction to seeing such an amazing role model in real life. The @girlsclubnyis a special place for our next generation of leaders!"
Obama is not new to make surprise appearances at events for young adults and last month she appeared at a dance class at her former high school in Chicago.
According to The New York Daily News, Obama joined Sam Kass, who served as executive director of the Let's Move! campaign that she championed while she was first lady, to prepare healthy lunches on Saturday.
"If I could choose how to spend every second of my day, it would be doing stuff like this," she was quoted as saying.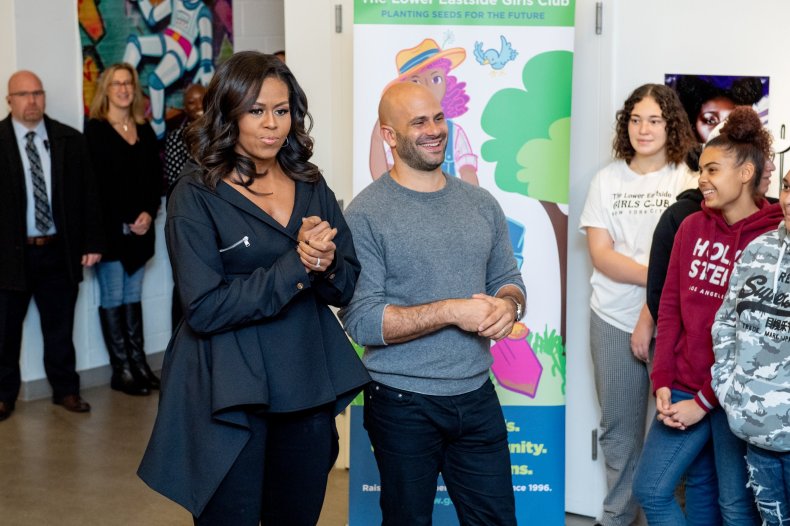 The former first lady is currently on a 10-city, 12-date U.S. bookstore tour—with upcoming stops in Brooklyn, New York; Detroit; Denver; San Jose, California; and Dallas—to promote her memoir.
"Becoming" was released in November and has rocketed up the charts to become the bestselling hard cover book of the year.
Obama's publisher, Penguin Random House, announced Friday that the former first lady's book had sold more than two million copies,15 days after its initial release.
The book, published on November 13, details Obama's life before she became first lady.
Becoming is now in its second week as No. 1 on The New York Times Best Seller lists for hardcover nonfiction and the combined print and e-book best sellers.
Aside from the memoir's success in North America, it has also made an international impact, ranking No. 1 in adult nonfiction in the United Kingdom, Germany, France, Italy, the Netherlands, Spain, Denmark, Norway, Finland and Greece.
It has also been a best seller in Australia, Israel, Korea,Taiwan and South Africa.
The former first lady will also take part in a European book tour, and will appear at a sold-out event at the Royal Festival Hall in London on Monday, followed by appearances in Paris and Berlin.
More than three million copies of "Becoming" will be available in the U.S. and Canada, and it will be published in 31 languages around the world.
New York City Girls Club Gets Surprise Visit From Michelle Obama: 'I'll Never Forget the Girls' Reaction' | U.S.