NYC Health Care Workers Prepped for Ebola, Urged to Maintain Calm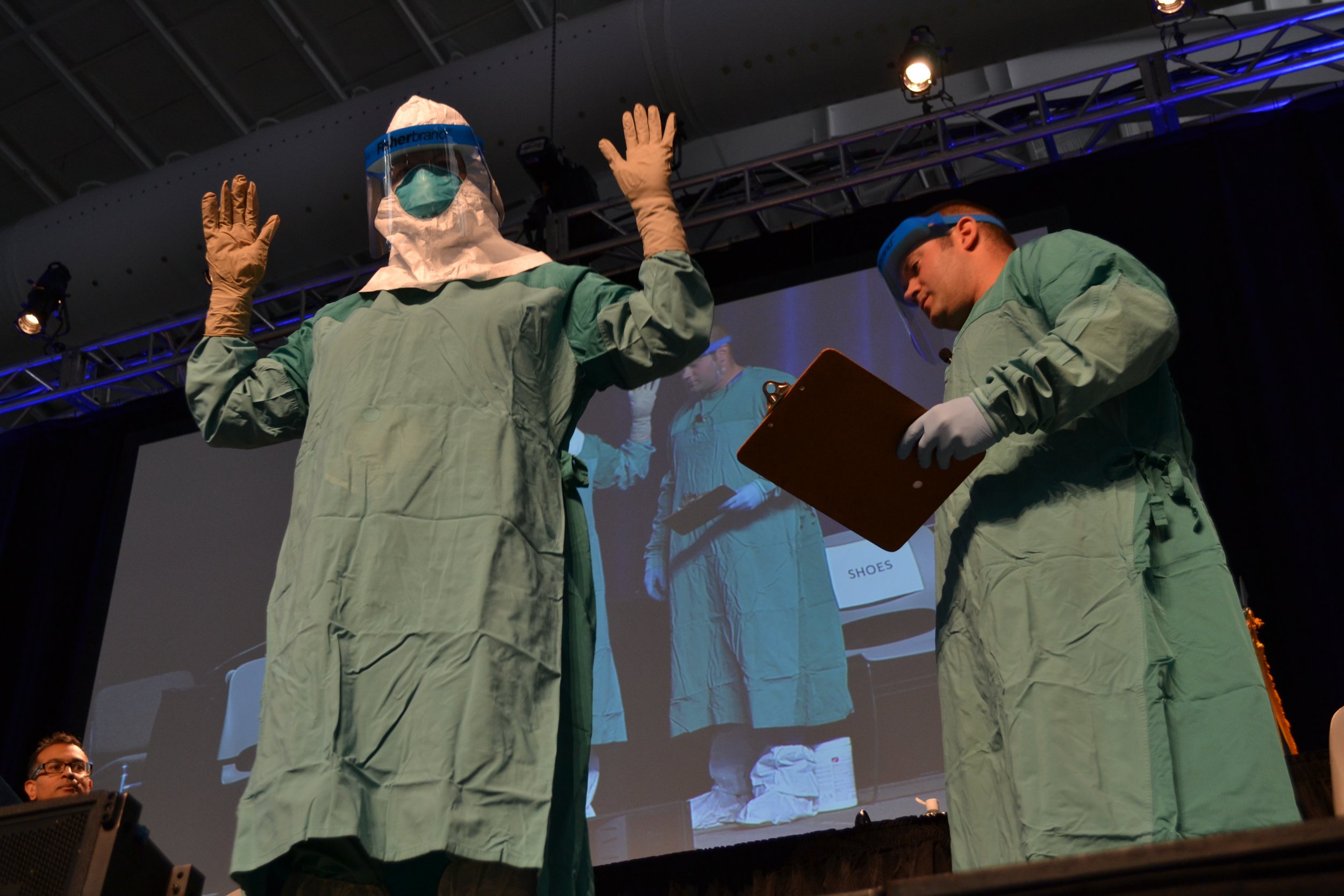 Barbara Smith, a registered nurse at Mount Sinai Hospital, spent part of her Tuesday afternoon at the Javits Center in midtown Manhattan demonstrating what looked like awkward dance moves onstage to show the range of movement available in protective gear for health care workers treating potential Ebola patients.
Slowly and deliberately over the previous 20 minutes, Smith had been helped into a green gown, full face shield and double layers of gloves by Bryan Christensen, part of the U.S. Centers for Disease Control and Prevention's (CDC) Domestic Infection Control Team for the Ebola Response. She was then given repeated dollops of hand sanitizer and double and tripled-checked for visible contamination and exposed skin. She jumped, moved her arms up and down and swayed them side from to side.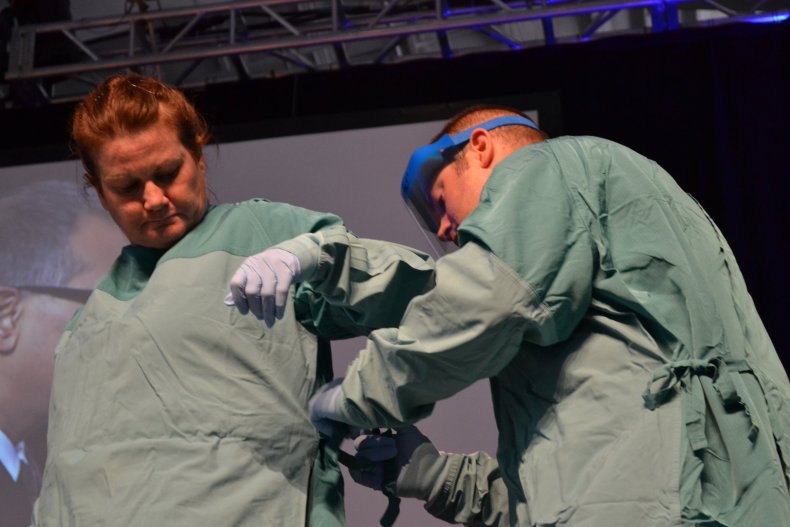 "A good tip Barbara is going to show us is step on the inside of the gown to help to move it. Remember, her shoes are clean and the inside of her gown is clean," said Christensen, toward the end of the detailed presentation.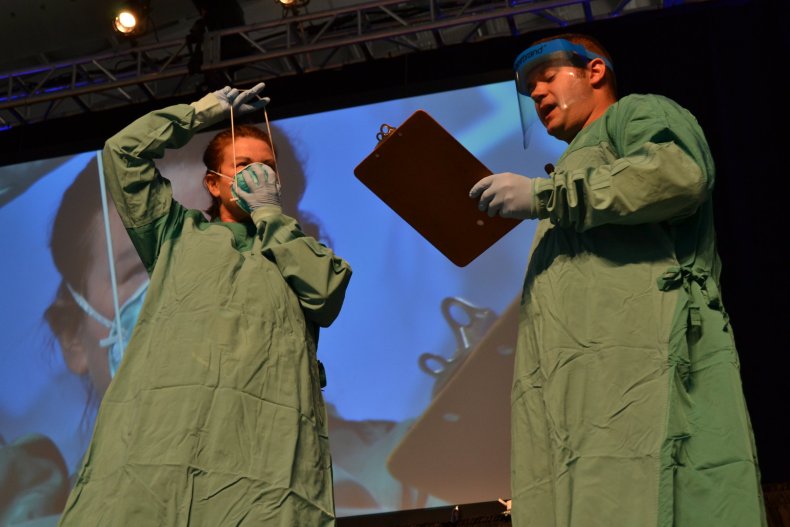 The whole "donning and doffing" process, medical terms for putting on and taking off personal protective gear, was part of an intensive training session attended by hundreds of New York City health care workers on Tuesday, in preparation for possibility of an infected Ebola patient arriving in the state.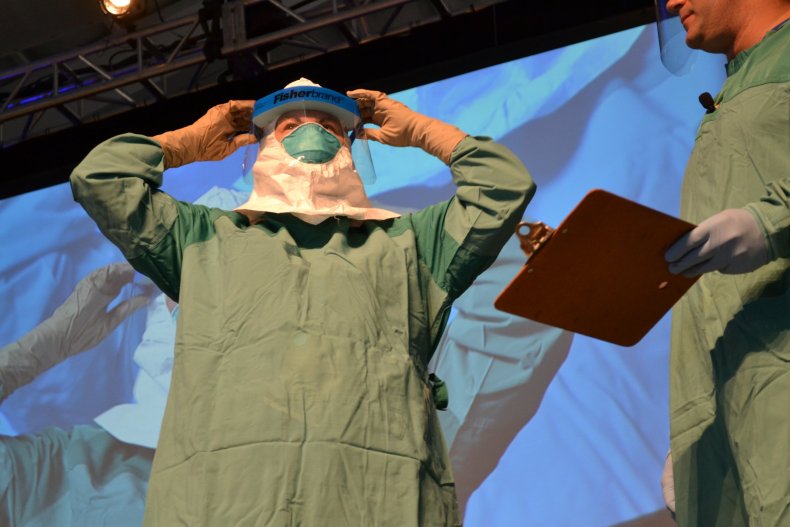 No cases of the Ebola virus have been diagnosed in New York City so far, but that hasn't calmed fears. Earlier this month, New York had an Ebola scare after a teen who returned from a trip to Sudan, a country in eastern Africa, fell ill. Airplane cabin cleaners at LaGuardia Airport went on strike over safety concerns, and there was furor at a New Jersey school over two students from Rwanda, a country thousands of miles away from the West African Ebola outbreak.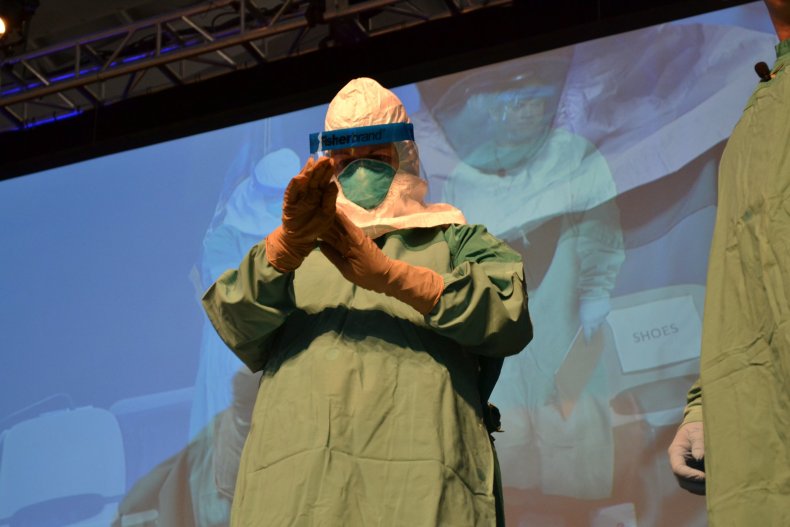 Fears over the virus's spreading have led to Ebola screening at many U.S. airports. On Tuesday, the Department of Homeland Security said flights from the three countries most affected—Liberia, Sierra Leone and Guinea—would be allowed to land only at New York's John F. Kennedy International Airport, New Jersey's Newark Liberty International Airport, Washington Dulles International Airport, Hartsfield-Jackson Atlanta International Airport and Chicago's O'Hare International Airport, which receive 94 percent of travelers from the worst-affected countries.
New York City Mayor Bill de Blasio and New York Gov. Andrew Cuomo both spoke—and were both greeted enthusiastically—before the session, which was hosted by the SEIU 1199 health care workers union, which represents workers in the eastern states of New York, New Jersey, Massachusetts, Florida, Maryland and Washington, D.C., and the Greater New York Hospital Association.
Cuomo said attendees had a "mission" during the session to "learn, train yourself [and] pay attention. This affects everyone at every level. This is doctors, this is nurses, this is hospital administrators, this is lab techs, this is radiology technicians, this is food service, this is laundry, this is security, this is transportation. Don't say, 'This isn't me.'"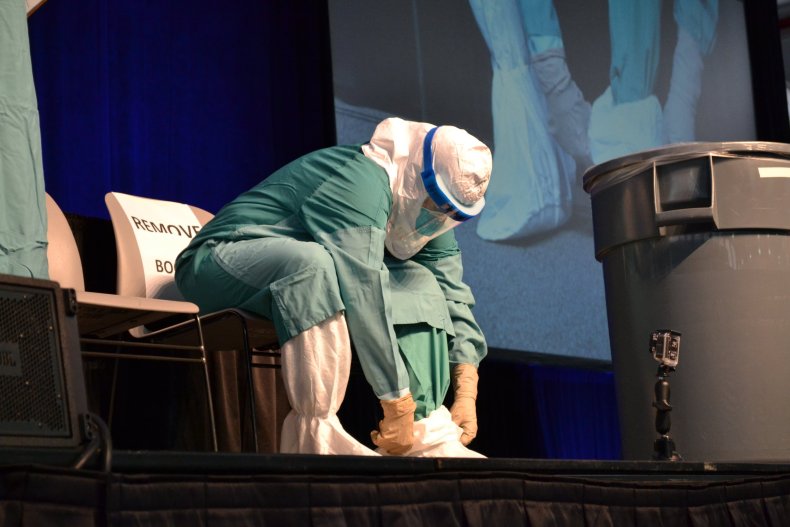 Cuomo also urged health care workers to calm rampant public fears over Ebola, which is not an airborne disease and can be caught only through direct contact with bodily fluids.
"Keep the anxiety down. Keep the fear down, because it's unnecessary and it's not right and it only makes the situation more complex," he said.
De Blasio praised the city's health care workers and said their line of work was not an "easy, mellow job."
"You're our city's first line of defense against the challenge of disease of all kinds," said de Blasio. "You're here because you care, you're here because you're concerned. You're concerned for the people you serve; you're concerned, rightfully, for your own protection as well. You can't help others unless you're protected too."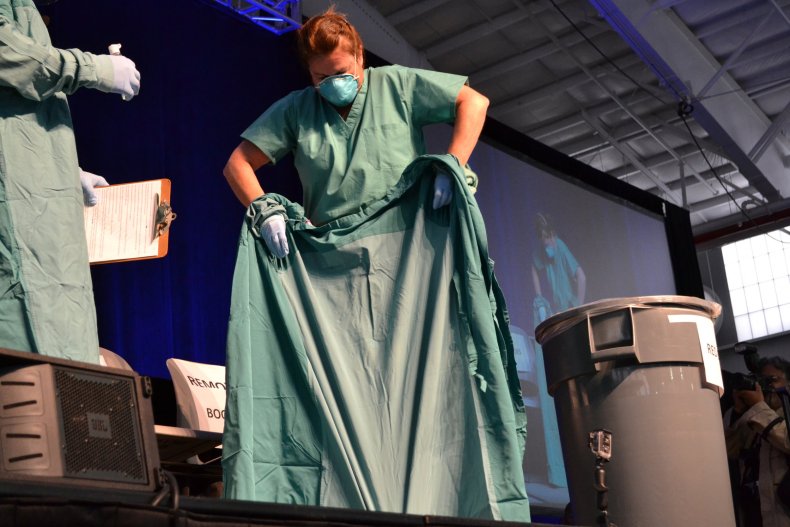 Eight New York state hospitals have been chosen to take Ebola patients, with five in New York City: Mount Sinai Hospital, Bellevue Hospital Center and Columbia-Presbyterian Hospital, all in Manhattan; Montefiore Medical Center in the Bronx; and North Shore-Long Island Jewish Health System. Cuomo announced on Thursday that these eight hospitals are "especially prepared with go-to teams who've been drilled in anti-Ebola protocols," CBS 2 New York reported.
On Monday, the CDC issued a new set of guidelines for health care workers on how to use the "personal protective equipment." A hands-on demonstration at the training session Tuesday showed health care workers how to use the equipment according to the new recommendations, which included using a full face shield instead of goggles, not leaving any skin exposed and having a trained observer watching carefully as the equipment is put on and taken off.
Another new guideline says health care workers should double up on the amount of alcohol-based hand sanitizer they use by cleaning gloved hands in addition to bare hands.
A question-and-answer session covered topics such as the correct protocol for handling dead bodies for morgue personnel, how to treat pregnant patients who may be infected with Ebola and how the United States government is assisting with the Ebola response in West Africa.
Journalists were asked not to speak with any health care workers at the session, with all questions for nurses and medical staff directed to Debbie Friedland, a registered nurse at St. John's Episcopal Hospital in Queens, N.Y.
"The new CDC guidelines are great for all of us as caregivers. It's important that we have the buddy system, that someone is monitoring us, helping putting [personal protective equipment] on and taking it off. I think the education and practice, practice, practice will be going back into our hospitals," said Friedland.
"We'll be practicing what we do in drills, and we'll be making sure that we're educated to take care of any patient that comes through our door," she said.