New York to Release 1,100 Low-Level Parole Violators, as Worries Over Prison System's Vulnerability to COVID-19 Mount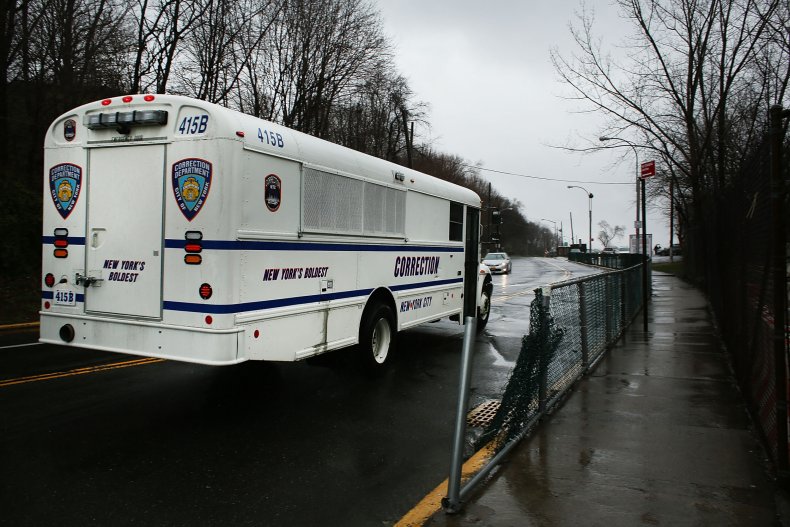 New York will release approximately 1,100 individuals from the state's jails who were being held on "low-level technical violations" of their parole conditions, according to the state's Department of Corrections and Community Supervision (DOCCS).
The move comes as advocates warn that the COVID-19 pandemic—which has taken root in New York, now the outbreak's U.S. epicenter—could sweep like wildfire throughout the state's correctional system if immediate measures aren't taken to reduce density at individual prisons.
Scott Hechinger, a public defender, hailed the development, telling Newsweek that "it means everything" for his clients.
"Life, family, health, stability, calm, basic fairness," he added.
Any number of transgressions, from further criminal acts to simple oversights, can land an individual serving parole back in prison. Hechinger recently posted about the example of a client who was imprisoned for two months at the notorious Rikers Island prison complex simply for "not updating his address" with his parole officer.
Governor Andrew Cuomo, who had faced mounting calls to address the state's pandemic-vulnerable prison population, disclosed on MSNBC Friday that the state is "releasing people who are in jails because they violated parole for non-serious reasons."
"Wherever we can get people out of jails, out of prisons now we are," he told host Chris Hayes. "We also put in additional protections in the prisons to try to protect both the workers and the prisoners."
Pursuant to Cuomo's directive, DOCCS began the process of reviewing individual cases to determine which involved technical violations, canceling warrants where, it decided, public safety would not be jeopardized.
Around 400 of the 1,100 releases could involve New York City cases alone, where Rikers Island is located, with the others occurring throughout the rest of the state.
As of Saturday morning, 79 DOCCS employees and seven individuals incarcerated in state-run facilities have tested positive. In New York City facilities, which are run separately from the state system, 104 staff members and 132 inmates have tested positive.
Both state-run and city complexes have suspended in-person visits in order to slow the disease's spread.
The Legal Aid Society in New York City has been an outspoken advocate for winnowing the jail population to avoid further entrenching the epidemic. The non-profit organization has sued the city's Department of Correction, earning the release of over 100 inmates who were being held on technical violations of their parole.
According to the group's analysis of infection data, Rikers Island and other local jails are among the country's highest-risk locations for contracting COVID-19.
"New York City jails have become the epicenter of COVID-19," Tina Luongo, attorney-in-charge of the criminal defense practice at The Legal Aid Society, said in a public statement. "It is imperative that Albany, City Hall, our local District Attorneys and the NYPD take swift and bold action to mitigate the spread of this deadly virus. Stop sending people to Rikers and let these New Yorkers out immediately. Anything else is too little, too late."