New York City Mayor de Blasio Urges Tenant Rent Freeze, Landlords Using Security Deposits as Temporary Payment
New York City Mayor Bill de Blasio joined dozens of state Democratic lawmakers in urging landlords to allow tenants to use security deposits in lieu of rent and to enact other forms of payment forgiveness amid the coronavirus economic lockdown.
The mayor of the country's largest city on Friday pleaded with the Rent Guidelines Board, which establishes payment adjustments for New York's one million rent stabilized dwelling units, to freeze rent for tenants struggling due to the coronavirus shut down of the economy. But the mayor's demands, which would see the mayoral-appointed board vote not to raise rent and to temporarily suspend payments, has been denied by the landlords and management groups represented on the panel. De Blasio's rent freeze request parallels a New York State Senate bill that would suspend rent payments for tenants and small businesses who've had their paychecks diminished or eliminated due to COVID-19 self-quarantine.
"If a tenant has no money, he has no money," de Blasio said during a press conference on Friday afternoon, in a straightforward urging to the city's powerful Rent Guidelines Board.
"We need a rent freeze.I am calling on the Rent Guidelines Board to freeze rents for all regulated apartments. I'm also asking the State to allow New Yorkers to pay rent with their security deposit. I want to see them act quickly," de Blasio added in a tweet Friday. The mayor went on to say the Rent Guidelines Board denied his request.
The group representing the landlords of rent-controlled apartments throughout the five boroughs responded to the mayor's request in a statement provided to WABC-TV Friday: "Enacting another rent freeze will only expedite the deterioration of the City's aging housing stock, and will do nothing to aid tenants that are already struggling to pay the rent in the midst of this crisis."
De Blasio called on New York Governor Andrew Cuomo to extend his 90-day moratorium on evictions to include a rent freeze for tenants in the interim. The mayor joins several Democratic state lawmakers including State Senator Michael Gianaris of Queens, who last month proposed Senate Bill 8125A that demands a rent freeze for New Yorkers who have seen their income lost or reduced due to coronavirus job cuts. Both lawmakers have demanded the state to allow tenants to apply their security deposits toward their monthly rent. Another piece of legislation introduced last week by Assemblyman Jeffrey Dinowitz and State Senators Liz Krueger and Brad Hoylman is entitled the "NYS Tenant Safe Harbor Act." The proposal would mean landlords can't kick people out of their homes during a massive public health emergency such as the COVID-19 pandemic.
A large majority of New York City landlords require the first and last months' rent in addition to a security deposit equal to another month's-worth of rent. According to the U.S. Department of Labor, about 17 million American workers filed for unemployment benefits in the past two weeks, with 6.6 million filing last week alone. In total, this accounts for 11 percent of the entire U.S. labor force.
On Saturday, de Blasio also closed public schools for the remainder of the 2019-2020 school year. "It's the right thing to do. It clearly will help us save lives," he said. New York City's public schools will continue their remote learning schedules to finish the school year.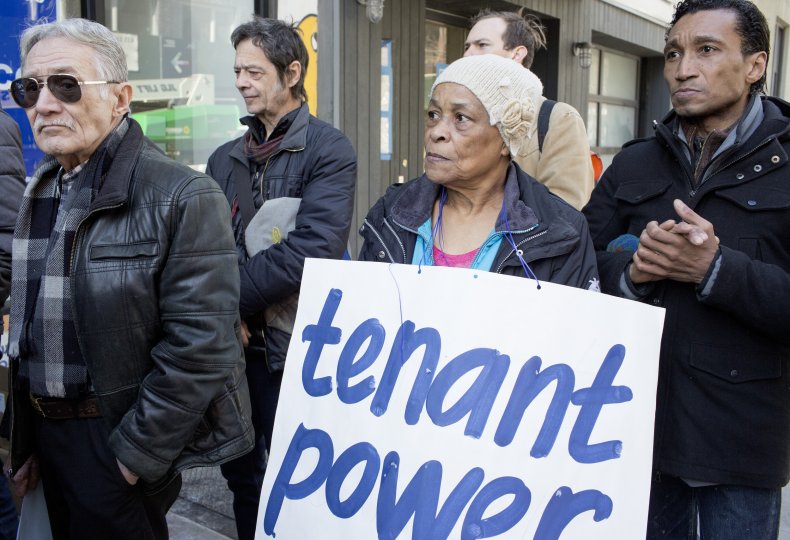 The mayor's office did not immediately respond to Newsweek's request for additional comment Saturday morning.
As the Los Angeles Times reported Saturday, one-in-three tenants failed to pay their April rent, according to a landlord industry group which spans the United States.