Women Heroes Will Finally Get a Place of Honor in New York's Central Park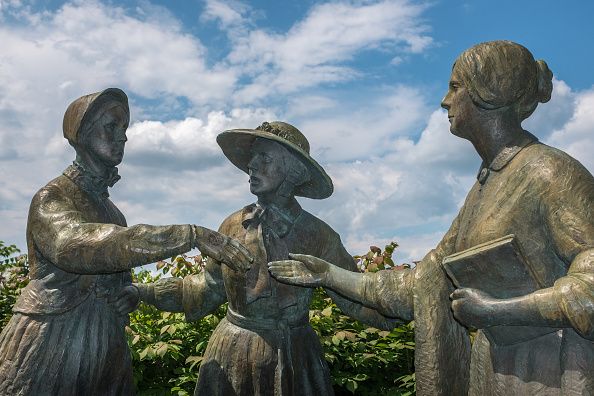 Move over, woodland nymphs and fictional characters—two real female heroes are finally getting a place in New York City's Central Park.
A monument to women's suffrage activists Elizabeth Cady Stanton and Susan B. Anthony will be installed in Central Park in 2020, the 100th anniversary of women getting the vote, city officials revealed Monday.
"We are going to break the bronze ceiling in Central Park to create the first statue of real women in its 164-year history," said Pam Elam, president of the Elizabeth Cady Stanton and Susan B. Anthony Statue Fund. "This is an instant history lesson.… It's learning from the past to do a better job of fighting for equality and justice in the future."
The park's statuary currently honors not a single actual woman. Yes, there are monuments to Mother Goose, Juliet from the Shakespeare play, Alice (from Wonderland, remember?), and assorted nymphs and mystical creatures, but all of the other 29 statues in the park honor men, such as William Shakespeare, Robert Burns and even Fitz-Greene Halleck, a minor poet with good connections.
Stanton and Anthony played a large role in women's rights when they joined forces in 1852. Their work culminated in the 19th Amendment, which gave women the right to vote, in 1920.
The statue fund is raising $1.5 million to design, build and maintain the monument. New York Life, an organization that has long ties to Susan B. Anthony, pledged $500,000.
The remaining million could be dicey, given that the statue is already stirring some controversy. In the hours after the unveiling, Anthony was attacked on social media as a racist for once saying that she would "cut off this right arm of mine before I will ever work or demand the ballot for the Negro and not the woman."
"Susan B. Anthony ... racist. ... There are better role models we can glorify," said Twitter user Desiree.
"Susan B. Anthony is another example of the exclusionary white feminism," said Twitter user Boston Rose.
But Anthony, who died in 1906, long campaigned for the abolition of slavery during her time as an activist. In 1863, for example, she and Stanton founded the Women's Loyal National League, which collected nearly 400,000 signatures in support of a constitutional amendment to abolish slavery, a drive that some say led to the passage of the 13th Amendment in 1865.
The move to honor the two female heroes comes in the midst of a national conversation about how to honor historic figures of the past in today's world. To Southerners who installed Robert E. Lee statues all over the former Confederacy, he remains an honorable soldier who lost a noble cause. To most Americans, he is a symbol of racism, white supremacism and treason for his leadership role in the Civil War.