New York City Offers Lessons in the Importance of Election Transparency | Opinion
When Texas Democrats fled their state to protest an election reform bill, they should have gone to New York City instead of flying (maskless, in a private jet) to Washington, D.C. Had the Texas lawmakers flown to the Big Apple, they could have learned, firsthand, from that city's recent election debacle.
In New York City elections, the Democratic primary is often the only race that matters, since whoever wins it is likely to win the general election. This year's mayoral race, which saw 13 Democrats on the ballot, is no exception.
The primary election was held on June 22. Because New York City now uses a complicated system called "ranked-choice voting," no meaningful results were available for a week. Even then, the results were only preliminary, and some observers immediately cried foul. One of these observers was leading candidate Eric Adams, a former police captain and political moderate.
Adams asked why the number of votes counted did not match the number of ballots supposedly cast. He was immediately attacked on Twitter, with some liberal New Yorkers comparing him to former president Donald Trump. But it turned out Adams was right: New York's board of elections admitted that 135,000 "dummy ballots" were included in that count.
The ranked-choice voting process makes vote counting unnecessarily complex. In New York, it required eight rounds of tabulation. City election officials also had to wait on about 124,000 more votes because of lax rules and a slow process for absentee ballots. This delay, together with the city's use of ranked-choice voting, left the outcome in doubt for two more weeks before Adams eventually became the Democratic nominee.
Ranked-choice voting asks voters to list candidates by preference, and determines the winner based on the rankings. Ballotpedia.org describes how it usually works: "If no candidate wins a majority of first-preference votes, the candidate with the fewest first-preference votes is eliminated. First-preference votes cast for the failed candidate are eliminated, lifting the second-preference choices indicated on those ballots. A new tally is conducted to determine whether any candidate has won a majority of the adjusted votes. The process is repeated until a candidate wins an outright majority." The supposed advantages of the process include avoiding runoffs, encouraging positive campaigning and always producing a "majority" winner.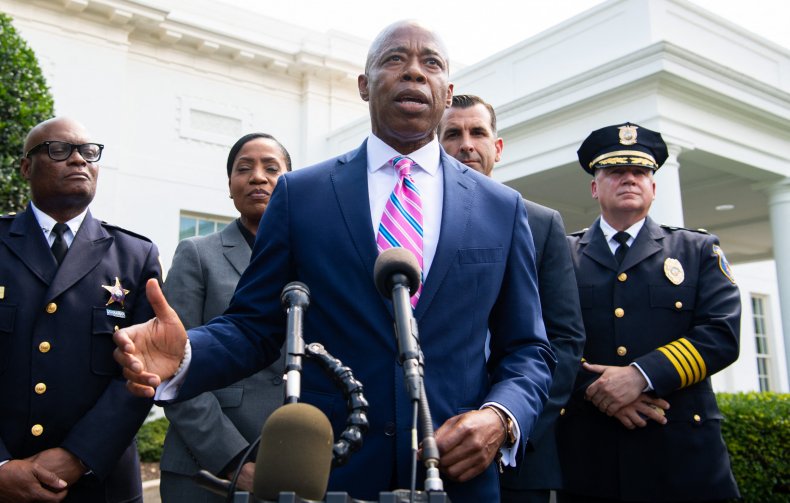 In practice, any voter who fails to rank every candidate may have his or her ballot thrown away. In the New York mayoral race, nearly 140,000 ballots were eventually discarded for this reason. This is how the system guarantees the appearance of a "majority" winner—by discarding votes that do not allow for a majority. It also creates a conflict with laws that allow absentee ballots to be returned after election day. Until every single ballot is in hand, the ranked-choice voting process cannot really begin, let alone be completed.
Texas's jet-setting Democratic lawmakers should take all this to heart. After all, in New York City, the people crying foul over the election were fellow Democrats. There is no reason to be content with sloppy elections or unnecessary delays and complexity—especially when it risks voters' voices not being heard in the process.
Those who want to make elections simpler, more secure and more transparent are on the side of democracy and have the support of vulnerable communities. The reform bills in the Texas state legislature would give poll watchers more freedom to observe ballot processing and vote counting. They would create a process to check the identity of those voting by mail, prevent mass mailings of absentee-voter applications and require counties to host in-person voting in buildings rather than less-secure drive-through facilities. They would require a monthly review of the state's voter registration list to ensure only eligible citizens are voting.
All these protections are good for voters, since they help ensure the process is trustworthy. They make it easy to vote, but hard to cheat. Polls consistently show that requiring identification to vote is particularly popular. The Texas legislation also creates a new process that would allow voters to fix mistakes made when returning a ballot by mail. One bill would help people convicted of felony crimes to know whether their voting rights have been restored.
The Texas election reform bills looked set to prove that "compromise" is not a dirty word and that finding common ground is still possible in politics. They include ideas from both Republicans and Democrats. They improve election security and access for all voters. But now a handful of ultra-partisan Democrats are sabotaging the democratic process.
New York City's recent primary election is an example of unnecessary complexity, coupled with incompetence, leading to delay and distrust. Texas and several other states are trying to move in the other direction, making their elections more transparent and secure. Rather than stand in the way of that progress, Texas' Democratic lawmakers should get back to work.
Trent England is founder and executive director of Save Our States and a visiting fellow at Opportunity Solutions Project.
The views expressed in this article are the writer's own.