New York City Police Bust Illegal Gathering of Nearly 400 as Infection Rate Spikes
New York City police busted a gathering of nearly 400 people Saturday night as the metro's infection rate spiked.
The gathering took place at a commercial space at 202 West 36th Street in the city's Garment District, according to the New York Daily News. The people in attendance were reportedly in violation of the city's social distancing and face mask regulations.
"Deputy Sheriffs shut down illegal bottle club at 202 West 36th Street, NY: 393+ people, violation of emergency orders, no liquor license, warehousing liquor, four organizers charged with offenses for penal, health, alcohol beverage control law and arrest warrant," the New York City Sheriff said in a November 28 tweet.
Four people who reportedly organized the event were arrested. They included 35-year-old James Jenkins, who was charged with possession of criminal weapons, obstruction of governmental operations, menacing and charges of selling liquor without a license among other counts, according to paper.
Jenkins also had an open warrant for unlicensed operation of a motor vehicle, the sheriff's office told the paper.
The three other organizers were reportedly 36-year-old Pennsylvania DJ Ronald Helvy, 33-year-old New Jersey resident Jahmier Lewis and 27-year-old Vincent Cereghini. Each was issued civil warrants for violating COVID-19 orders, according to the paper.
This was one of several gatherings shut down by the city police department. On November 26, a gathering of over 76 people was busted for violating COVID-19 restrictions, among other counts.
The party's shut-down came as New York's coronavirus positivity rate nears 4 percent.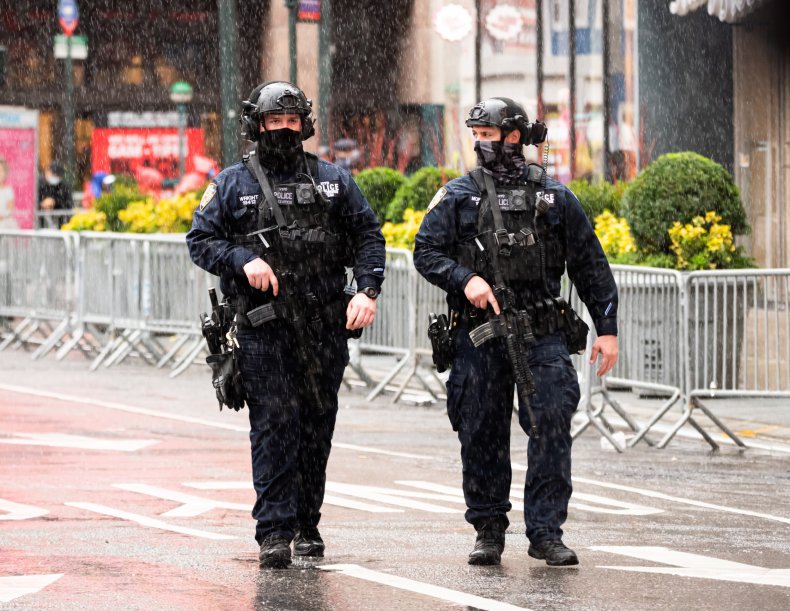 The overall rate, including hot spots for COVID-19, in the state was 3.98 percent, with 6,063 of the 152,355 residents testing positive for the virus on November 28, according to a tweet by Governor Andrew Cuomo.
As of November 28 in the state, there were 3,287 people hospitalized due to COVID-19. This included 433 people newly admitted. There were 42 coronavirus deaths reported, as well.
There have been over 639,200 confirmed cases of COVID-19 and 34,000 deaths in New York since March, according to data from The New York Times. The state was once an epicenter for the virus during the early stages of the pandemic.
New York City Mayor Bill de Blasio tweeted on Saturday that the city's seven-day average infection rate was 3.64 percent, a substantial increase from the 3.33 percent rate from the day prior.