New York City to Require Vaccination Proof to Dine Indoors, Use Gyms
New York City will require proof of vaccination for gyms and dine-in restaurants starting later this month.
Mayor Bill de Blasio announced the new initiative at his Tuesday media briefing. Individuals will need to provide documentation that they were vaccinated against COVID-19 for activities including eating at restaurants, working out at gyms and watching live performances.
The program will launch on August 16, but the city will start enforcing the vaccination proof by mid-September. The mayor said the city will implement the requirement in a phased approach, first by helping businesses acclimate to the new policy and then by making sure everyone is informed about the requirement.
The program will create an easy way to provide proof called the "Key to NYC Pass," similar to the "Excelsior Pass" that the state launched earlier this year.
The program aims to get more New Yorkers vaccinated.
"We think it is so important to make clear that if you are vaccinated, you get to benefit in all sorts of ways," de Blasio said Monday. "You get to live a better life. Besides your health in general, you get to participate in many, many things. And if you're unvaccinated, they are going to be fewer and fewer things that you're able to do."
The mandate also applies to workers at restaurants, gyms and entertainment venues, making it the first program in the country to require vaccines as a condition of employment.
"The Key to NYC Pass opens a lot of doors, and we need it," de Blasio said.
People can show proof of vaccination by showing their physical vaccine card or digital pass through the Excelsior Pass app or the NYC Covid Safe app.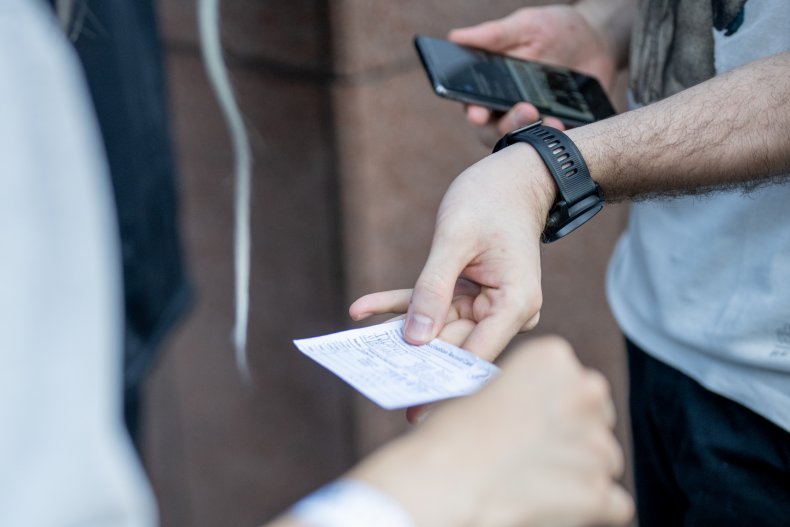 About 5 million New York City residents have received at least one dose of the COVID-19 vaccine, with 55 percent of eligible New Yorkers fully vaccinated as of Tuesday, according to data from NYC Health and Hospitals.
The city has issued a number of new vaccine incentives in the past month to encourage people to get the shot amid a nationwide resurgence of the virus. All five boroughs have concerts planned that require proof of vaccination, and the city is now giving $100 to those who get vaccinated at city-run sites.
New York Governor Andrew Cuomo urged private businesses to enforce proof of vaccination for service on Monday. A number of New York City businesses have plans to do so prior to the mayor's announcement.
Danny Meyer, chief executive officer at Union Square Hospitality Group LLC and the chairman of New York City's Economic Development Corporation, announced Thursday that his restaurants will require proof of vaccination for dining in.
Broadway made the announcement it would require proof of vaccination last week, and Madison Square Garden required vaccine documentation for a Foo Fighters concert in June.
As for gyms, SoulCycle's parent company, Equinox, plans to kick off its initiative for its facilities in the city later this month.
Update 8/3/2021 This story was updated at 11:30 a.m. ET with additional information.