New York City-Run Hospital, Clinic Workers Required to Get COVID Vaccine or Weekly Tests
New York City will begin requiring employees in city-run hospitals and health clinics to receive a COVID-19 vaccination or get tested for the virus every week, Mayor Bill de Blasio announced Wednesday, according to the Associated Press.
The announcement, which will apply to about 42,000 workers in the city's public hospital system and nursing homes, comes as the city sees a surge in COVID-19 infections and the Delta variant.
The mandate doesn't include teachers, police officers and other city employees, but it seeks to push more people to get vaccinated as doses administered daily dropped to fewer than 18,000 from a high of more than 100,000 in April.
About 25 percent of Black adults under age 45 are fully vaccinated; about 45 percent of the workforce in the public hospital system are Black.
The Delta variant currently accounts for seven out of 10 sequenced cases in the city, according to health officials
"We need our health care workers to be vaccinated and it's getting dangerous with the Delta variant," de Blasio said on CNN.
For more reporting from the Associated Press, see below.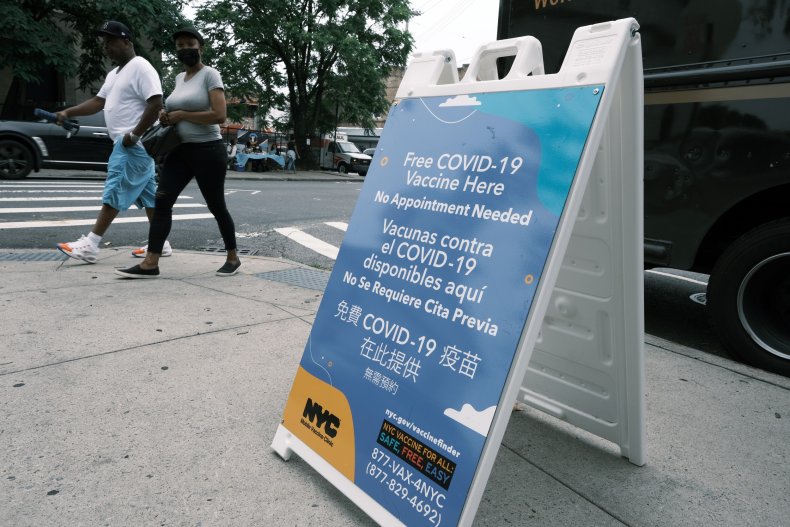 The World Health Organization says there were more than 3.4 million new global cases of the coronavirus last week, a 12 percent increase from the previous week.
The U.N. health agency said the number of deaths is continuing to decline, with about 57,000 in the last week.
"At this rate, it is expected that the cumulative number of cases reported globally could exceed 200 million in the next three weeks," WHO said. It notes the highest increases in COVID-19 cases were in the Western Pacific and European regions. In the past week, WHO says the highest coronavirus infections were in Indonesia, Britain, Brazil, India and the U.S.
It said the increased transmission of the virus is driven by new variants, the relaxation of COVID-19 protocols and the large number of people still susceptible to the coronavirus, despite rising vaccination rates in some countries.
WHO has urged countries to commit to vaccinating at least 40 percent of every country's population by the end of the year. Of the more than 3 billion vaccine doses administered globally, only about 1 percent have gone to people in poorer nations.
A South African firm will begin producing the Pfizer/BioNTech COVID-19 vaccine, the first time the shot will be produced in Africa, Pfizer announced Wednesday.
The Biovac Institute based in Cape Town will manufacture the vaccine for distribution across Africa, a move that should help address the continent's desperate need for more vaccine doses amid a recent surge of cases.
Biovac will receive large batch ingredients for the vaccine from Europe and will blend the components, put them in vials and package them for distribution. The production will begin in 2022 with a goal of reaching more than 100 million finished doses annually. Biovac's production of doses will be distributed among the 54 countries of Africa.
The development is "a critical step" in increasing African's access to an effective COVID-19 vaccine, Biovac chief executive Dr. Morena Makhoana said.
Pfizer's goal is to provide access to its vaccine to people everywhere, CEO Albert Bourla said. But the vast majority of its vaccine doses have been sold in bilateral deals to rich countries and only a small amount was made available to the U.N.-backed effort to share COVID-19 vaccines.
Meanwhile in Paris, visitors now need a special COVID-19 pass to ride the Eiffel Tower or visit French museums or movie theaters. It's the first step in a new campaign against what the government calls a "stratospheric" rise in Delta variant infections.
People must be fully vaccinated or have a negative virus test or proof they recently recovered from an infection to get the pass. The requirement went into effect Wednesday at cultural and tourist sites.
Lawmakers are starting debate on a bill that would expand the pass requirement to restaurants and many other areas of public life, and require all health workers to get vaccinated. It has prompted protests.